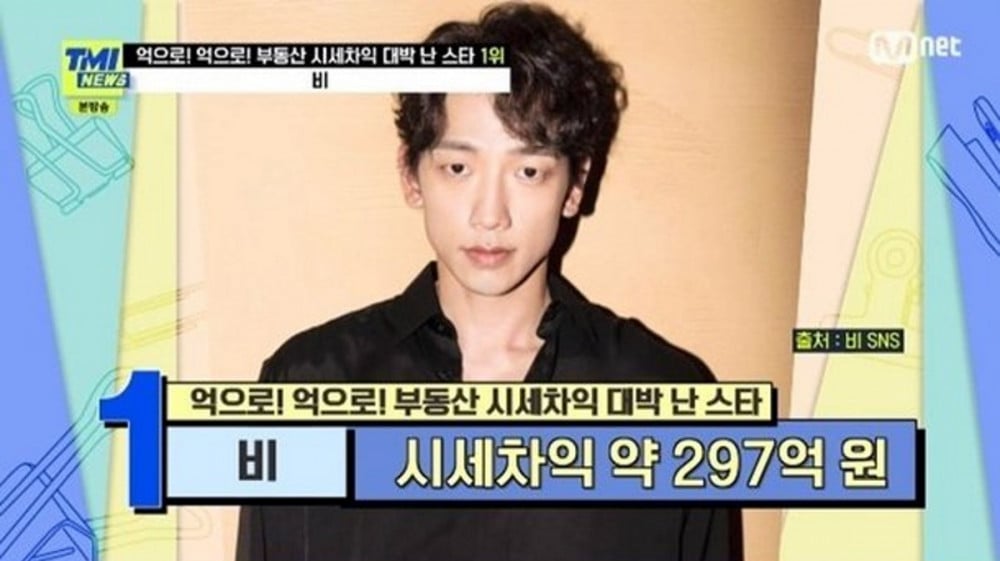 Rain has topped the list of celebrities who got rich through real estate profits on 'TMI News'.

The April 7th episode of Mnet's 'TMI News' revealed Rain and his wife Kim Tae Hee's estimated assets are 42 billion Won ($37.6 million USD). The singer is said to have purchased an old building in the middle of a luxury street in the neighborhood of Cheongdam-dong in 2008 and rebuilt the property in 2017.

The building now includes Rain's agency and a number of businesses, including cafes, restaurants, and beauty salons, and it's said to bring in 100 million Won ($89,483.13 USD) in rent alone per month. He purchased the property for 16.8 billion Won ($15 million USD), but it's now worth an estimated 46.5 billion Won ($41.6 million USD).

In 2nd place on the list is none other than Psy, in 3rd is Park Seo Jun, in 4th is Eugene, in 5th is Gyuri, in 6th is Suzy, in 7th is Super Junior's Kyuhyun, in 8th is Uhm Jung Hwa, in 9th is F.T. Island's Minhwan, in 10th is EXO's Sehun, in 11th is Zico, in 12th is f(x)'s Krystal, in 13th is Soyu, and in 14th is Lee Hyori.

Check out the 'TMI News' clips below!