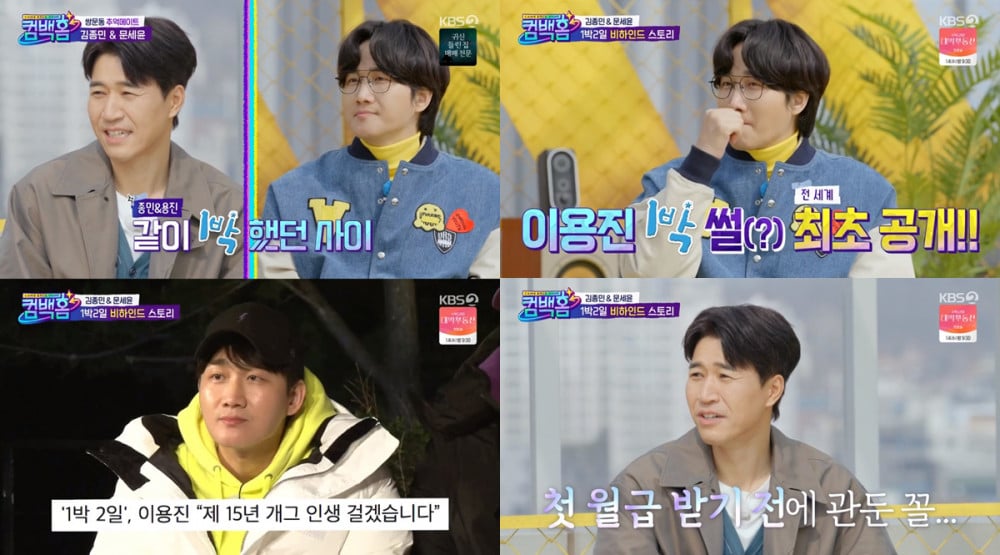 On the April 10 broadcast of KBS2's 'Come Back Home', singer Kim Jong Min appeared as a guest alongside his fellow '1 Night, 2 Days' cast member, Moon Se Yoon.
One of the MCs of 'Come Back Home' also happened to be another of Kim Jong Min's former '1 Night, 2 Days' co-stars, comedian Lee Yong Jin. As the MCs and guests greeted one another, MC Yoo Jae Suk asked Moon Se Yoon if he thought he worked well with Moon Se Yoon. The comedian replied, "Jong Min hyung works well with everyone." However, Yoo Jae Suk also observed, "Kim Jong Min works well with everyone, but where ever he goes, he's the same character."
Kim Jong Min then opened up about working with Lee Yong Jin as well. "[Yong Jin] and I also worked together for '1 Night, 2 Days', but in the end the episode did not air. We filmed an episode where we held a celebration to welcome Yong Jin as an official member."
Lee Yong Jin also recalled, "That episode was supposed to be a special episode about me, becoming a full-time cast member. We went to a remote island and had a party, and everything. But the episode never aired."
If you recall, back in 2019, season 3 of KBS2's '1 Night, 2 Days' abruptly came to an end after singer Jung Joon Young became embroiled in his hidden camera chat rooms controversy.