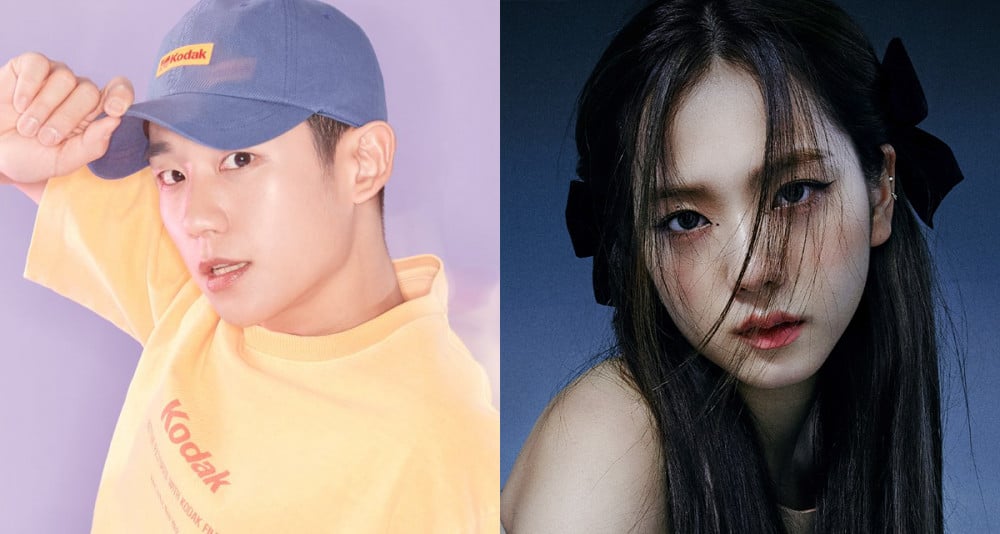 According to anonymous accounts on SNS, civilians spotted a drama filming crew filming in the vicinity of Keimyung University's campus in Daegu on the morning of March 27.
The reports, accompanied by this photo below, seem to indicate that the cast and crew of JTBC's 'Snow Drop' are resuming filming after issuing an official statement in response to the drama's recent plot line controversy.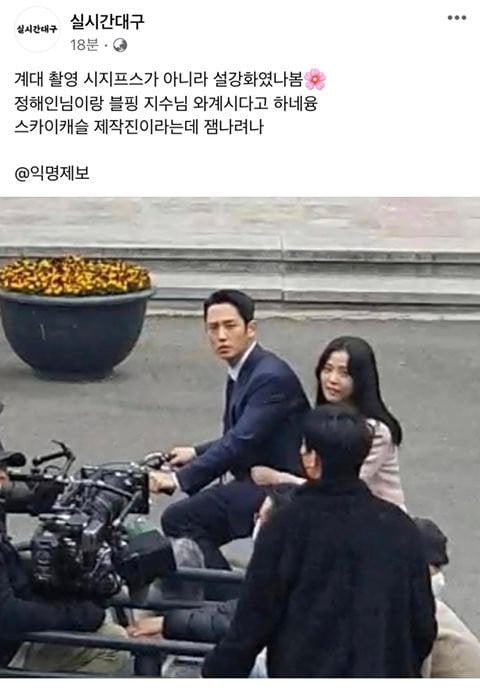 Many netizens criticized:
"They have no sense of morality."
"How selfish."
"Did someone take away those actors' and actresses' phones so they have no idea what's going on? Or do they just not care?"
"Just complete disregard for others' opinions."
"Don't those stars know their careers will be over if this drama goes on like this?"
"Do they know that while they're enjoying themselves on the filming set, their fans are worried sick about their careers and images?"
"I still can't believe they'd dare turn the democracy movement into a frilly youth romance."
"Let this go on any longer and you won't even be able to say, 'We had no idea'."
"This drama has no future."
"I'm just ashamed."
Meanwhile, a fan gallery made up of fans of BLACKPINK, Jung Hae In, the drama community, and more have banded together to release a statement of demands directed toward JTBC.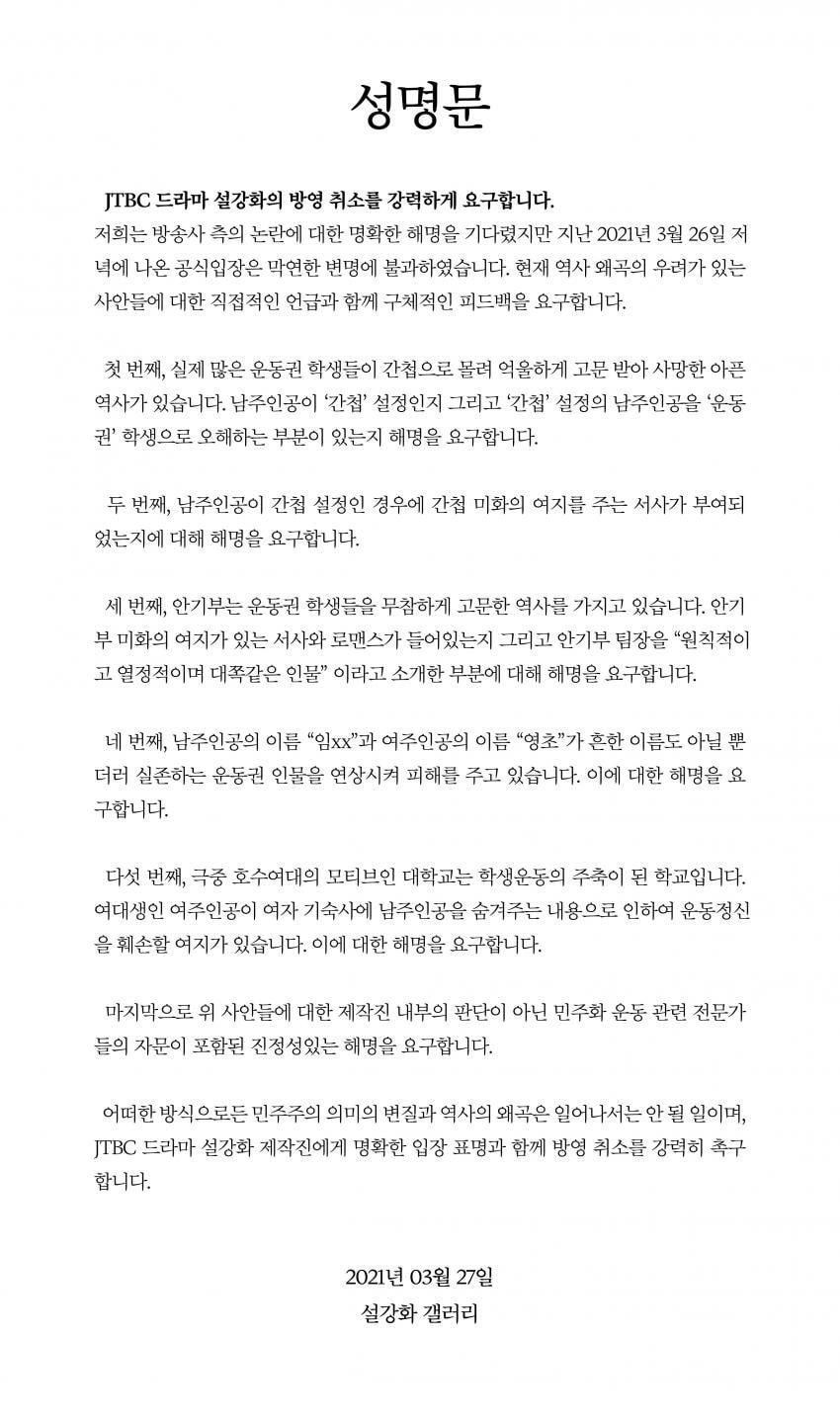 The statement reads:
"We strongly demand the cancellation of the JTBC drama 'Snow Drop' from airing.

We have waited patiently for the broadcasting station's detailed response to the ongoing controversy surrounding 'Snow Drop', but the statement issued back on March 26, 2021 consisted of nothing but excuses. From here on, we demand proper feedback responding appropriately and concisely to all of the controversial aspects of this drama.

First, historically, numerous student protestors were falsely accused of being 'spies', tortured and murdered. Please clarify whether the male lead of this drama is a real 'spy', and if viewers may misinterpret this 'spy' as a real student protestor.

Second, we demand a lengthy explanation as to whether or not the storyline contains any narratives beautifying and humanizing the identity of this male lead who is a spy.

Third, historically, the National Intelligence Service is known to have ruthlessly tortured student protestors. Please clarify if the story contains narratives beautifying and humanizing the members of this organization, if the story contains romantic relationships with members of this organization, as well as why one character who is a National Intelligence Service officer was described as 'a justice-driven, passionate, and straightforward' person.

Fourth, the names used for the male and female lead characters, surname 'Lim' and given name 'Young Cho', are names of real historical student protestors, and there is concern that this drama may defame their characters. We demand direct feedback regarding this concern.

Fifth, the location 'Hosu Women's University' where the storyline takes place is inspired by a real university which was a central location of the student democracy movement. There is concern that the narrative in which a female student hides a male protestor in a women's dormitory distorts and damages the democracy movement.

Lastly, we demand proper feedback addressing each of the concerns listed above not only through the internal perspectives of the staff involved in this drama, but also through consultations with experts in the history of this time period.

We believe that under no circumstances can the meaning and the history of the nation's democracy movement be distorted or corrupted in any manner, and we urge the production staff of JTBC's 'Snow Drop' to release a proper statement, followed by serious consideration of the drama's cancellation."