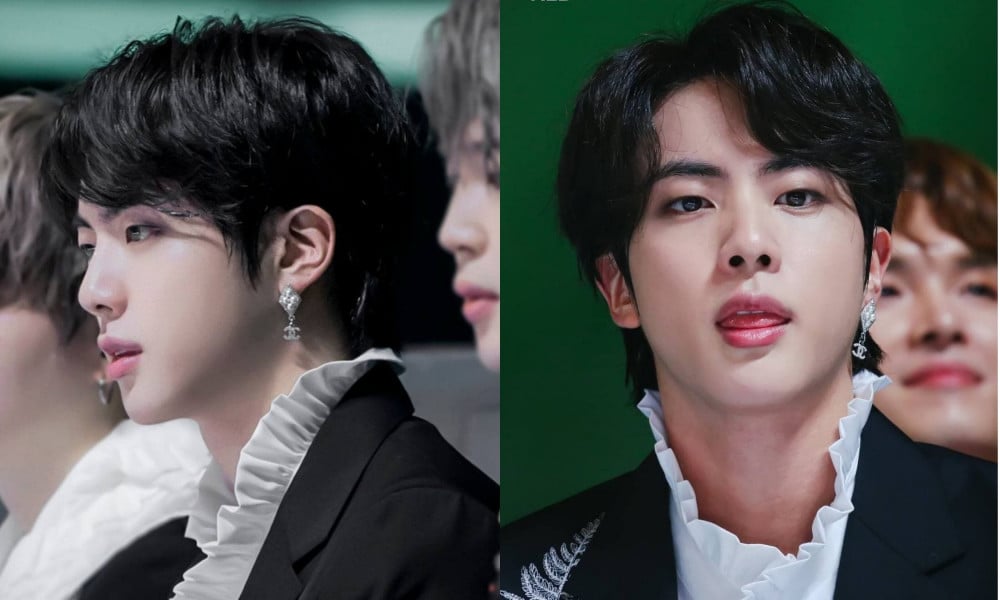 Kim Seokjin, the official visual of BTS, is widely known for his beautiful face features. Not a secret he has been cast right on the street three times (twice by SM ent and by BigHit ent once) due to having outstanding visuals. The guy who cast him for BigHit said he was "the most beautiful person he has ever seen since he was born." Seokjin was famous for talents and looks in his university and in 2013 started becoming known for it in the Kpop industry as well. Many times Media, Knetz, non-fans, and even independent scientific researchers gave him beauty-nicknames. By 2021, there are over 50 official ones that are being used when referring to Seokjin. Known as the Nickname Fairy, Seokjin is truly the best visual a Kpop group can get. Let's go through this exciting list.
1) Car Door Guy.
One of the most famous nicknames given to him. In 2015, during Melon Music Awards, journalists caught a moment of Seokjin getting out of the car. He was looking so mesmerizing that the video of it immediately went viral, getting into the popular search words and got him trending #1.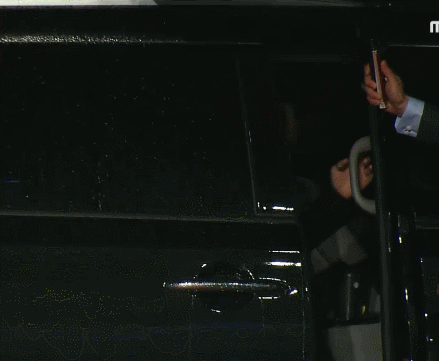 2) Most Perfect Face In The World.
He got this nickname in 2020. Visual artists from the Netherlands analyzed faces from 43 countries and chosen Seokjin as the Most Perfect Face in the world due to his proportions being perfectly mathematical, almost identically illustrating the infamous Golden Ratio Face.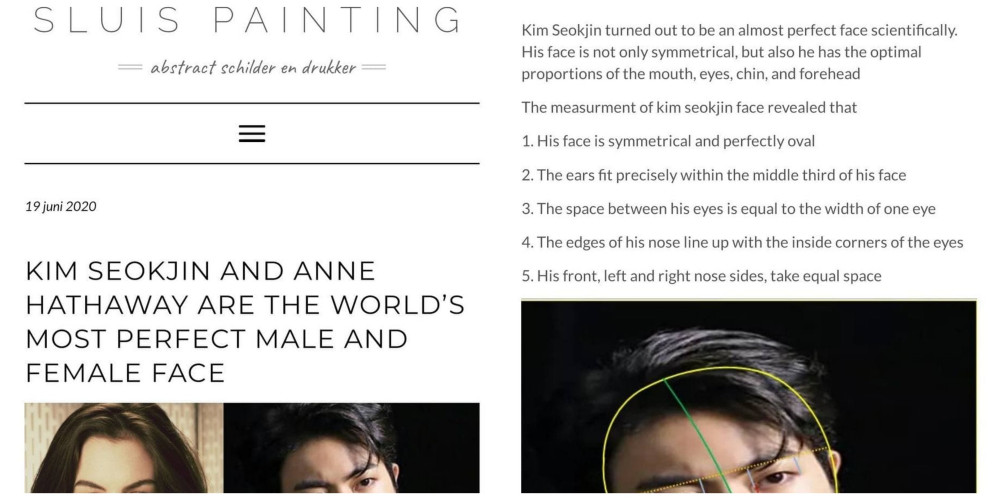 3) Golden Ratio Guy.
Seokjin was chosen as The Most Handsome Asian Man by scientific research. A plastic surgeon analyzed hundreds of Asian faces, and Seokjin became the one who matched the Golden Ratio of 1:1.618 in every part.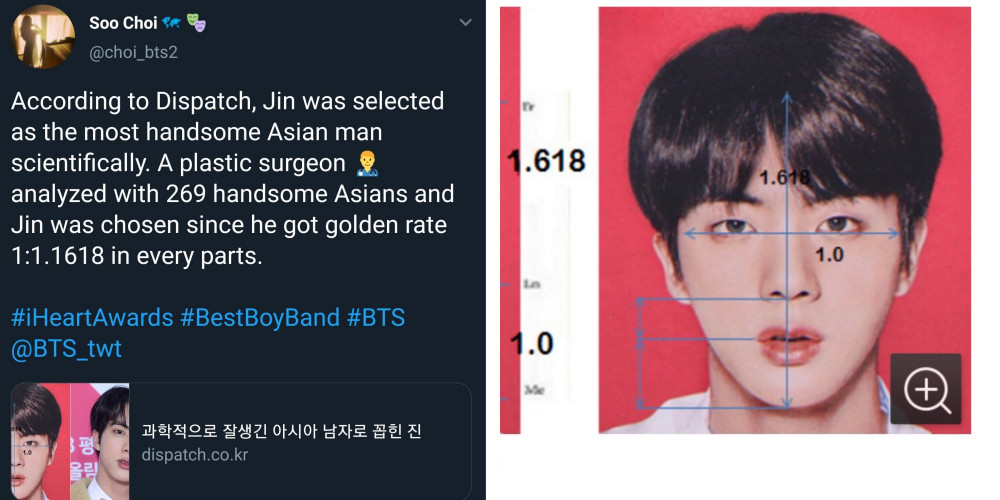 4) Top Male God Beauty.

Nick Paxson, from a healthcare start-up company in Ireland, has scientifically found that there is a physical resemblance between the sculpted representation of Zeus and Kim Seokjin by comparing 648 modern celebrity faces.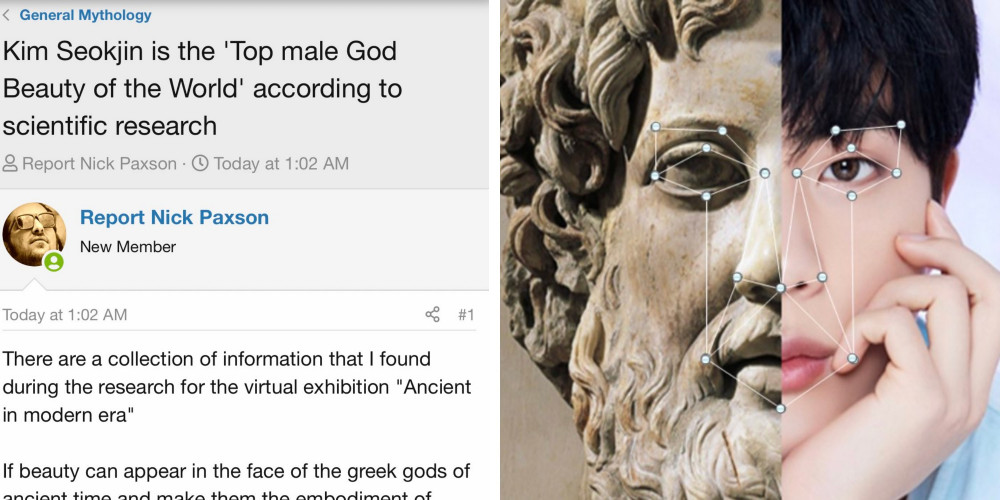 5) Mas Ganteng.
Seokjin got called so by the MC Hansol at Indonesia's Tokopedia WIB. The new nickname that means "Mr Handsome" immediately got trending on Twitter, and ever since 2020, trends in Indonesia very frequently, being widely used.
6) ManJjitNam.
In 2017 after appearing at the Incheon Airport, Seokjin got everyone's attention with his visuals, causing the Naver search being filled with ManJjitnam keyword and headlines repeating the same. ManJjitnam means a handsome boy from romantic comic books.

7) Prince Charming in a tie.
After BTS's appearance at the BBMAs, where Seokjin demonstrated a beautiful waistcoat complemented the outfit with his charming face, he went viral among locals. Searching for his name, people were asking who was this "Guy in the waistcoat" or "Prince Charming in a tie."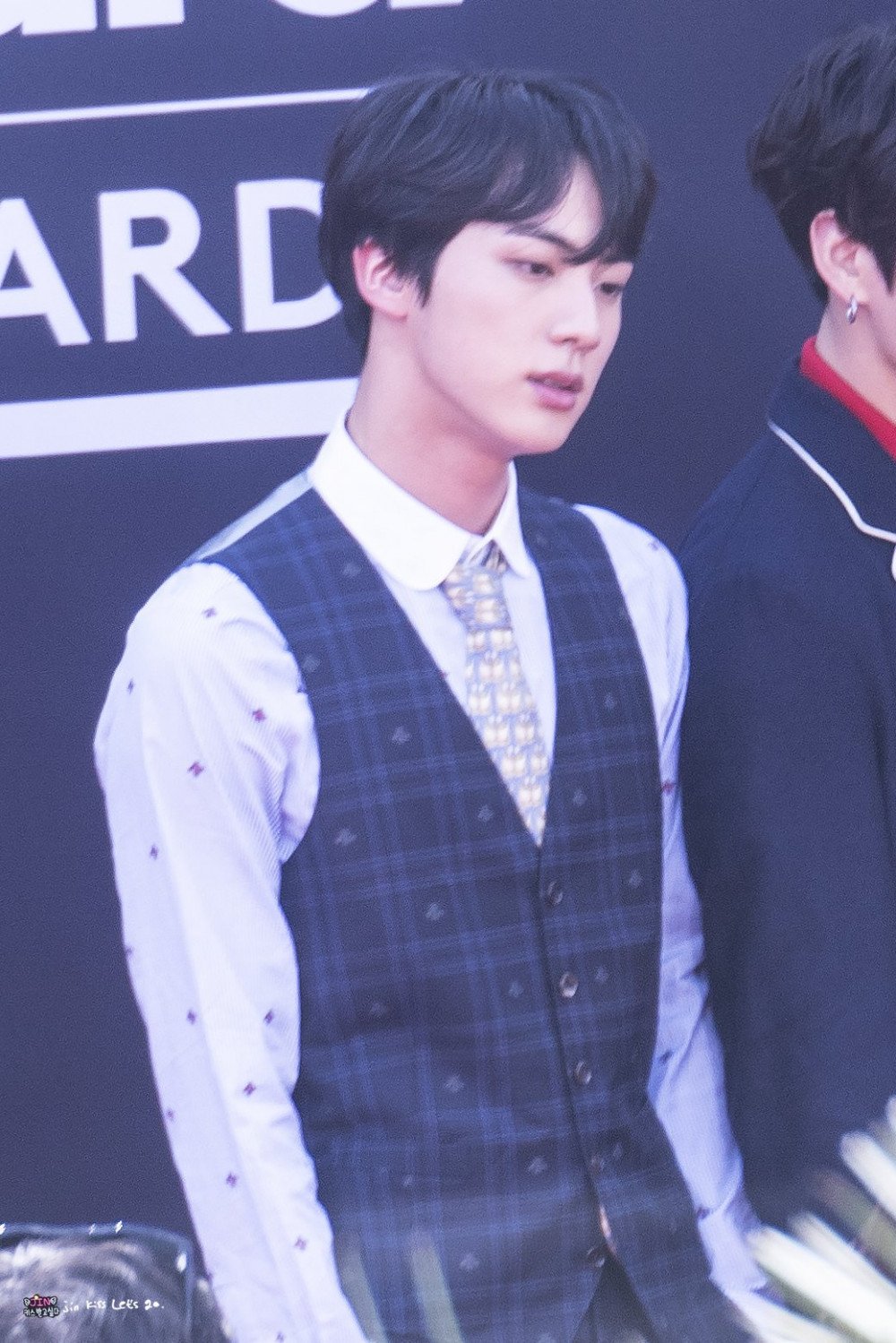 8) Pink Mic Guy.
First time of going viral as the Pink Mic Guy happened for Seokjin in 2019 at The Late Show, when locals were astonished by his visuals and falsetto. Since then, he was going viral a few more times, the most recent one happening less than a month ago after the "Fix You" performance when Seokjin made everyone fall in love with his vocals and looks.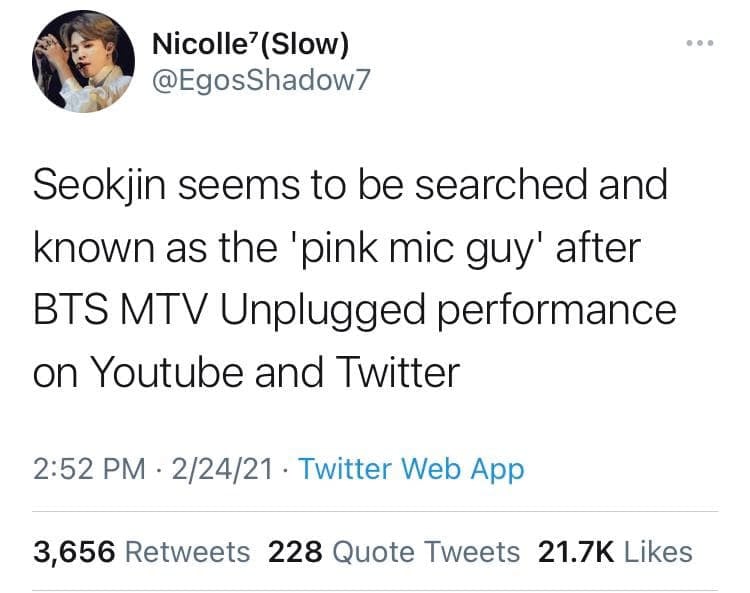 9) P5 Guy.
The MAMA 2018 BTS speech and performance are still remembered by many. Seokjin went viral among netizens of China for looking very beautiful while crying. "Pic 5" guy became his new nickname.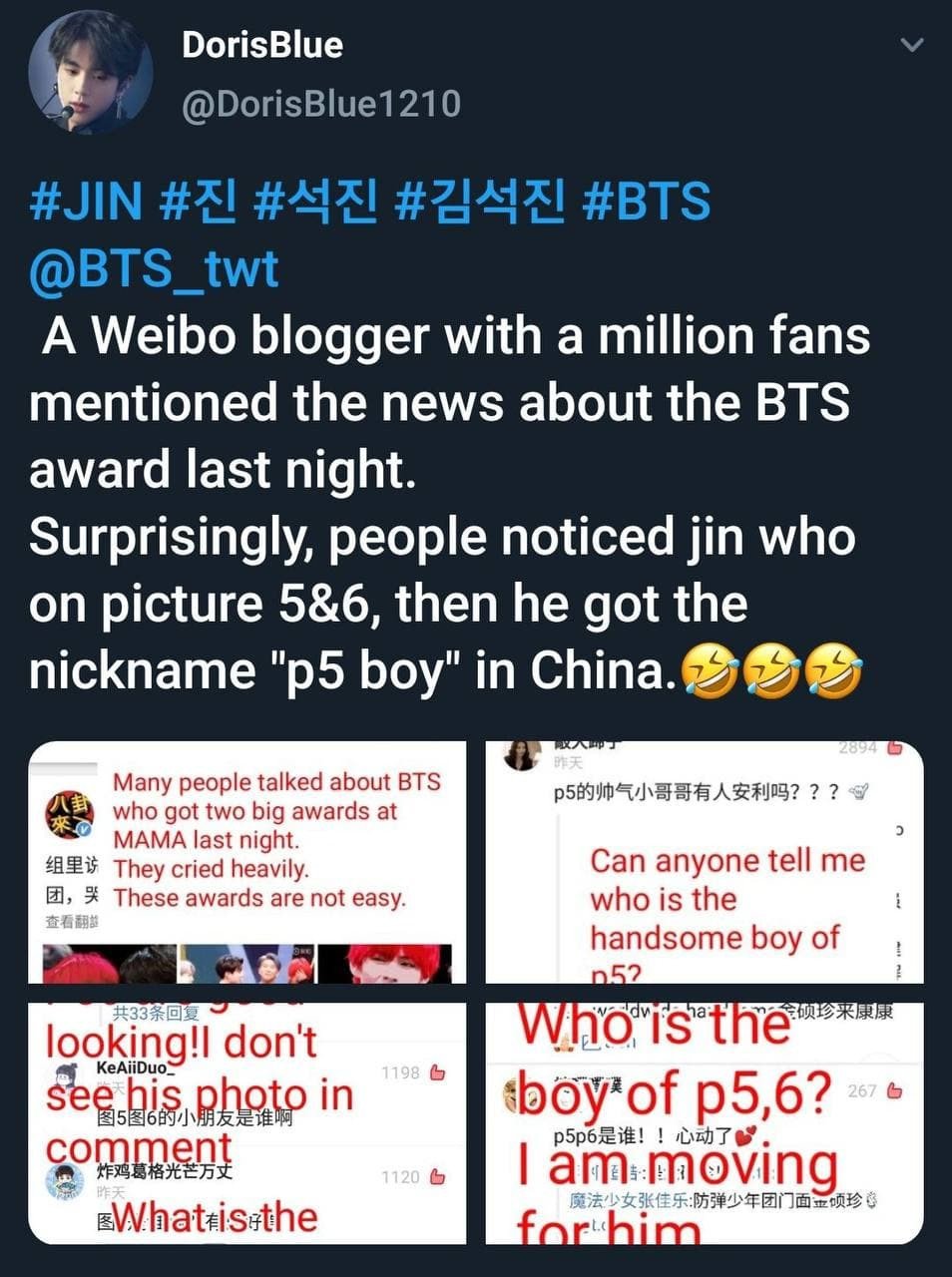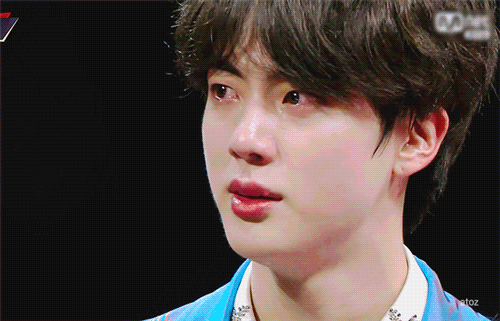 10) Best Sculpted Face in the World.
Doll designer team from CzDollic and sculptor Radek Schick selected Seokjin as the winner of the Best Sculpted Face in the World for meeting all the proportions and gifting a 3-D dimensional trophy.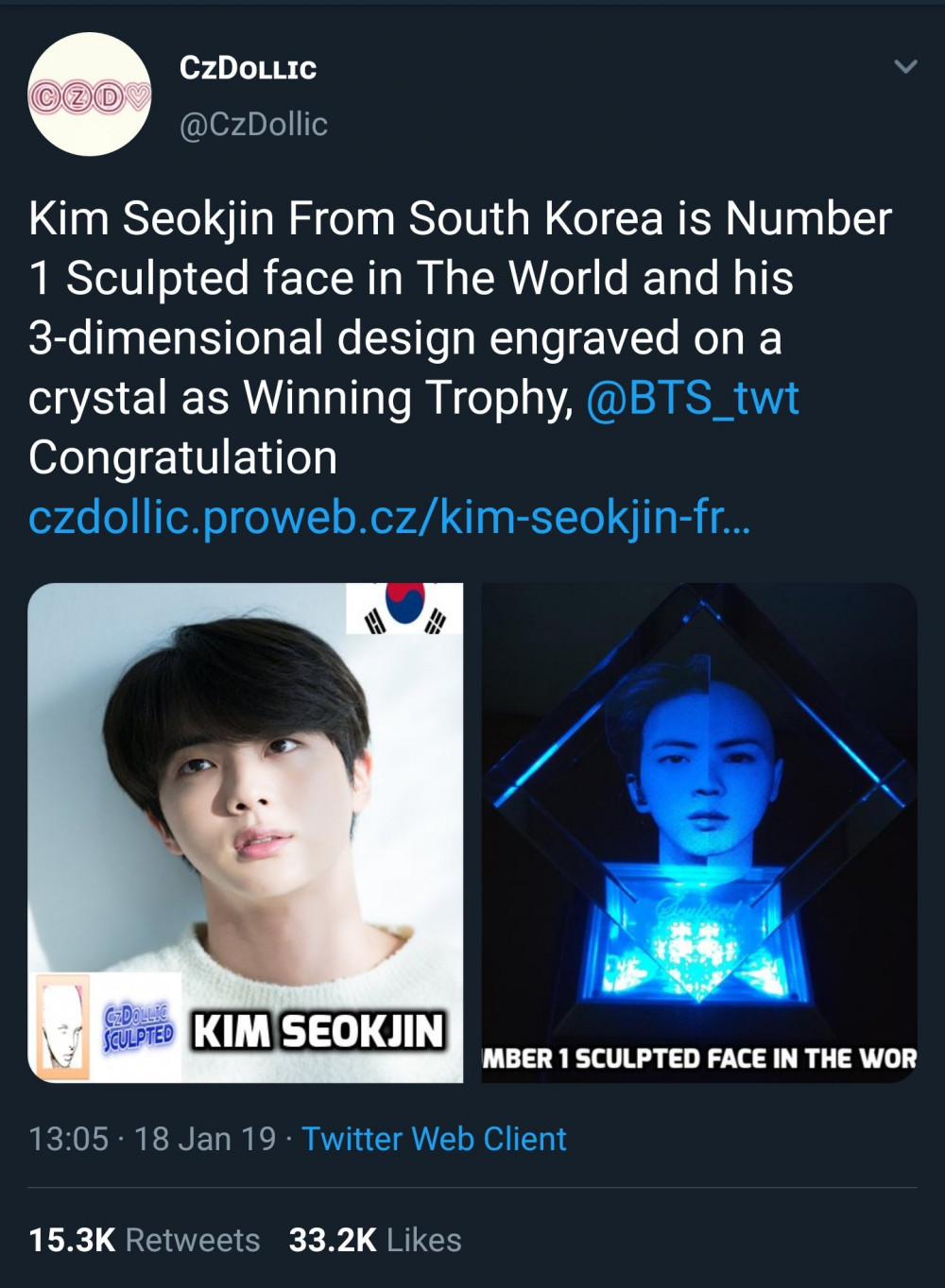 11) Third Guy From the Left.

Seokjin went viral during BBMA 2017 because of his good looks. As many people wonder who he was, he was named the third guy from the left, and it was all around social media.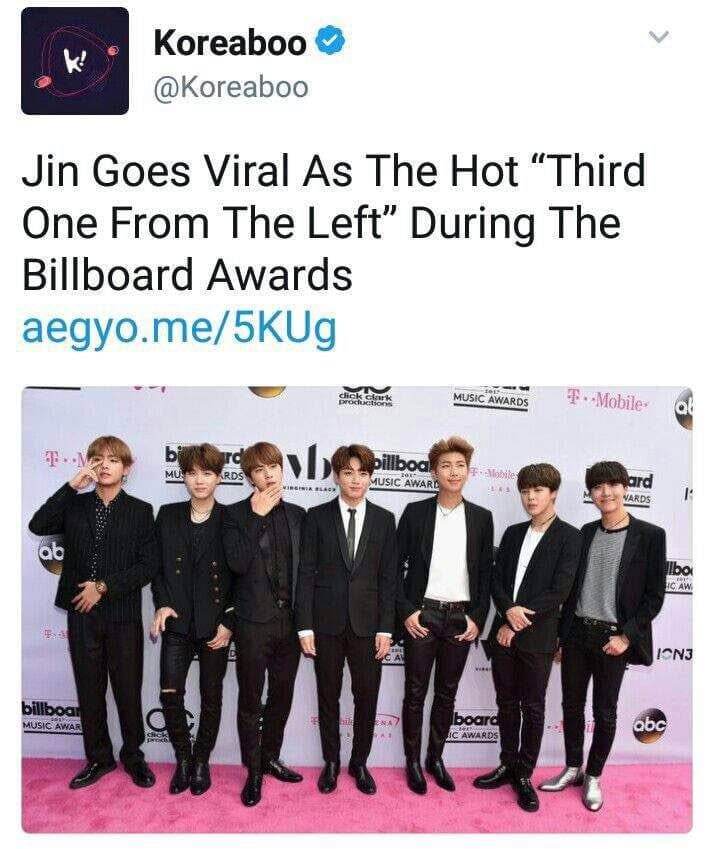 12) Orange Suit Guy.
Everyone still remembers the Grammy performance of BTS. Seokjin was shining in it in a bright orange suit and gained lots of attention from locals, and went viral for his dreamy looks and amazing stable vocals. People were searching for him as the Orange Suit Guy.
13) Bolmae Jin.
Was giving to Seokjin by Knetz after the performance at one of the K-shows. Bolmae means a guy who becomes more and more attractive and charmer every time you see him.



14) Muggle King, Prince of Naver, GP King.

Seokjin is well known as King of Muggles - meaning that he is the King of attracting locals and going viral super frequently, which is true. He got this nickname from the Media for being so known for his Visuals and always trending on many platforms, as well as attracting new people with his vocals and charms. He is also known as the GP (general public) King for always rocking on charts and attracting many unique listeners. He also got 44% at the poll of BTS popularity among GP by members in 2021 at the large Korean forum.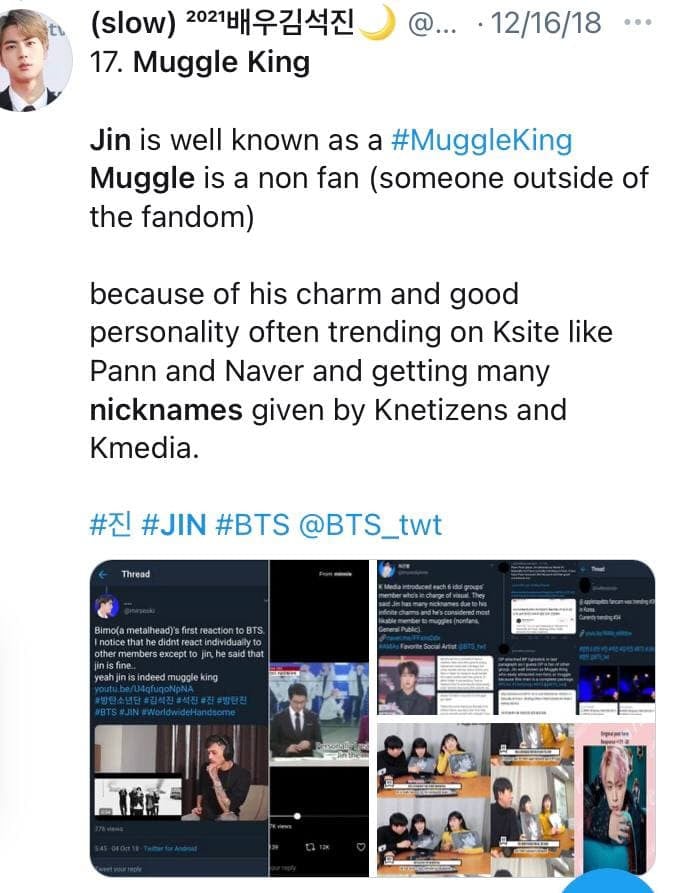 15) UNGA Guy.

Seokjin created a buzz among Knetiz at the UN General Assembly; he didn't say anything but stole the attention and got viral among locals as the UNGA Guy.
16) Grapefruit Tatami.
This nickname was given to Seokjin by a Japanese fan as he is known for having a very small-shaped face - Grapefruit size and super-wide shoulders - Tatami (a type of Japanese mat for the floor). The new nickname was liked by everyone else a lot and spread among the fandom and netizens.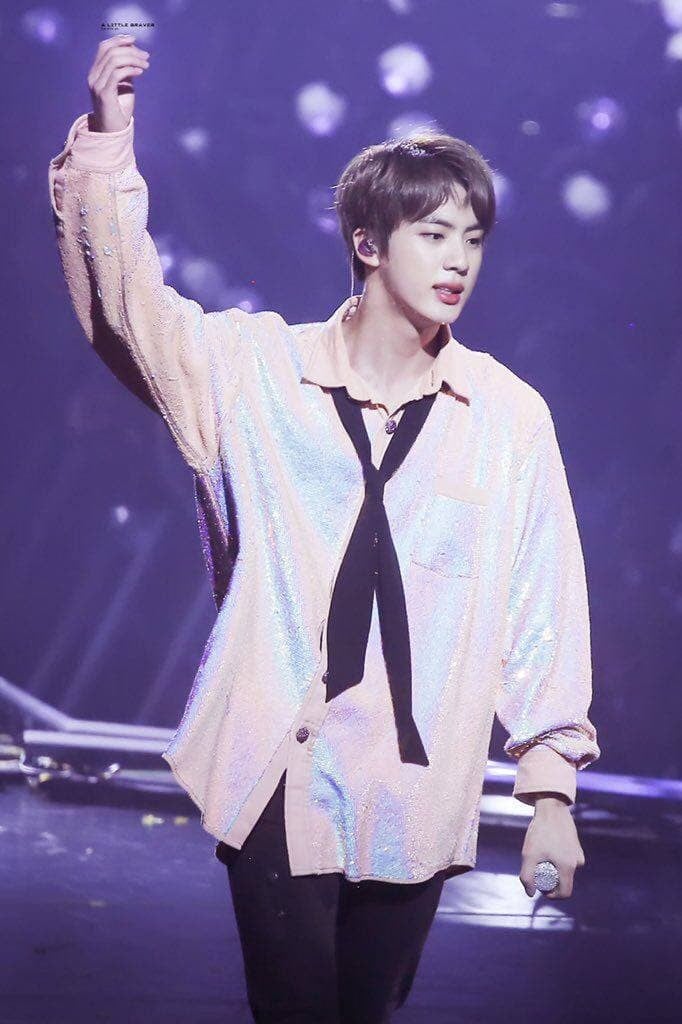 17) Worldwide's #1 Naturally Art Face.

Seokjin was selected as the World's #1 Naturally Art Face by painters and designers of Kazan Art School. An art student said art's visual is about the best facial proportions, and "Seokjin has the classic signs of artistic beauty."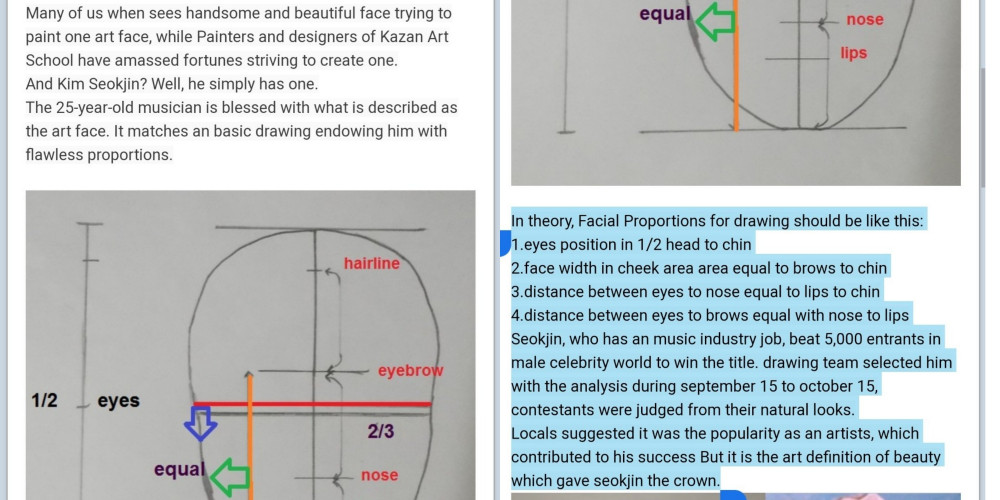 18) Biker Jacket Guy.

In an article about "12 Things We Loved About BTS' "MIC Drop" Steve Aoki Remix MV." Jin was called the Biker Jacket Guy.



19) Bomber Jacket Guy.
During BTS's appearance at New Year's Rockin' Eve, Seokjin appeared in a black bomber jacket, demonstrating his charming visuals, and immediately got the attention of locals that trended him in the search bar as the Bomber Jacket Guy.
20) Third Guy From The Left In Blue Clothes.
After the BTS performance at CDTV, which was broadcasted on TV, locals from Japan fell in love with an angelic-looking and heavenly singing Seokjin who was wearing blue/green clothing. That day he also impressed everyone while performing his verse in "Stay Gold."
21) Shonshon Guy.
Seokjin got this nickname for the MicDrop performance on FNS. Jin-Kun trended in Japan and on Yahoo Japan real-time search. Seokjin also trended #1 in real-time.
22) Brown Suit Guy.
VMAs performance in August 2020 brought a new nickname to Seokjin. Locals once again trended him in the search as the "brown suit guy" looking for the handsome man they saw on TV.

23) The Guy With Glasses.
Seokjin went viral again at the 2020 AMAs, to which he had glasses added to his outfit. Many locals were searching for him on social media.



24) Third Guy From The Right.

Seokjin has gone viral again. BTS took a group photo with Heidi Gardner when they appeared on SNL. Netizens left dozens of comments about the "third one from the right."




25) Perfect Body Ratio.

8등신 is 8 times = body divided from head to toe with your face length. After the Dispatch photoshoot in LA, Knetz were impressed by Seokjin's body proportions and actor visuals.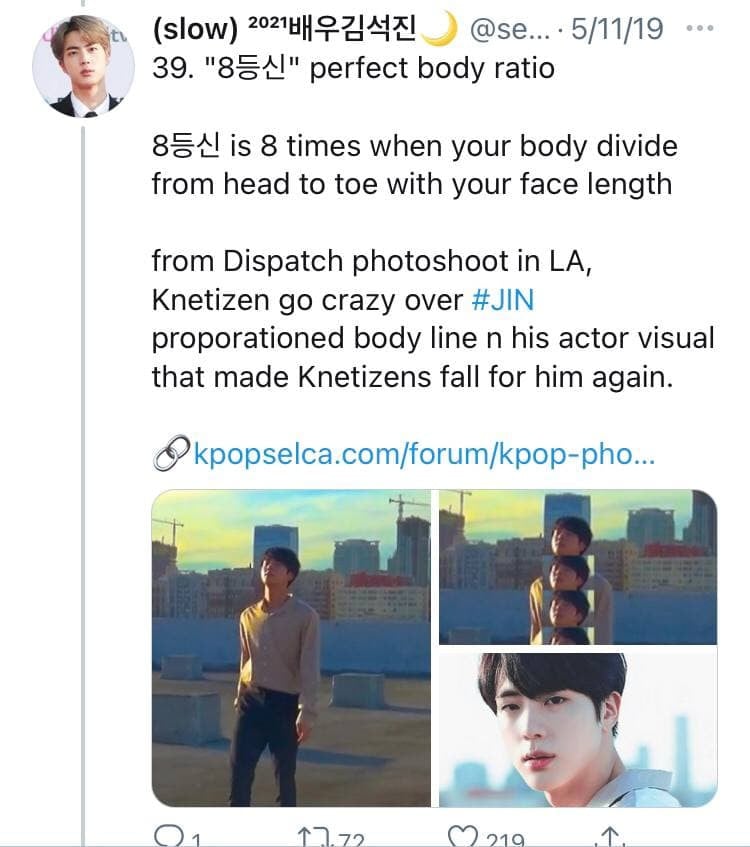 26) Disney Face and Marvel Body.
It was given to Seokjin by Knetz and Media, becoming very popular recently. Refers to his small prince-looking face and strong, wide body.
27) Grey Hoodie In The Middle.

After the BTS group photo with Chainsmokers, being uploaded to social media, non-fans were asking who was 'the one in the grey hoodie in the middle.' It trended in the search.
28) Worldwide Handsome.
Seokjin is known for being an idea-bank - always super creative. Once, he created a new introduction for himself and started actively using it. Nowadays, it is a widely known nickname of him and his brand.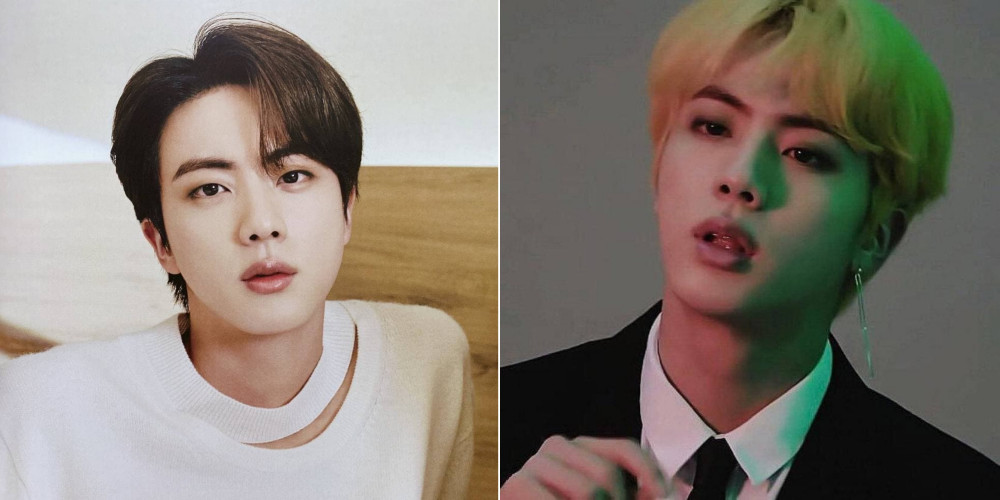 29) Yoseknam.
Yoseknam means a sexy guy who knows how to cook well. Seokjin got this nickname after demonstrating his great personality, outstandingly hot and cute visuals, and cooking skills in the show "Let's Eat Dinner Together."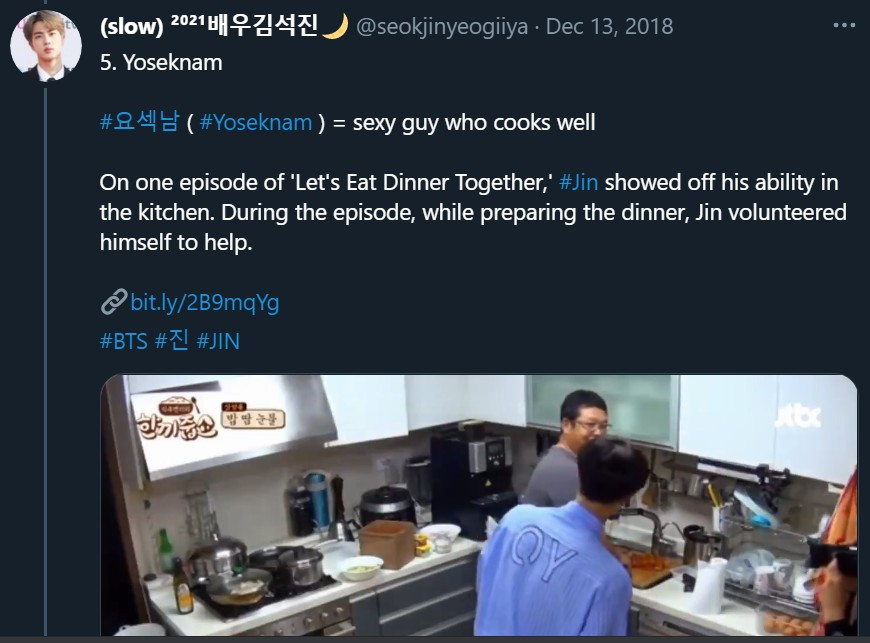 30) Jinsual.
Seokjin got this nickname from Korean Media. It is a wordplay of Jin + Visual.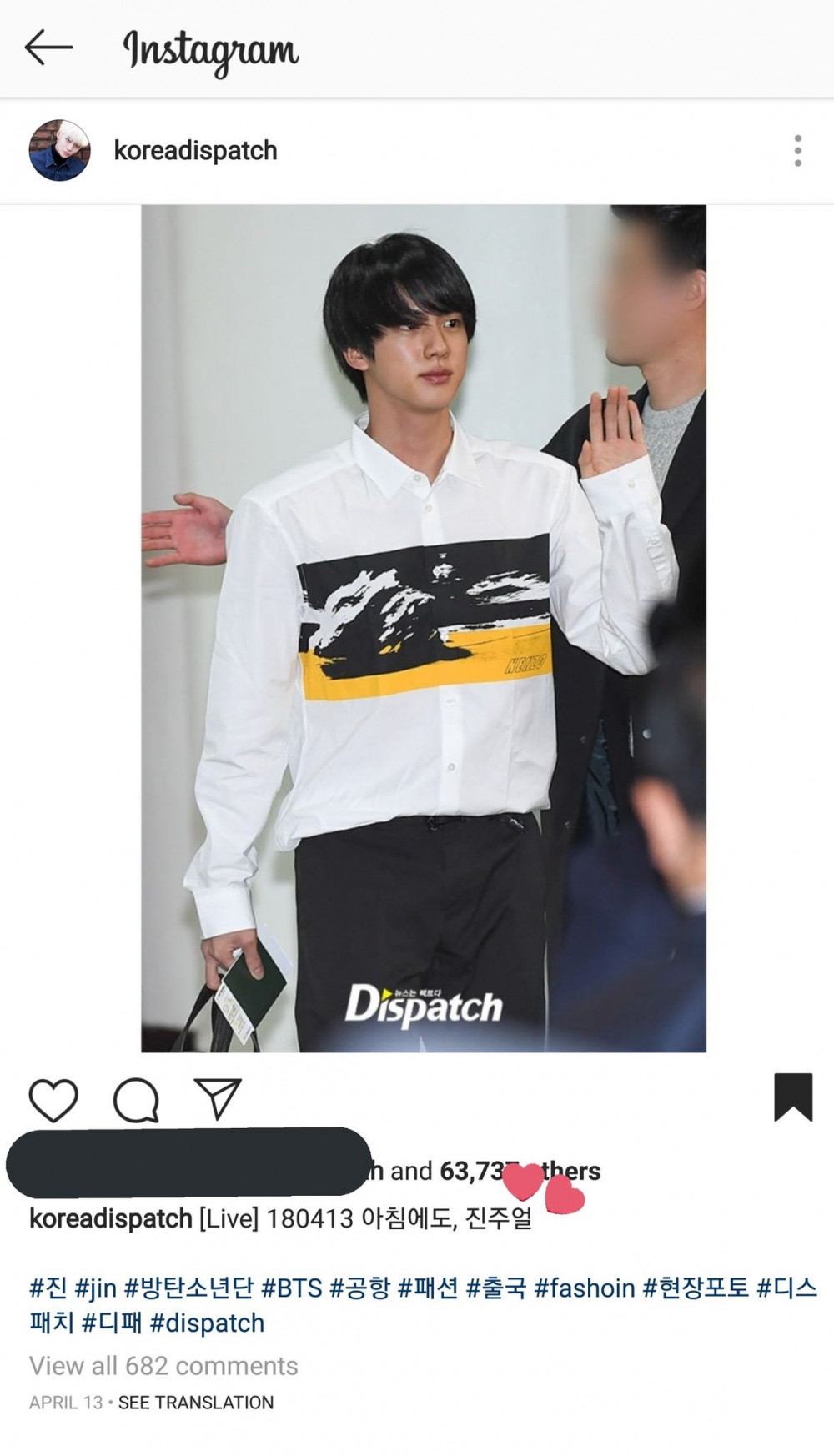 31) Great Guy.

Seokjin's brilliant visuals have done him well with the BTS release of new concept movie poster releases. Seokjin's, which was released at midnight KST, began almost immediately trending worldwide and in Korea as "Great Guy" given Jin's all-around good looks. (cr. Koreaboo)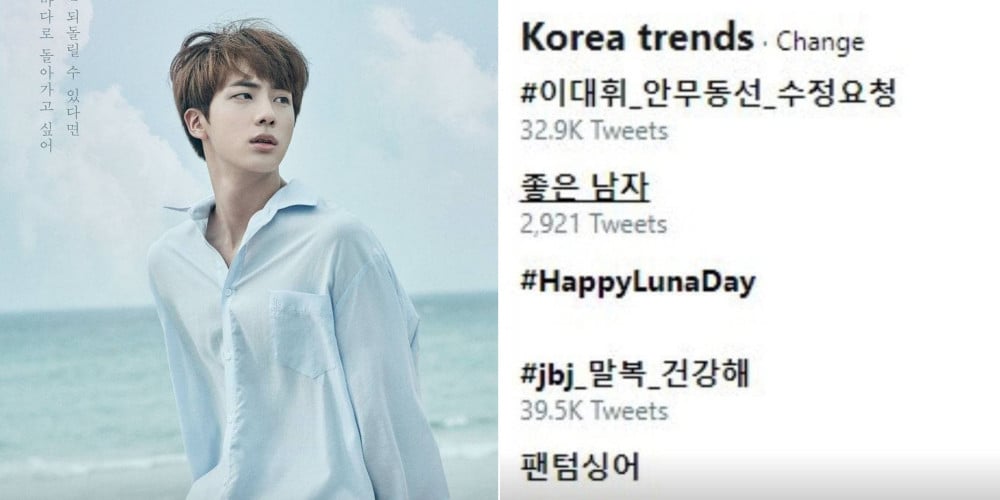 32) Young Master.
Seokjin made a very cute appearance at the Airport in 2018. He was wearing a light blue hanbok that suited him a lot. The media called him a "Young Master."
33) Flying Kiss Guy.


A habit of making a flying kiss with a cute kissy face is also a trademark of Seokjin. This nickname of him is popular among fans, locals and certain countries like Japan.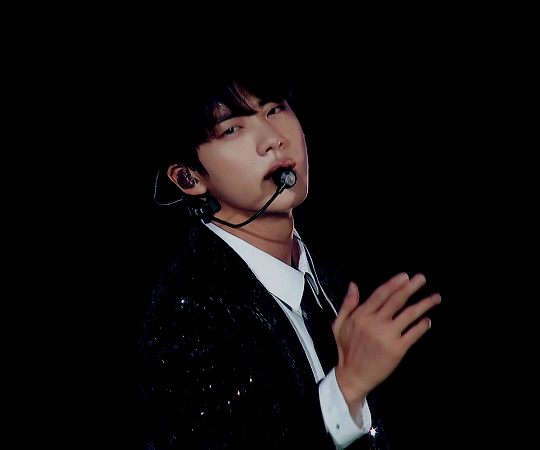 34) Worldwide Cutie Guy.
One more nickname was invented by Seokjin for fans at the Ellen Show.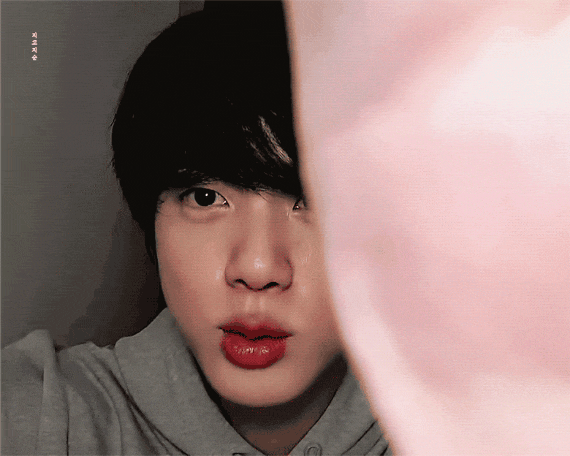 35) Billboard Male God.
A short video of Seokjin from the 2018 fansign got so many locals whipped for him. It trended on YouTube despite being uploaded by a fansite. The media gave him the nickname of Billboard Male God for this.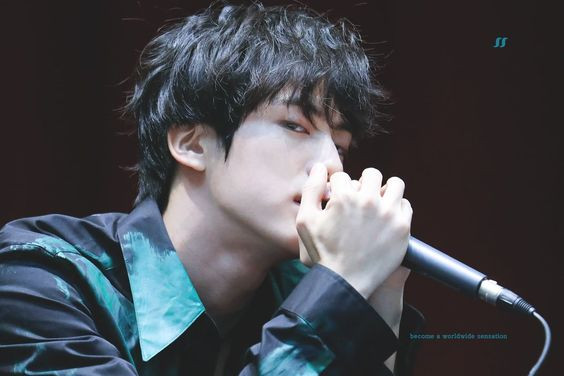 36) Son Of Aphrodite.
This nickname was given to Seokjin by the media and knetz last year. It is also frequently used by fans because it represents the gentle beauty he has quite similar.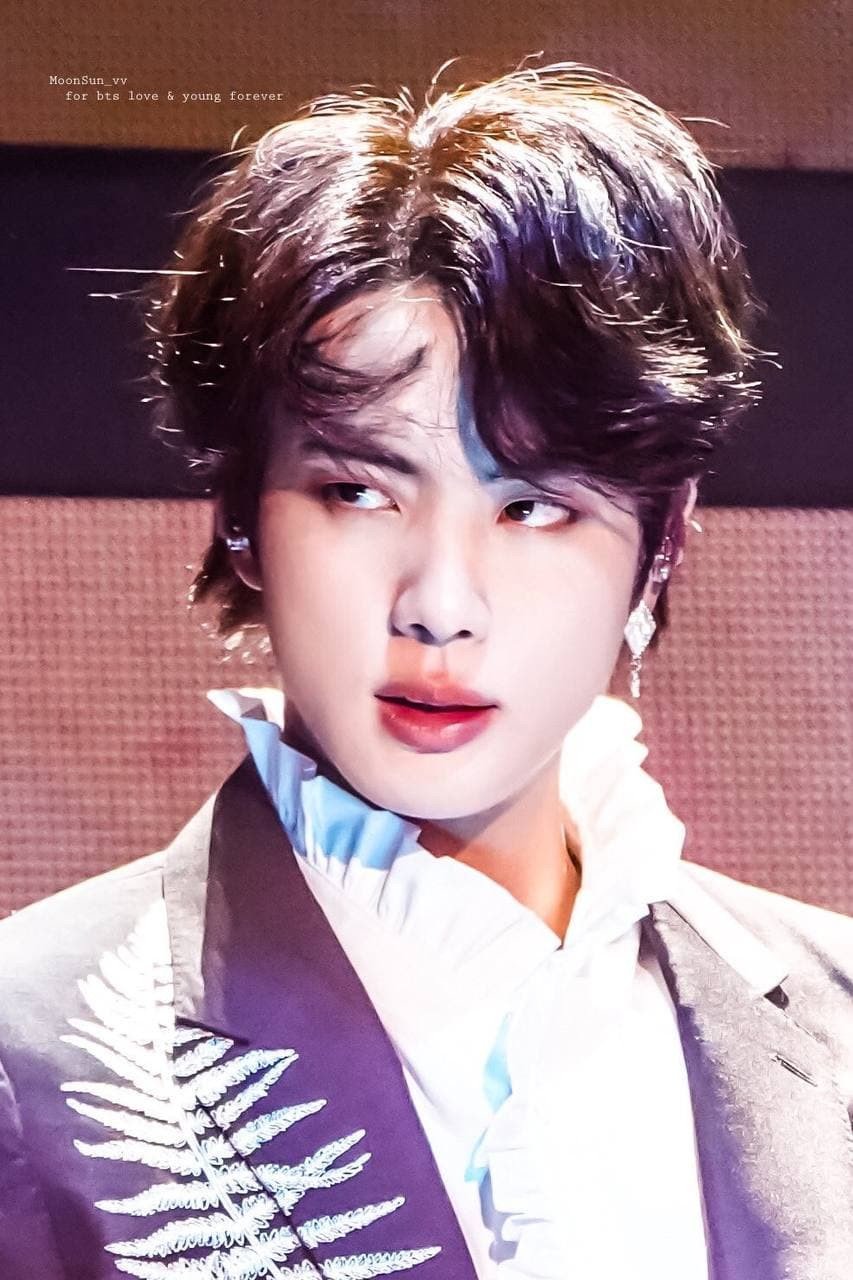 37) Visual King.
Formed after Seokjin being so widely known for visuals and got added to the Urban Dictionary.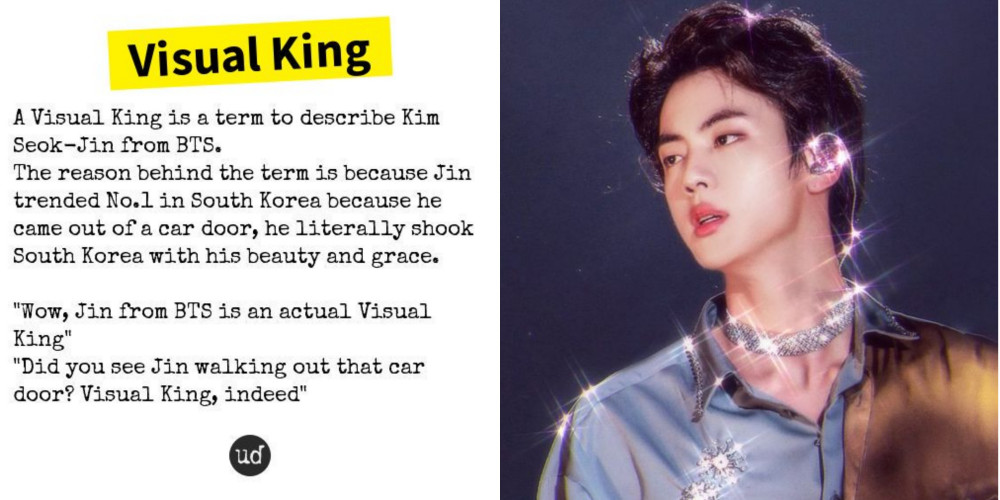 38) Sagikae.

Sagikae 사기캐 is an abbreviation that means "fraudulent character," and it's slang that's used to call someone who's so perfect that they feel like a fraud. (cr. bangtanbuzz).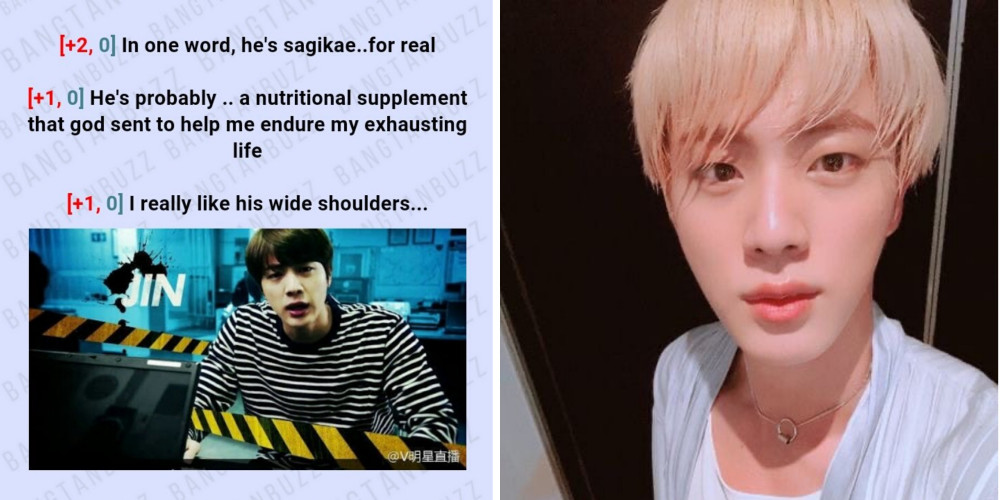 39) Blondy Terrius.

Terryus is a character from an old comic book. He is described as a handsome, gorgeous prince.
(cr. sugafull27). It was given to Seokjin by the media when he had blonde hair.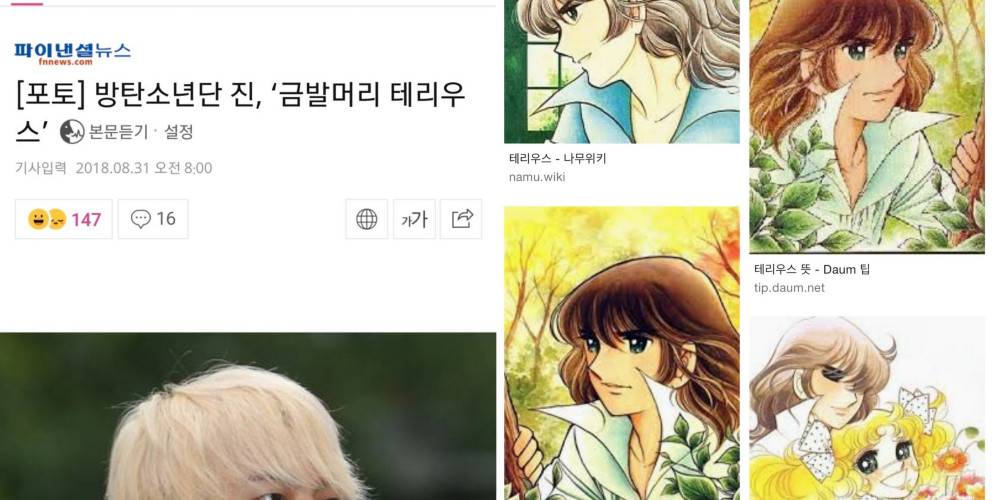 40) The Guy In Green Suit.

BTS appeared and performed on AGT at the end of 2018. Seokjin was wearing a green suit and got liked a lot by locals, so they made him go viral again.
41) Doritos Body.
As Seokjin is widely known for his insanely wide shoulders, he gets lots of attention for it all the time. The media called him Doritos Body which became very popular among fans.
42) Human Thom Browne.
It is his favorite clothing brand which is a known fact (Samsung even made a Thom Browne phone being inspired by Seokjin). Knetz and media commented on how Thom Browne neat style compliments Seokjin's innocent face and beautiful body - this nickname is very loved by fans as well.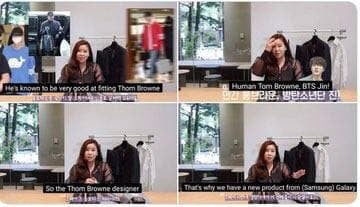 43) Human Samsung.
Seokjin is the visual of BTS, and it is also seen in the ADs released by brands they work with. Ever since September, fans were going crazy about ADs by Samsung, in which Seokjin was the main character. He demonstrates hot and striking, but elegant visuals. Nowadays, the nickname Human Samsung is widely used every time a new AD appears.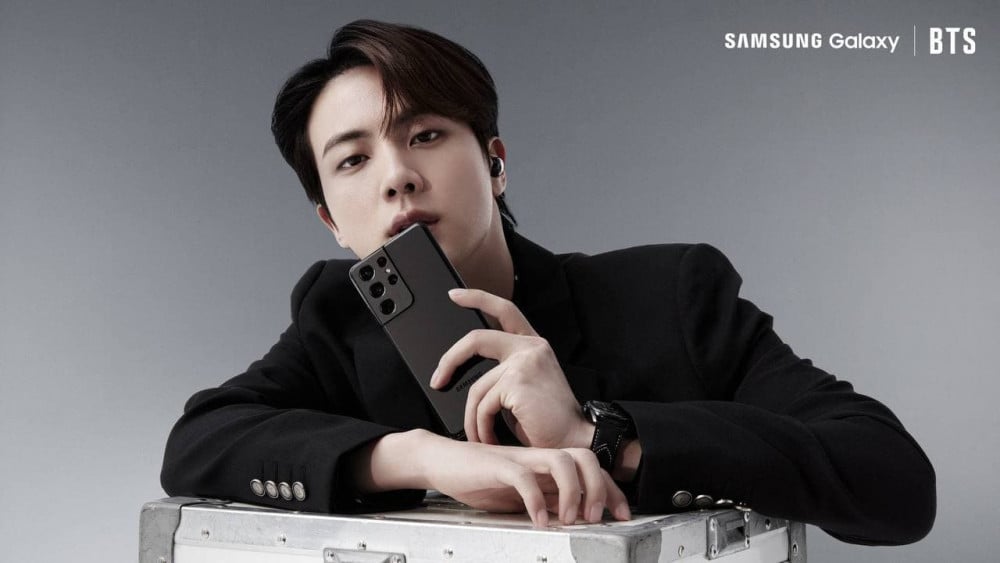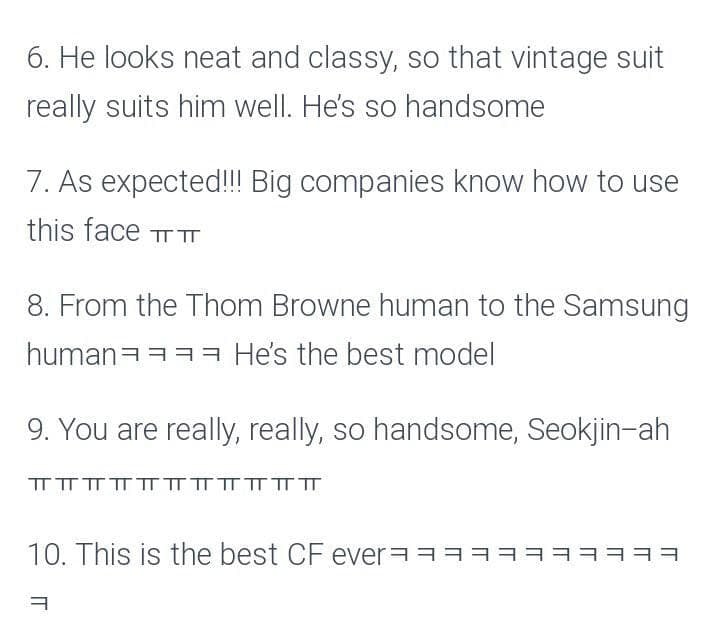 44) Brown Hair Guy.
After the 2019 Grammy Seokjin caught the hearts of locals and those who attended the awards show. During that time, he had caramel brown hair, and that is how people were trying to find out who this handsome beauty king was.
45) Worldwide Pengting.
This nickname was gifted to Seokjin by UK fans that also trended it Worldwide. The word "pengting" is used to describe something very attractive.
46) Zoom In Guy.
Appeared after a cameraman at the 2020 Grammys zoomed in Seokjin's beautiful face at the Red Carpet. It also went viral on social media.
47) 360 Degrees Handsome Jin.
Knetz gave this nickname to Seokjin in 2020 for being incredibly handsome from any angle and shining with beauty even when wearing a mask.

48) Gate Door Guy.
The most recent nickname of Seokjin, which he got for a short 3 seconds video from tvN YouQuiz preview. Seokjin trended in multiple countries and continued trending for the next 24 hours.
49) Physical God.
A great impression was left by Seokjin after the MMA Fake Love performance. K-media gave a new nickname to Seokjin, calling him a physical god.
50) Jjang-jal.
After self-dying his hair purple Seokjin got the hearts of many with his new beautiful color. The hair was two-toned and that is under what nickname he went viral for it.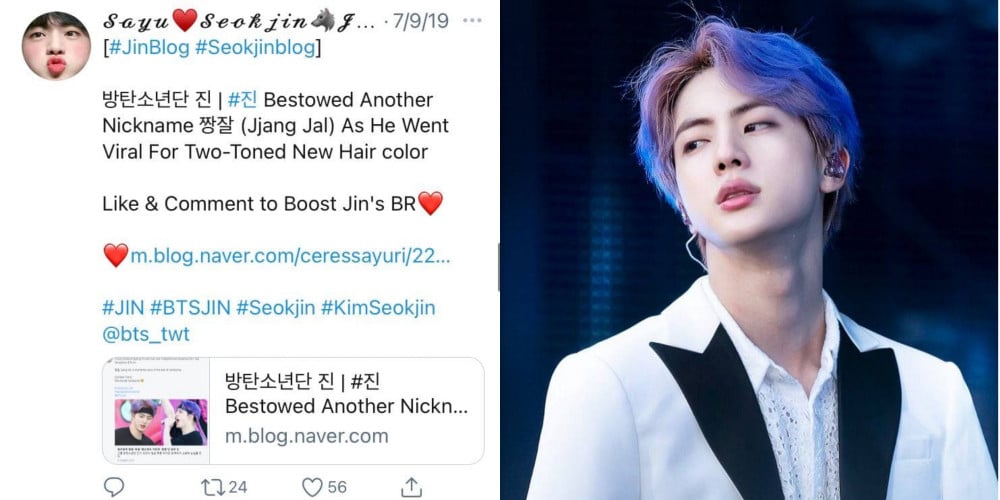 51) The Guy In Yellow.
The televised Tokopedia WIB made Seokjin go viral among Indonesian locals as the Yellow Suit Guy.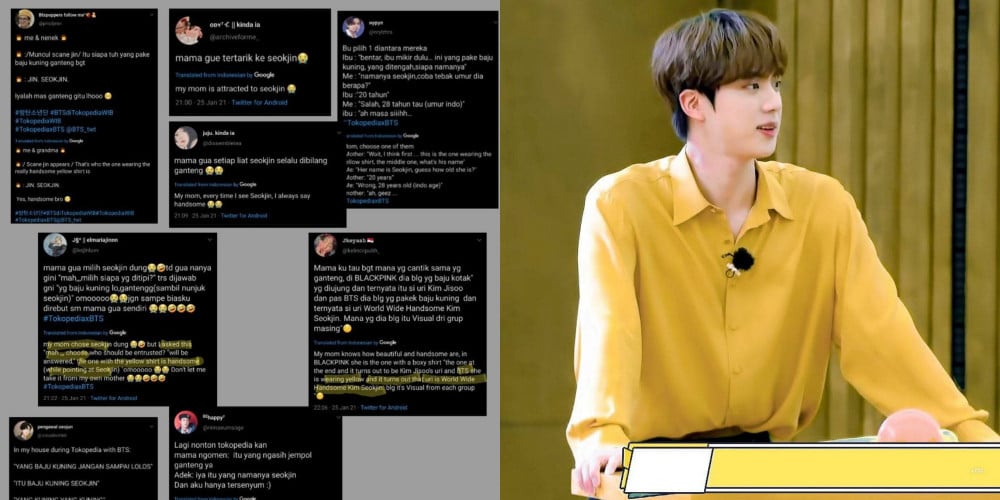 52) Jamsil Prince.
Was given to Seokjin by fans for his charming visuals. He was gifted a cardboard with it at the fansign.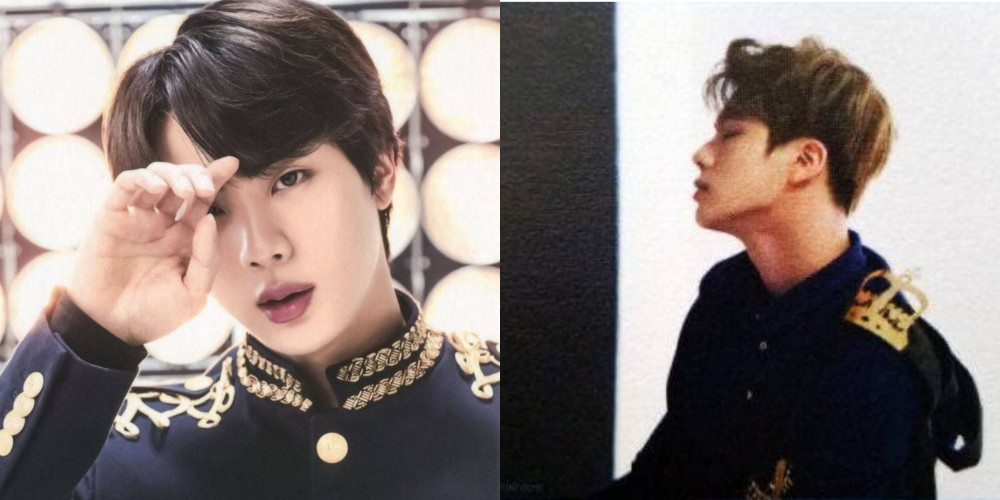 53) Plain Black Suit Guy.
At the 2019 BBMAs Seokjin went viral among locals while wearing a black suit and showing his beautiful face.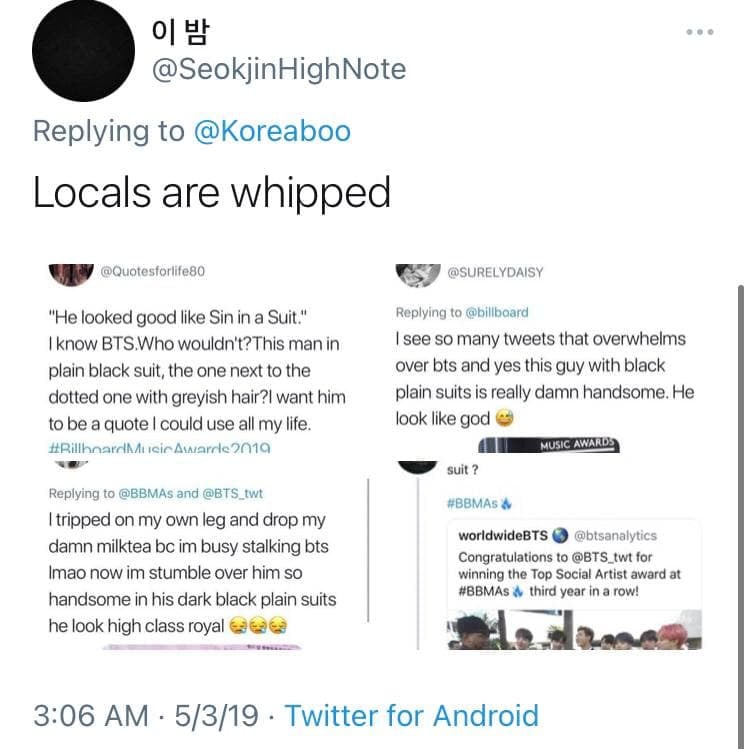 Seokjin keeps going viral every month and gains new nicknames - King of Visuals!