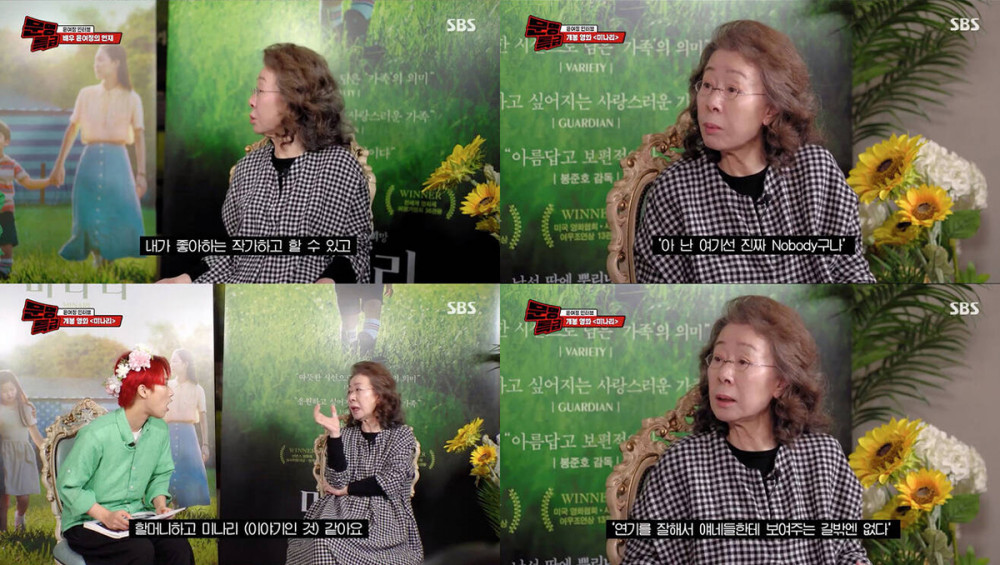 On March 6, SBS aired an extended special interview with veteran actress Yoon Yeo Jung on the popular talk show, 'MMTG - Civilization Express'.
Here, the veteran actress shared the story of how she ended up working on 'Minari', the 2021 'Golden Globe' winner for 'Best Foreign-Language Film'.
First she said that she read the script, then asked if it was based on a true story. When she was informed that the story was a memoir written by the film's director, Lee Isaac Chung, she decided to accept the project right away. "You can't beat real stories," she said, "The details were just too real."
Next, Yoon Yeo Jung revealed, "I liked the fact that Isaac told me to just portray the character of 'the grandmother' however I wanted. So I literally just played the role however I wanted. I did not want to be a predictable grandmother at all." Furthermore, Yoon Yeo Jung said that she spent days with Han Ye Ri and Steven Yeun, rewriting the Korean lines of the 'Minari' script and filling in the missing parts of the language.
What was the first day of filming like for Yoon Yeo Jung? The veteran actress recalled, "Usually, if I am filming in Korea, I would never show up to the first day of filming. The first day is usually always just chaos. But there, in Tulsa, Oklahoma, no one seemed to know who I was. They scheduled me for the first day. Sure enough, it was a chaotic filming day."
She continued, "I said to the wardrobe person, 'This isn't the outfit that I tried on yesterday when we had fittings. Did the director say to wear this?'. But that person just looked and me and said, 'What?'. I'm sure they could understand me, they just pretended like they couldn't. They were treating [me and Han Ye Ri] like people who couldn't speak English, so I told her that we needed to focus and stay alert."
Yoon Yeo Jung further talked about "adventure" of accepting a project like 'Minari'. She said, "In Korea, no director or producer, whether on a TV program, or a movie, or whatever, tells me what to do. But I realized that if I just kept working in such an environment, I would become a monster. So when I went to a different environment and had Americans going, 'What?' to me, I realized, 'I am nobody here'. My only option was to do such a good job at acting, that they would start to respect me. If that's not an 'adventure', what is?"
Finally, Yoon Yeo Jung recalled, "On the last day of filming, Isaac brought the entire staff to my room, and all of them bowed to me respectfully. Too bad I didn't take a picture of that day."