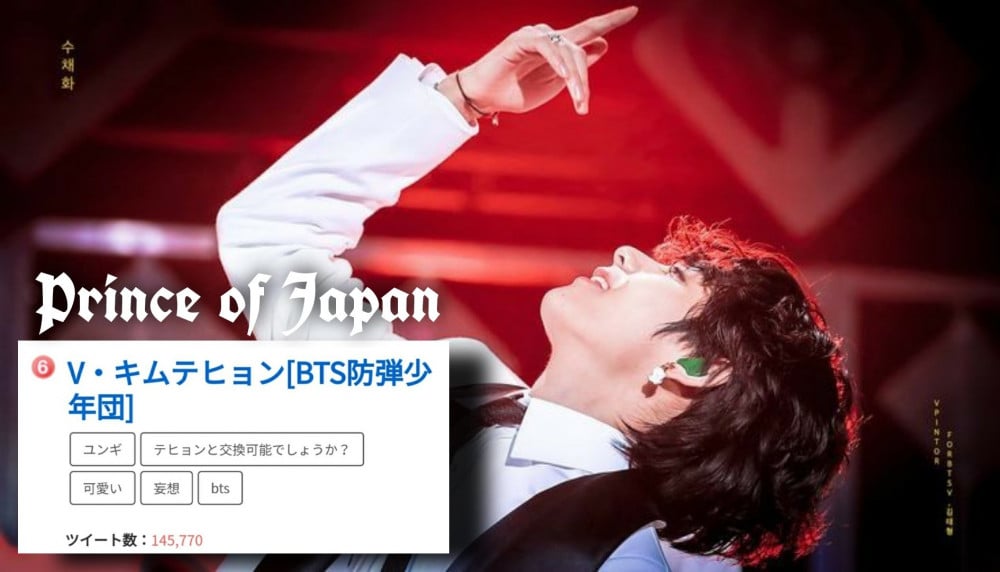 Ever since BTS first stepped foot in Japan, V aka Kim Taehyung swept the Japanese fans and public off their feet because of his unique charms, beautiful vocals, and his CGV visuals. Ever since, V has always managed to outshine not only his fellow members but at times, even BTS itself!
Continuing the tradition and proving his worth as Japan's favorite idol, V has topped various rankings and emerged as the most popular Korean idol in Japan for the month of February!
According to popular ranking site Nehann, V was the most popular Korean idol in Japan for the month of February after garnering around 250k votes. V ranked at the top almost throughout the month.

The most accurate measure of an idol's popularity in Japan is the Twipple monthly celebrity chart. Taehyung 'Tete' was the top Korean celebrity and the undefeated king on the Twipple Celebrity list of the month of February.
He placed 6th on the chart, the highest among all Koreans who were featured and had the highest number of engagements.
He was previously the only Korean celebrity to make it to the top 5 of the Twipple Japan yearly list (2020), leaving BTS and his fellow members way behind! Looks like a similar suit will follow in 2021 as TeTeland keeps falling more and more in love with V.
Tete's songs are also big hits in Japan, with his award-winning OST constantly charting and his self-composed, self-produced, and self-written Billboard charting song, Blue & Grey topping the Line Music Japan Daily Chart after the release of BE ESSENTIAL album.
Line is the biggest music site in Japan and this proves how V has become an artist of such a high caliber, that his songs can conquer the charts of a musically closed country like Japan, where people prefer to listen to music in their mother tongue only.
V's golden vocals, handsome face, and contagious smile make up for a deadly combination, and this very amalgamation is responsible for him winning the hearts of the people all around the world and painting the globe with the purple of his love!