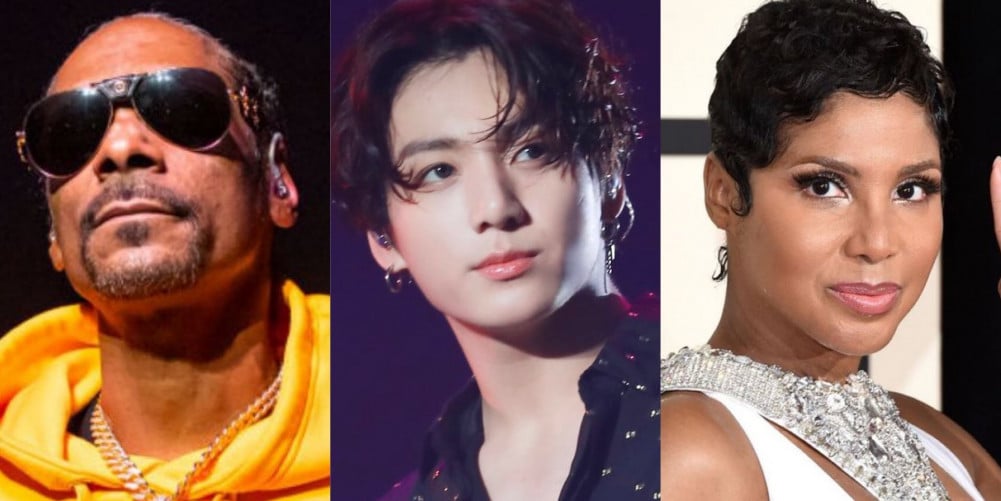 BTS Jungkook is undoubtedly famous not only among fans and media but celebrities too. Time and time again we hear about famous actresses declaring Jungkook as their bias, or a Korean top model saving 500 videos of him from Instagram, or global superstars like Ariana Grande and Justin Bieber simply posting about the Golden Maknae on their social media.
What many do not know is that Jungkook was also mentioned or posted by many famous American Hip Hop and R&B superstars on their social media. This is truly honourable, considering Jungkook himself is known for his perfect deliverance singing R&B through his solo song 'My Time.' The song, which Jungkook also co-wrote, holds the record of the highest-charting BTS solo song on Billboard Hot100. Not to mention how "Rapper Jungkook" trends worldwide every time he makes an appearance and flawlessly delivers his rap verses. Without further ado, check out the list below:
1. Snoop Dogg
American rapper and media personality Snoop Dogg posted a meme of 12 year-old Jungkook on his official Instagram account.


2. Ty Dolla $ign
American R&B and Hip Hop singer-songwriter and producer Ty Dolla $ign posted a gif of Jungkook dancing on his official Instagram account. The post was liked by another famous rapper Wiz Khalifa and singer Lauren Jauregui.
3. Toni Braxton
Toni Braxton is an American singer-songwriter and one of the highest-selling female R&B artists in history. She mentioned on her Twitter account that she admires Jungkook and Jin.

4. Kehlani
American R&B and Hip Hop singer Kehlani gave a shout-out to Jungkook on her official Instagram account, for humming to her song 'Honey' during one of his Vlive streaming. Kehlani captioned her post "So much love Jungkook!"
5. Nicki Minaj
Famous American-Trinidadian rapper Nicki Minaj wished Jungkook a happy birthday on her Instagram comment.
6. Lil Nas X
American rapper Lil Nas X, who also collaborated with RM for "Seoul Town Road Remix" mentioned that his favourite BTS' song is Jungkook's 'Euphoria.'
7. Chris Brown
American R&B and Hip Hop singer Chris Brown posted an Instagram video of his daughter with Jungkook's 'Euphoria Forever Mix' as the background music.