Every idol group has concepts with which they promote their new albums with. This concept is bound to change over time, but the group's image stays fixed throughout the idol group's music career.
An example of the group's image is MONSTA X's manly masculine image and NCT Dream's boyish, youthful image. Due to these various images fixed on certain idol groups, there are songs that better suit one group over the other.
Recently, netizens have taken a vote of the song that isn't suited for certain boy groups and sharing the results in an online community.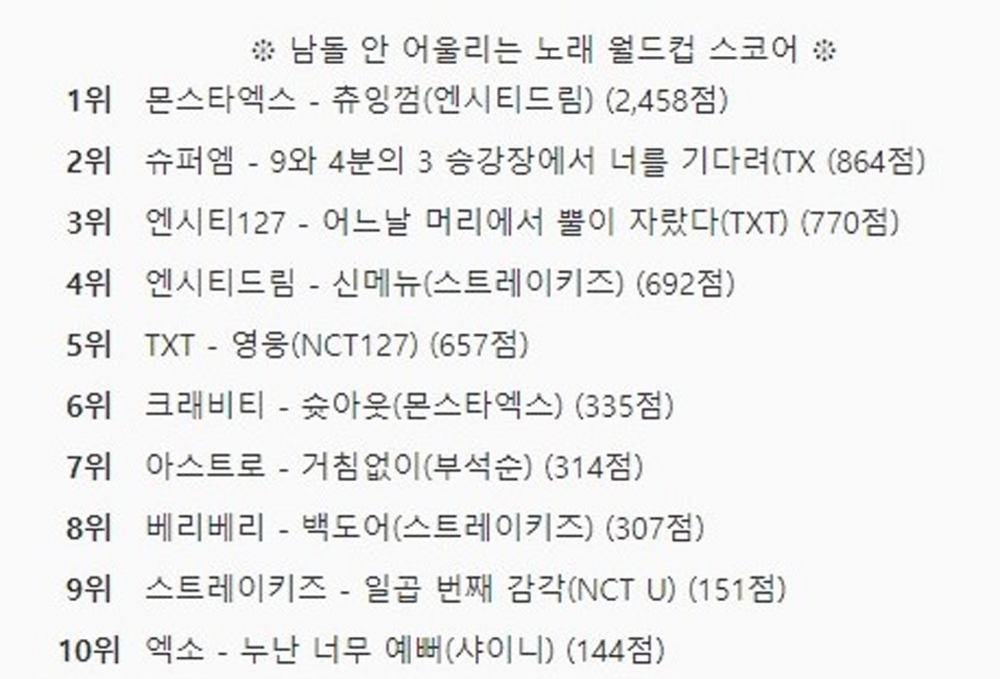 At number one was MONSTA X singing NCT Dream's "Chewing Gum" with 2,458 votes, followed by Super M singing TXT's "9 and Three Quarters (Run Away)" with 864 votes.

The list was followed by NCT 127 singing TXT's "Crown" with 770 votes, NCT Dream singing Stray Kids' "God's Menu" with 692 votes, TXT singing NCT 127's "Kick It" with 657 votes, CRAVITY singing MONSTA X's "Shoot Out" with 335 votes, ASTRO singing Seventeen BBS's "Just Do It" with 314 votes, VERIVERY singing Stray Kids' "Back Door" with 307 votes, Stray Kids singing NCT U's "The 7th Sense" with 151 votes, and EXO singing SHINee's "Replay" with 144 votes.
Netizens commented, "LOL, I really can't imagine these groups singing these songs," "This is so funny, I'm going to barf, lol," "The video from Twitter is so funny," "These netizens are crazy lol," "LOL, I think MONSTA X can pull off the boyish cute image too," and "Wow, these groups really don't fit those songs, lol."