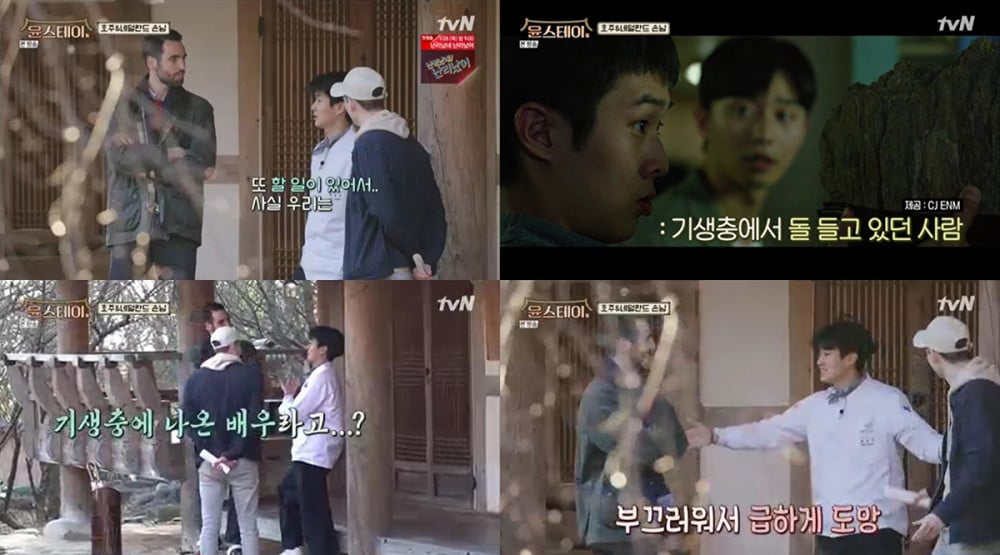 On the January 15 broadcast of tvN's 'Youn's Stay', actor Choi Woo Sik of the Oscar-winning film 'Parasite' continued to diligently carry out his role as the intern, bellhop, and errand boy of the traditional Korean guest house experience, 'Youn's Stay'.
During this episode, Choi Woo Sik escorted two male foreign exchange students studying Korean in South Korea - one from Australia and one from The Netherlands - to their traditional hanok guest rooms, chatting about various topics. As Choi Woo Sik prepared to leave the two guests after explaining all of the amenities of the hanok room, he asked the two students if they were familiar with Korean dramas or films. One of them then asked Choi Woo Sik, "Are you an actor?"
Choi Woo Sik then sheepishly answered, "Yes. Have you seen 'Parasite'?" The two students replied that of course, they've seen the hit film. Here, Choi Woo Sik added on, "I'm the actor from 'Parasite'. But nowadays, I think people don't recognize me because I have longer hair."
Both of the guests were shocked to learn that they were actually face to face with the actor from 'Parasite'! Choi Woo Sik also pointed out that Park Seo Joon, who also made a special appearance in 'Parasite', was also working in the kitchen at guest site.
After Choi Woo Sik left, the two guests said to each other in their room, "I felt bad for not recognizing him. I hope we didn't embarrass him." One of the guests even mentioned this while on a phone call with his family, boasting, "The person who escorted us, I asked him if he was an actor and he said that he was on 'Parasite'. It's crazy! I feel like it's a dream."

Do you think you would be able to recognize Choi Woo Sik if you saw him in real life?