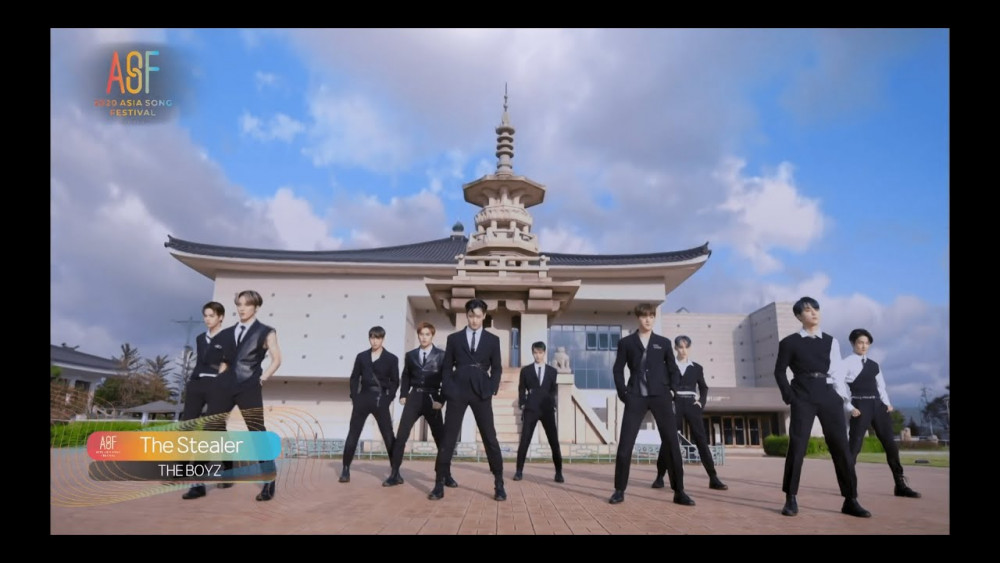 Kang Daniel, GFriend, The Boyz, Red Velvet's Irene and Seulgi, Momoland, iKON, ATEEZ, YooA, Moonbin and Sanha, Secret Number, EVERGLOW, AB6IX, ONEUS, WEi, UNVS, and Ha Sung Woon; Japanese group AKB48, Chinese group S.K.Y, Project K from Myanmar, Milli from Thailand, When Chai Met Toastfrom Indonesia, and Trong Hieu from Vietnam performed in "2020 Asia Song Festival". The festival was hosted by CLC's Yeeun and NCT's Doyoung.

The '2020 Asia Song Festival' held in Gyeongju City, which is known for its history and culture, on October 10. Starting in 2004, the festival featured cultural exchanges between Asian countries through music performances by K-pop artists and top Asian singers.

UNVS, Sand Castle
WEi, TWILIGHT
월명, 도솔가
ATEEZ, Good Lil Boy
ATEEZ, INCEPTION
AB6IX, THE ANSWER
AB6IX, SURREAL
ONEUS, TO BE OR NOT TO BE
ONEUS, A Song Written Easily
MOONBIN & SANHA (ASTRO), Bad Idea
HA SUNG WOON, Get Ready
HA SUNG WOON, Lazy Lovers
KANGDANIEL, Night
GFRIEND, Apple
GFRIEND, Time for the moon night
K-TIGERS ZERO, NOW+SIDE KICK
SECRET NUMBER, Who Dis?
Project K, Live It Up+Jopping (original song: SuperM)
EVERGLOW, LA DI DA
THE BOYZ, The Stealer
MOMOLAND, BBoom BBoom
MOMOLAND, Thumbs Up
Red Velvet - IRENE & SEULGI, Monster
Red Velvet - IRENE & SEULGI, Naughty
iKON, LOVE SCENARIO
iKON, BLING BLING
iKON, RHYTHM TA
YooA, Bon voyage
YooA, Abracadabra
======= Foreign Artists:
When Chai Met Toast, Khoj
MILLI, Sudpang
AKB48, ファースト・ラビット (First Rabbit)
Trong Hieu, Anh đổ rồi đấy (I FELL OVER)
S.K.Y, BURN