[This is a user created article.]
When it comes to Kpop, what is the most important thing other than the talent of Idols? The answer is "Fan base". The success of any idol group is largely credited to their highly active and dedicated fandom. A fandom has the capability to make or break anyone if united. One such example of power fandom was recently seen where Channel Nine aired a segment on "global crazes" featuring BTS, in which they poked fun at BTS and made some racist remarks. Army (BTS fandom Designated name) called them out on their racist behavior through social media campaign by using #Channel9Apologise.
Fandoms are the support system and also the biggest promoters of any group. With the emergence of many idol groups and fan bases, voting polls and awards are in full bloom as everyone wants their favorites to win every poll and award in every category. Looking at this opportunity to use it for their own benefits, some malicious sites and polls have opened and are creating distress among fandoms by abusing the dark side of fan bases for their benefit.
Every fandom has its dark side as well, these fans are called The Akgae (not to be confused with solo stans) and Sasaengs. These are the two problematic categories which create distress and negativity among fandoms.
Recently a new kpop poll King Choice opened and is creating and promoting Akgae behavior in BTS fandom, ARMY is one of the biggest and most influential fandoms out there. This poll is not credible, unprofessional and rude towards ARMY.
How the poll works?
It has two options in front of an idol nominated under a category.
One is up vote and another is down vote.
You can upvote 50 times and downvote 50 times.
What kind of fans vote and how according to logic.
OT(number of members) fans vote for the suitable candidate nominated in the category as they love and support all the members.
Solo stans vote for their bias cause they want their bias to win and don't want other members to be dragged down.
Akgaes/ sasaengs vote for their preferred idol and downvote the idol from the same group for their idol to win.
Now let's see how this poll is enabling and participating in all this:
Creator of this poll has shown their blatant dislike towards Army and a certain member in army and made replies which were hurtful and unprofessional.
In this one poll, a BTS member is seen to have maximum votes, but collective down votes from other fandoms combined, he slipped down. So what does this poll proves? BTS has maximum supporters but collective efforts of ARMYs can be brought down by all the other fandoms combined?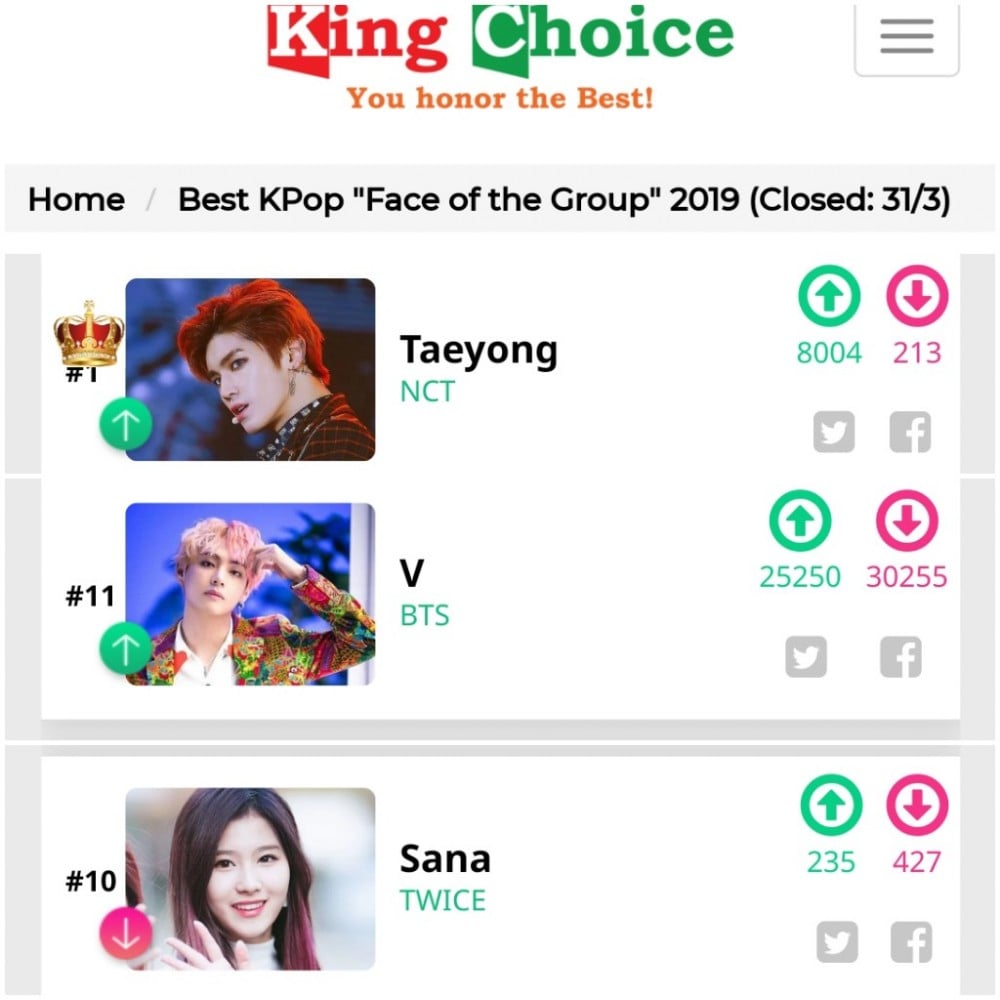 Another poll "Best male Kpop Dancer" whose purpose is to select the best kpop dancer, but the official members of dance line were way down in ranking and non-dance line member was leading. Now all members of BTS are extremely talented dancers, but did J-Hope deserve to be in the bottom? Where is the fair result?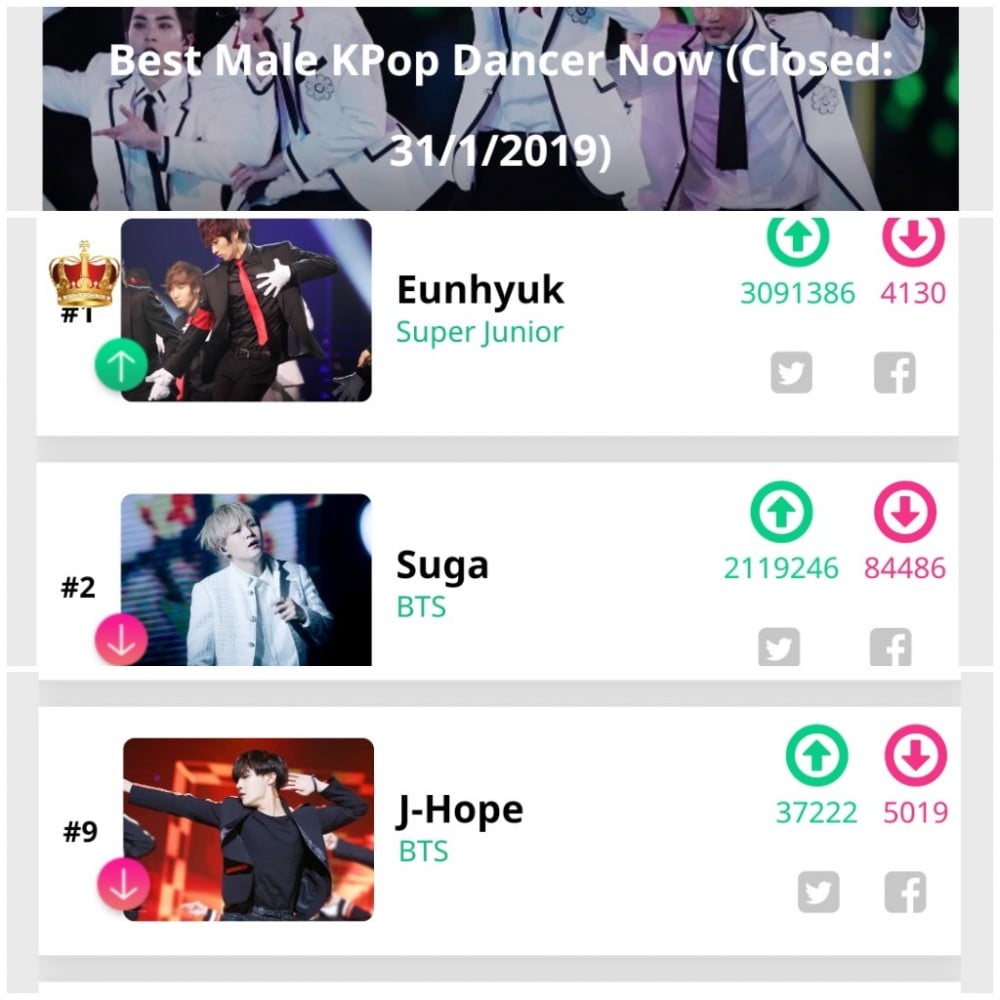 Here one fan casually expressed their love for an idol, to which this is what they replied: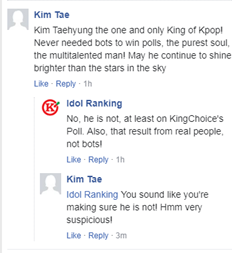 When one fan asked for an explanation, this was their rude reply: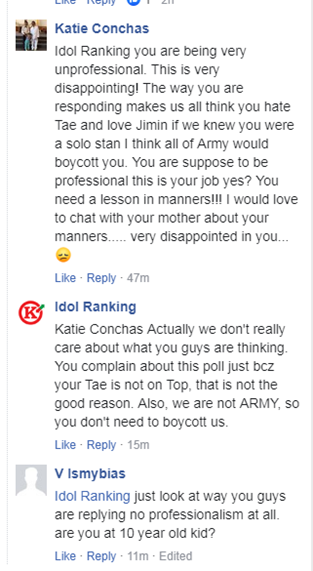 Do they hate BTS this much? Or it's just pure dislike towards just BTS V?
ARMYs were seen asking for an explanation for their behavior and basis of their claims, but apart from demeaning, accusing and insulting one member by calling them overrated this voting poll is not interested in proving their validity.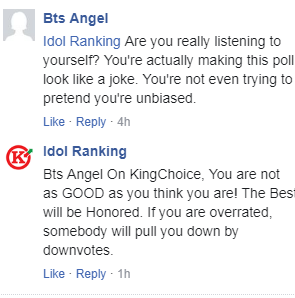 Since when creators of poll started announcing if someone is truly deserving or is overrated?
And Later this morning, this announcement was made which was disrespectful to fans and also questioning the popularity of Idols and ethics. The post blatantly said that BTS V (professional way to address an idol) won the first half even though another member of the same group has bigger fanbase according to unreliable sources and accused them of cheating. A fan-based poll blatantly disregarded votes due to their bias and agenda of creating distress?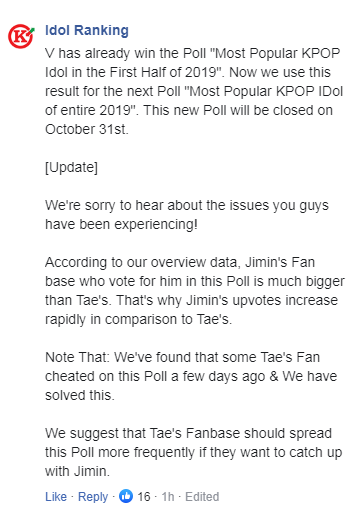 Their dislike was so evident that they blocked major fanbase region who were voting in large number for another member's win? How did they even conclude whose supporters are doing malpractices? Did the rise in certain members vote led them to make this insensitive statement? In a region where BTS Jimin is most favoured and loved member?
Also after this post, many other akgaes were seen mocking armys. This voting site is backing akgae behaviour and is harmful for image of fandom.
In a recent "King of Kpop" poll, Kang Daniel's fans were voting for months to make him the winner but BTS Jimin won by voting for a week? According to information collected by a legit site, Kang Daniel has the most dedicated fanbase and is topping monthly BR as a solo artist with maximum fans, which is a lot more than BTS Jimin. How was that possible to outdo months of votes in mere end days?
So what is the agenda of this poll exactly? Are they akgaes of certain member? Is the voting done being accounted for justly? Or are votes for certain members are blocked to increase the vote for their favorites?
This behavior brings disgust and hate towards creative, peace-loving, hard-working fandoms which should be called out and not tolerated.
Fans believe in voting religiously for their idols and this kind of behavior demoralizes them and cause mental abuse as well which shouldn't be taken lightly.
Lastly, there is an option to buy votes. If you buy votes, half of all the money goes to UNICEF. What's the point of a poll if the votes can be bought? Even if it is for donation? If fanbase of certain Idol has money to splurge, that idol will definitely get the title, irrespective of his/her obvious popularity and mastery in the nominated field.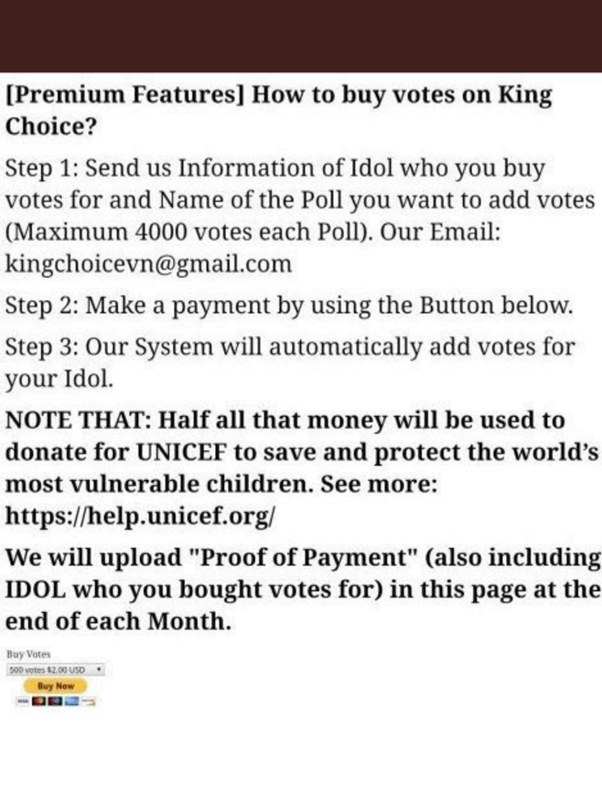 Fanbases work hard for their idols and are emotionally connected to them. Sometimes these fans could be early teens who can get mentally affected by harsh words and accusations.
So what is King Choice's hidden agenda?