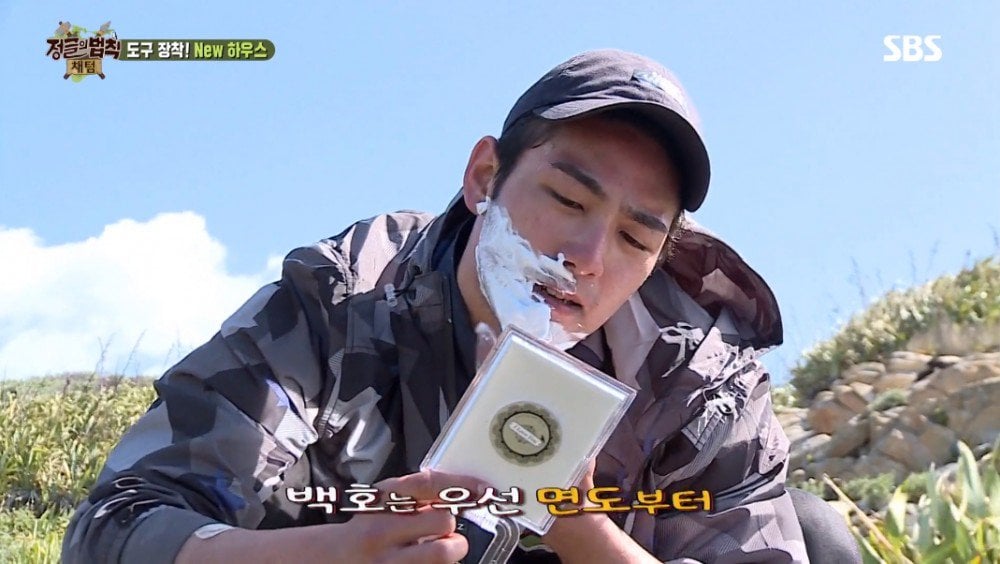 NU'EST's Baekho has "returned" to his original identity as an idol.
On March 30 KST, the SBS variety program 'Law of the Jungle in Chatham' featured a scene of NU'EST Baekho shaving before leaving on a hunt for food. Until this point in time, the idol had refrained from shaving, revealing all of his "organic moments" of fearlessly showing off his natural face and attitude best suited for the 'jungle life.'
As Baekho raised his razor and started shaving, the staff of the show commented, "he is finally reforming as an idol," to which Baekho responded, "yes, from now on I'll be an idol."
The producers expressed that the audience now got a chance to see Baekho's "sharp jawline" again, while fellow guest stars asked multiple times -- "who is he?" Singer Kim Jong Min went ahead an commented, "wow, how can he be handsome?"
After his full transformation from being a "jungle tiger" to an idol, the program also inserted a playful caption on the bottom: "yesterday and today.jpg" (with a before-and-after image).
Which image do you personally like best on Baekho?