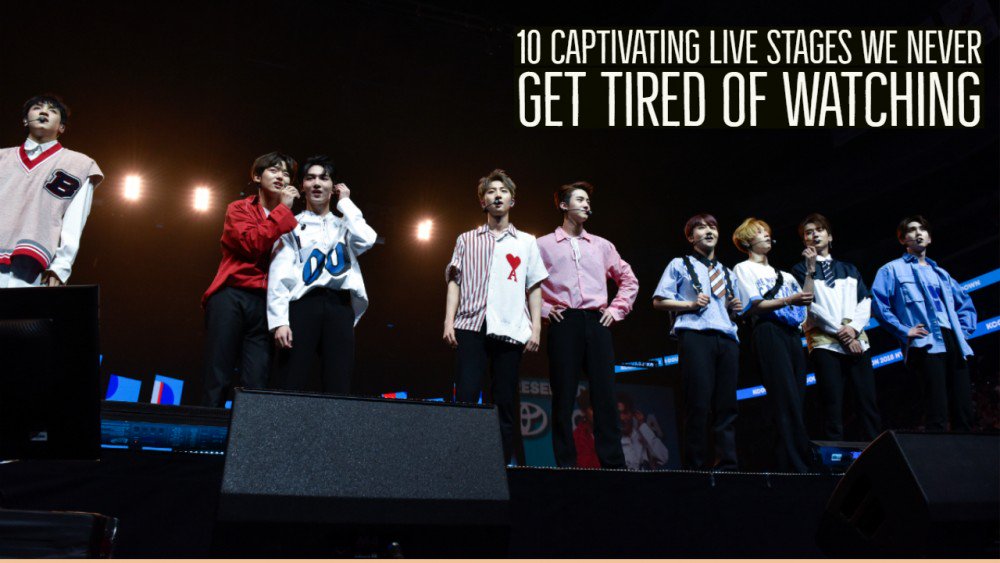 We all watch K-Pop live performances. Whether it's concerts, award shows, or variety, we love watching our favorite idols rock it doing what they do best! Among these amazing performances are the ones that will captivate fans years into the future. No matter how long it's been since the artist has released the song, these are 10 captivating live stages we never get tired of watching!
10. Baby Don't Stop - NCT U
NCT U has shown us that they're able to use their amazing on-stage and group chemistry to their advantage in their live performances. The timing and concept for this particular stage make it extraordinarily memorable. We have to give Taeyong huge props for his standout vocals and performance.
9. I Got A Boy - Girls' Generation
We love Girls' Generation's "I Got A Boy" for its bubbly old school K-Pop sound, but we especially like the incorporation of a freestyle portion of the dance that allows the members to make each individual performance one-of-a-kind. The most memorable portion of the freestyle bit effortlessly serves up aegyo like none other!
8. Shine - PENTAGON
PENTAGON's "Shine" has one of the catchiest hooks in K-Pop's recent history. Likewise, it has one of the most entertaining choreography. The choreography the group has for "Shine" includes viral dance moves like the "Shoot" and the "Floss," making the entire performance special.
7. 4 Walls - f(x)
For a live performance, each singular on-stage rendition of "4 Walls" gave fans of this SM group everything they wanted. Intense dance moves, blindfolded dancers, vocals, and amazing 1970's inspired outfits and bell bottom pants make this live stage an absolute dream.
6. Mansae - SEVENTEEN
SEVENTEEN "Mansae" is another song where the live stage shocks us to our cores. This group never fails to impress us with their incredible teamwork and sense of family. "Mansae" is a song that banded the group together as well as the song that showcased their impeccable coordination.

5. Catallena - Orange Caramel

"Catallena" by Orange Caramel serves as not only one of the most iconic songs by the group but also as one of the most memorable stages in all of K-Pop. Everyone knows the unforgettable "Hah!" that prefaces the stage. Some fans even think that the stage resembles the Powerpuff Girls what with the individually colorful, yet matching outfits.
4. Replay - SHINee
From the outfits to the haircuts and the vocals to the dance moves, SHINee's debut stage for "Replay" is nothing short of unique. Even with microphone issues and small slip-ups, they managed to rock their performance of "Replay," successfully marking the beginning of an era of supreme live stages.

3. Knock Knock - TWICE
TWICE's "Knock Knock" choreography is similar to Girls' Generation's "I Got A Boy" wherein the girls can change aspects of the dance to make it unique to each performance of "Knock Knock"! We love Nayeon's adorable smile in each version of the song's initial reveal and it's hard not to embed this to memory.

2. Devil - Super Junior
Fans constantly find themselves saying "I think this is the best performance of Devil so far" every time they watch another version of this stage. Super Junior shows that they're a veteran group for a reason with the energy they bring to each live stage. This particular performance is one of our favorite's given the handsome styling!
1. Bae Bae - Big Bang
The iconic boy group Big Bang proves to us over and over that they're here to stay. Their elaborately strange on-stage rendition of "Bae Bae" incorporated much of the music video's quirky aspects. From back up dancers to hanging plants to different colored eyes, the little things make "Bae Bae" stages so captivating and interesting.