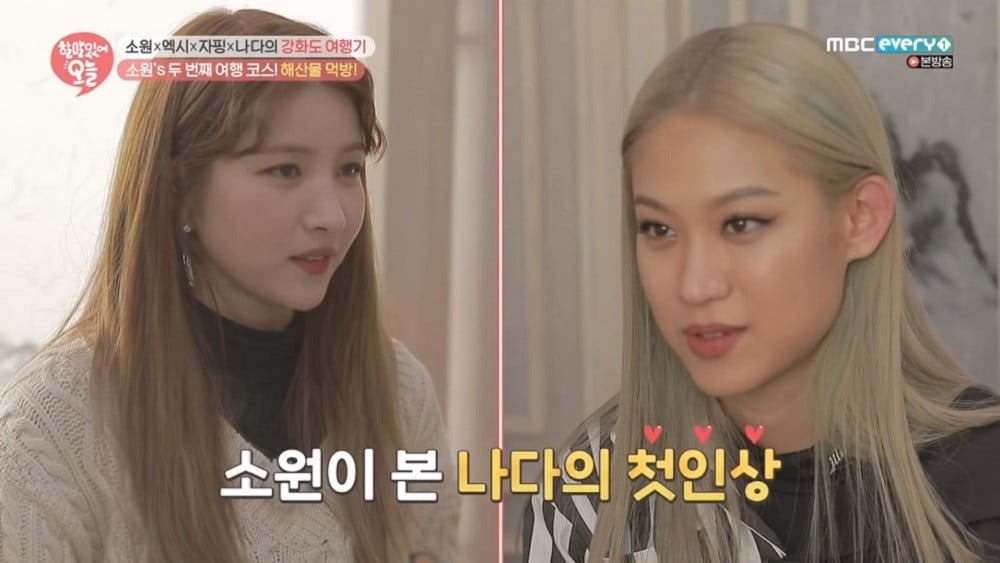 Rapper Nada talked about her first impression of G-Friend's Sowon.

On the December 8th episode of 'I Have Something To Say Today', four female celebrities -- Sowon, Cosmic Girls' Exy, Nada, and Giant Pink -- went on a friendship trip together. During lunchtime, Giant Pink suggested that they all talk about their first impressions.
Facing Sowon, Nada confessed, "I am gonna be super direct. My first impression of Sowon was that she appeared really cold and mean. She looked as if she wouldn't even greet me whenever we would encounter."
"But after we started talking, Sowon turned out to be a talkative girl. She's a really fun gal," concluded Nada.

On the other hand, Sowon also confessed, "I imagined that it would be fun and comfortable with Nada unnie. But, at first, she was a bit scary."
MBC Every1's 'I Have Something To Say Today' is a 4-part variety program that observes honest talks and gossip between celebrities.