2018 has given us many great and talented rookie groups, both known (e.g Stray Kids, (G)I-DLE, LOONA) and unknown (e.g SATURDAY, Camila, Target). And it doesn't look like it will slow down in 2019.
Here are six girl groups who are confirmed to make their debut in 2019.
Cherry Bullet - Early 2019
(From left to right: Mirae, Bora, Chaerin, May, Jiwon, Yuju, Kokoro, Linlin, Haeyoon and Remi)

One of the most awaited debuts of this year, is probably CherryBullet. FNC's new eleven member girl group was first introduced in 2017 with the one by one revelation of the members. Or, at least, that was the plan.
After revealing three of the members, FNC went quiet regarding the girl group. It wasn't until recently that they started releasing new teasers, seemingly having changed some plans regarding Cherry Bullet as well. While the older teasers are focused on the innocence of the girls, dressed in white and looking ethereal, the new teasers are focused on the fruity concept. The group also went from eleven members to ten (all previously revealed members are still included in the line-up).

Good Dream Entertainment
After debuting their first girl group in 2018 (SIO.SIJAK), Good Dream Entertainment announced they were holding auditions to find five girls to form the girl group supposed to make their debut in 2019. Nothing has really been released on the group plans since then, but thanks to the audition poster we know the girls are between the ages of 17 and 25. If they have a similar skill set to SIO.SIJAK, they will have very stable vocals while performing.
High School - March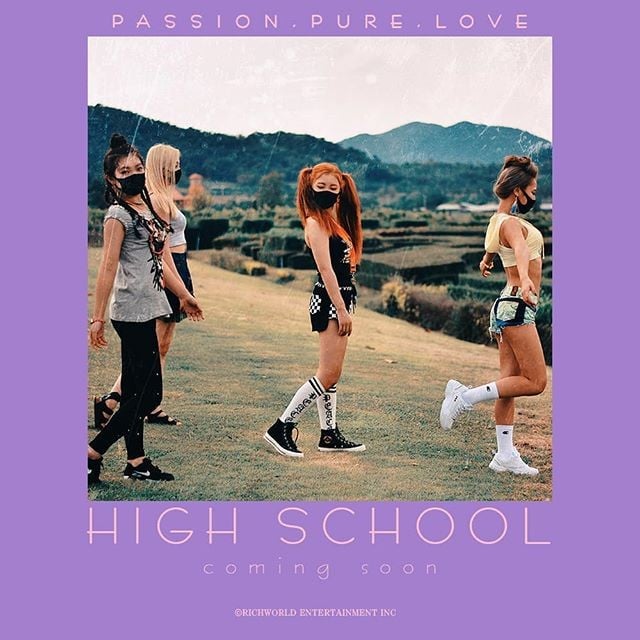 (From left to right: Yebin, J, Soeun and Haebin)

After having several line-up changes and a delay of debut, High School is looking to debut in March of 2019 with a pretty unique concept. First announced as a group back in 2017, the High School girls have yet to show their faces to the public. In the very beginning, the group would do lives in which their heads would be cut from the screen or their faces would be heavily blurred to keep their looks hidden. At some point they stated wearing masks to still have the same effect of people not seeing their looks, but being more able to promote themselves.
The group is created by singer and producer Rich, from Richworld Entertainment, who said in one of the very first press releases on the group that it would be a challenge to make a difference on the visual aspect of the idol industry in recent times, especially with the strong preferences that have become very popular. Instead he wants to focus on two skills that can help the group in the long run: self-production and self-choreography.
High School recently released a teaser for their first single on their Instagram. The teaser includes the melody of 'Baby You're Mine'. They have also been named as the third most awaited Kpop debut in Thailand, where they recently promoted.
PURPLE BECK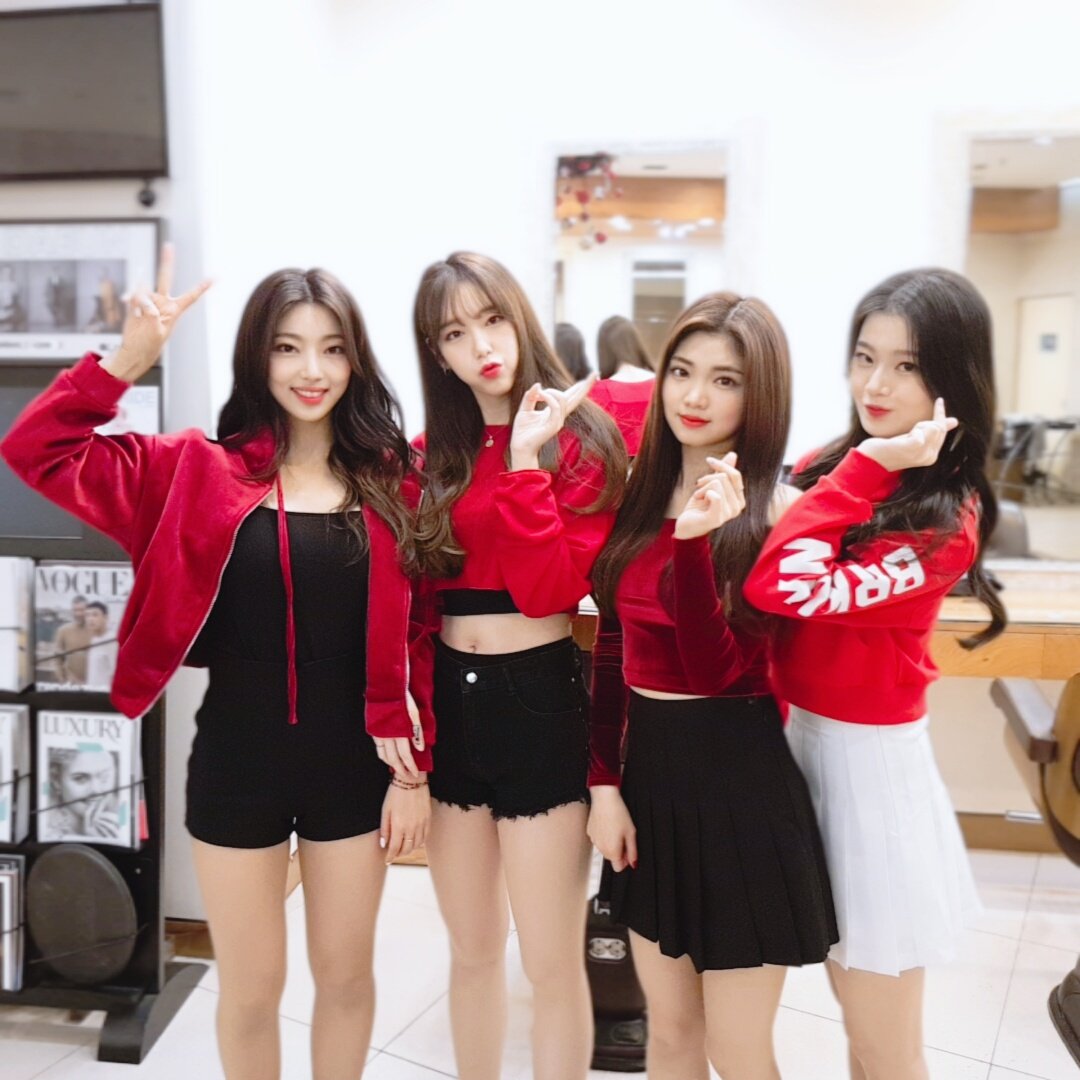 (From left to right: Yeowool, Layeon, Yerim and Mini)
PURPLE BECK will be the first idol group coming from Majesty Entertainment. Right now, the group is slowly unveiling it's members. Currently four members have been revealed. How many members are going to be in the group is not certain. The last time the company made a remark on it, they said they were thinking about six or seven members, but that it wasn't set.
When in 2019 the group will make their debut has not been disclosed. Their Twitter biography only mentions they will debut in this year.
Rendezvous - July 7/8
Rendezvous is the girl group with what is most likely the the most set schedule. On the 3rd of October, the Rendezvous project was launched. Parksal Company revealed their upcoming girl group would be made through a selection process. The trainees had to do various testing activities, such as preparing a choreography or song. On December 9, the trainees who made it into the group would be revealed. This would be the group that would hold their debut showcase on the 7th of July 2019, and would release their music through music sites on the 8th.
The girls who were revealed to be part of the group are Suri, Seulgi and Younseo. Though the company did state they were planning to add more members to the group, these are the girls that will most definitely be in there.
Y.E.S - March
Y.E.S is a girl group created by NOH Entertainment. They recently had a pre-debut reality show called 'We Have A Dream' in which the girls were followed during practice, played games and talked about their experiences. The show begins with the six members Oh Yubin, Park Soorin, Kim Seoyeon, Kang Yumee, Kim Jiwoo, and Lee Doyeon. However, afer episode four, Yubin, Soorin, and Seoyeon were no longer part of the group (press releases write this up to the company deciding to change up their line-up while they are still trainees) and the episode focused around nine new trainees, who, according to the title, where the 'new friends'. These trainees were Jihye, Eunyoung, Somi, Jieun, Yujin, Saeyan and Hyein (nine trainees were shown in group shots of the trainees, but only seven were introduced). Whether they will all join the group to make one big group or if the company decided not to add after all is not known to me, since the last episode (episode six) only features the original three girls and also talks about the other three girls and none of the trainees were seen in that episode. The group also doesn't have any kind of social media or a homepage, so it's rather hard to find any concrete information the group, aside from what was released to promote 'We Have A Dream'.