Hanteo Chart
apologized once again due to an error concerning
EXO
's album sales.
On October 18th, the music chart apologized for having
manipulated EXO's Chinese album charts
14 months ago. Three days later (earlier today), another apology manifested when EXO's upcoming album '
Don't Mess Up My Tempo
' was uploaded on their album sales chart, even before its official release.
On Hanteo's official website, a public notice explained that the album is currently reflecting the pre-order sales count that would otherwise be regarded as 'exceptions'. Hanteo wrote: "Our company's system is automatically connected to these family stores, processing all pre-order sales as exceptions that would later be reflected through forms of invoices or on-site receipts."
Suggesting that there had been a mishap regarding chart disclosure, Hanteo promised a modification as soon as possible. "Since the data-processing team for SM is closed for the day, the album's current reflection on the charts will be modified tomorrow as exceptions. The omission of these numbers from the total count during the first period of sales, something that the fans are worried about, will not happen. You do not have to worry. Thank you."

Following this explanation, Hanteo Chart took to Twitter for a similar message to the fans, informing that there had been an "error" during the data-processing. The message reached many fans far and wide, eventually bringing a motley of reactions to SNS.
[사전 공지] 금일 "엑소 DON'T MESS UP MY TEMPO 앨범 판매량은 저희 패밀리 판매점중 한 곳의 전산 오류로 반영되고 있으며, 해당 기업이 금일 휴무인 관계로 내일 수정과 정식 공지를 할 예정입니다. 또한, 해당 판매량은 발매일에 정확히 반영될 예정이오니 걱정하지 않으셔도 됩니다." 감사합니다.

— 한터차트 (@hanteo_official) October 21, 2018
Due to the unstable nature of Hanteo's album reflections for EXO, fans have shared laments that they can "no longer trust" the organization. Even though Hanteo continues to reassure fans, the current reflection of the day with EXO's not-yet-released album on an incorrect spot on the chart is angering many EXO-Ls, judging by the retweets.
어떤 점이 감사한 건가요? 지금 감사보다는 팬 기만 포함, 전산 오류까지 죄송할 일이 더 많이 보이는데요. 여전히 팬을 호구로 보시네요, 이 기업은. 팬은 만만한 존재가 아니고요, 만만하게 볼 존재도 아니고요, 무슨 자신감으로 본인들이 우위에 있다고 생각하여 팬들을 무시하고 행동하시는 건지.

— 리터 (@luvbabely) October 21, 2018
stop making us angry pic.twitter.com/1vYwA3zH7L

— 제제 (@cikentender) October 21, 2018
October 21, 2018
With complaints that this "wouldn't just a simple error", some comments read: "'Thank you'? Why are you thanking us for? Do you not know the meaning of an apology statement?" "Didn't Hanteo say that they only reflect the counts through a physical count using the actual barcodes? How could they reflect an album that isn't even out yet??" "Wow, you guys are the worst at doing your jobs. Lost all our trust." "This isn't a proper apology to fans, especially after the recent announcement regarding a similar matter."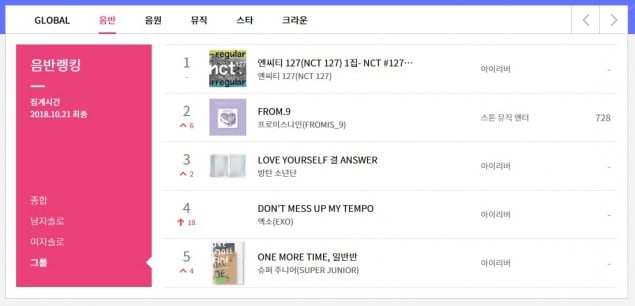 Currently, EXO's album 'Don't Mess Up My Tempo' is ranked at #4 among the album sales for group artists. Stay tuned for more updates.