(We apologize for this drama review being posted later than expected, due to site renovations.)
In episode 12 of f tvN's '100 Days My Prince', our crown prince Lee Yool (played by EXO's D.O.) finally returned to the royal palace!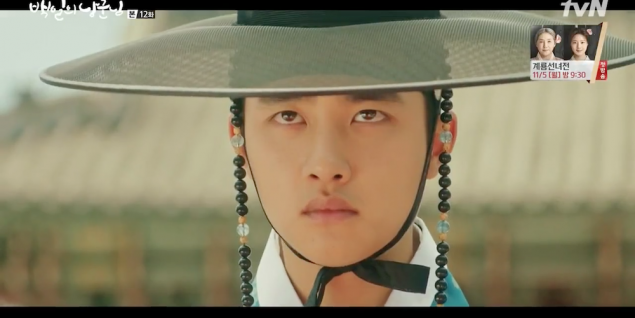 It's been forever since I got to use my sassy glare!
So in this episode, Kim Cha Un is the one to finally inform Won Deuk that he should not be living some lowly peasant life, because he's actually Lee Yool, the crown prince of the country! Confused after learning about his identity, Yool has no choice but to listen to Kim Cha Un, who tells him that the princess consort is currently bearing a child in her womb who is his own bloodline, and in order to "prevent" the Queen from murdering both the princess consort and his own child, Yool must absolutely return to the palace at once!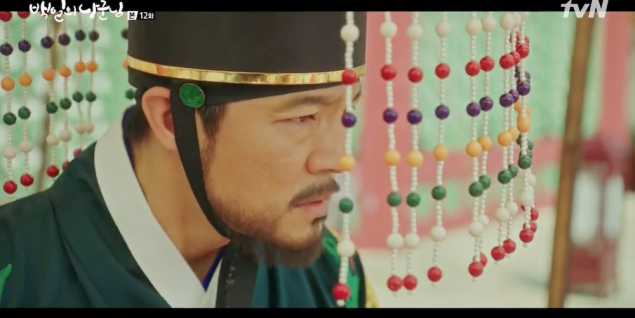 Your sassy glares have grown weaker, my son...
Past memories are still hopelessly lost in the unending abyss that is Kyungsoo's Yool's eyes, and with no one to trust, Yool seems to be putting his trust in Kim Cha Un's words for the time being. Basically, fate is literally favoring our antagonist Kim Cha Un on every side right now. All he needs is for the princess consort to hurry up and give birth to a son, who will then be named the next heir to the throne. As long as everyone believes that the baby is the crown prince and the King's bloodline, Kim Cha Un will eventually have the upper hand against not only the Queen, but also the King, Yool, and basically the whole country.
So in this circumstance, when Yool has no choice but to put his trust in Kim Cha Un, it unfortunately interferes with the King's timid plans to overthrow Kim Cha Un's influence over him. And we don't want that, because the King isn't all that bad of a guy. Kim Cha Un is the ultimate bad guy here, and right now, Yool is on Kim Cha Un's side. Very, very, bad.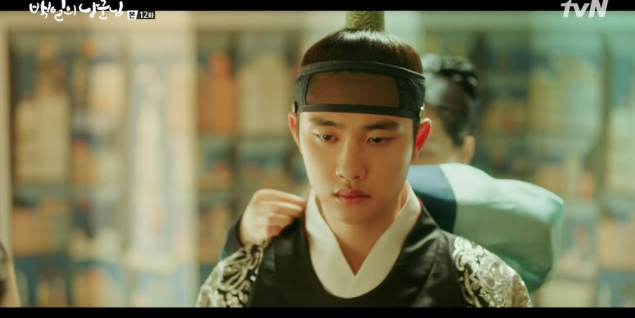 Giving people sassy glares is so tiring.
Even if Yool decides to have suspicions about Kim Cha Un soon in the next episodes to come, it won't be easy for him to right all of the wrongs. Kim Cha Un already has control over Yool's weaknesses in every way, assigning his spies in the roles of every single one of Yool's royal assistants and servers.

But for now, we don't see Yool trying to defy or question Kim Cha Un in any way. Rather, Yool seems to believe that the child in the princess consort's womb is in fact, his own. After all of the familial moral lessons he learned in the little village thanks to Hong Shim (played by Nam Ji Hyun) and Hong Shim's father, Yool's familial instincts are on high alert. For the sake of family, Yool seems like he is determined to protect the child in the princess consort's womb, which also means he must develop a better relationship with the princess consort than he allegedly had in the past.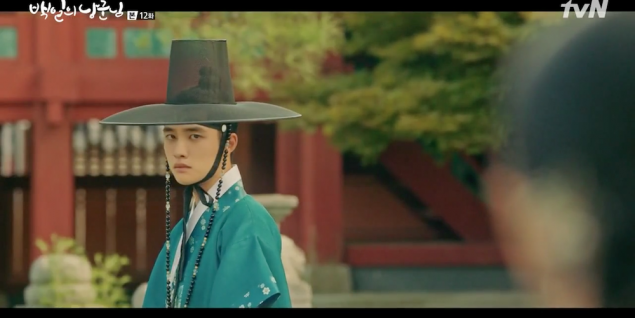 Oh, so you want a taste of my sassy glare, woman?
As things stand, I'm a little intrigued by what this could mean for our princess consort, Kim So Hye. She's a character who has never been loved or cared for her entire life. And to have her husband, who used to hate her, show up again but with a completely different attitude? It's not that I don't want Yool to get back together with Hong Shim/Yi Seo by the end of the series, no. But it's an intriguing story element, the prospect of the princess consort's experiencing new things as a result of Yool's genuine attempt to care for her and her child.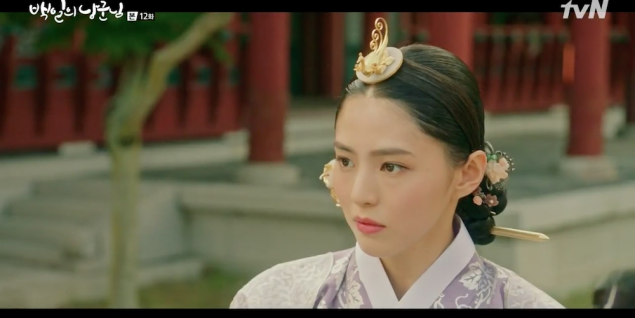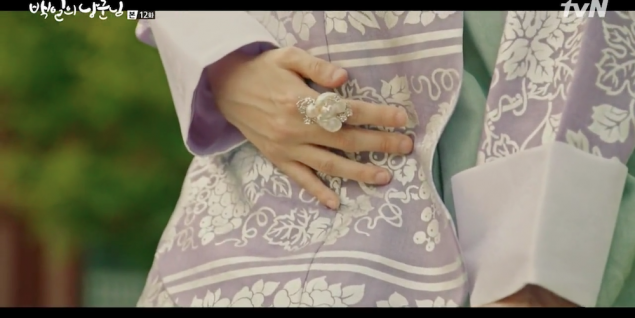 Sassy glares are very bad for babies!
And then, we have our young governor Jung Jae Yoon, whom I thought couldn't disappoint me any more than he already has so far. He proved me wrong in this episode. Not only did he fail to help Yool learn of his identity before Kim Cha Un could get to him, Jae Yoon literally did nothing but watch when Kim Cha Un came and carried Yool away to the palace. Whatever letter or puzzle Yool left for Jae Yoon before he went missing, apparently means smack to Jae Yoon because he has no interest in offering the crown prince any valuable help, whatsoever. Heck, he's still half helping Kim Cha Un! But wait, there's more. As soon as Yool is whisked away by Kim Cha Un to the palace, the first thing Jae Yoon does? He goes and "romances" Hong Shim, who is so obviously hurt from the sudden turn of events. He offers Hong Shim a new identity and is flirting with her over her "new name"! So wrong on so many levels, dude!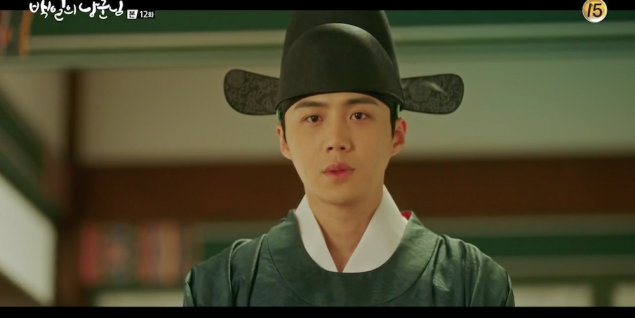 ?(`?´?)/
Frustrations aside. By the end of episode 12, we have emotions running very high as Yool suffers from constant hallucinations of Hong Shim in the palace. While back in the village, Hong Shim/Yi Seo makes a heartbreaking decision to run away with only her brother and her foster father, as she knows that leaving and forgetting about Yool is the only option she has. For Hong Shim/Yi Seo and her older brother Moo Yeon, it really does make sense that running away from the country altogether is their best bet for staying alive and staying out of trouble. But as it seems, things won't be that easy for Hong Shim either. In fact, in the very final scene of episode 12, we see Yool escaping the palace late at night in order to go see Hong Shim again. But she hides from him, knowing that it's better if they don't become involved any further...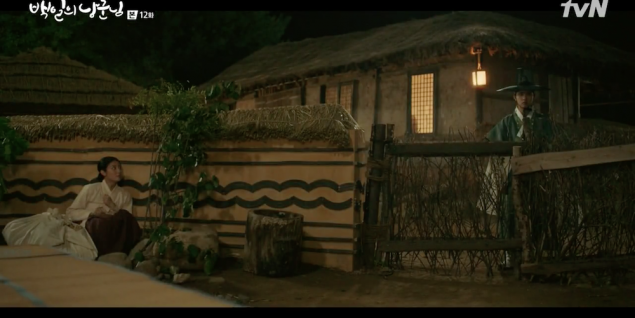 Hide from the sassy glare boogie man!!!!

A more emotional episode this time, when I was personally expecting an episode full of plot surprises in the palace politics and drama. Still, I was satisfied to see by the end of episode 12 and in the preview highlights for next week, that we'll get to see Hong Shim get out of the village to confront some of the bad guys herself. I hate cinderella stories where cinderella just has to wait for her prince to rescue her. So next week, I really hope to see cinderella Hong Shim deciding her own fate!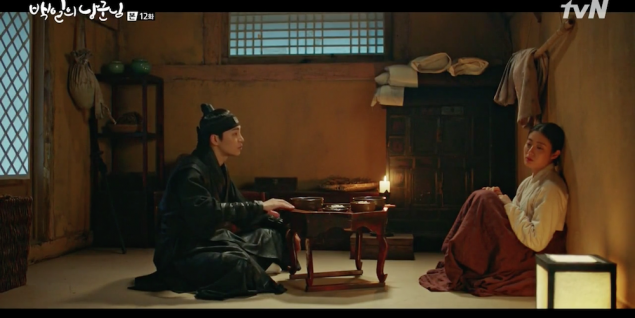 How can I eat when EXO's comeback is still so... far... away...
SCORE
Plot......................................8/10
Performance.......................9/10
Pacing..................................8/10
OVERALL............................8.3/10