Big Hit Entertainment
has surpassed one of the biggest entertainment companies in Korea, in terms of monetary valuation.
According to '
PaxNet Daily
',
STIC Investments
has recently purchased a 12% stake of Big Hit Entertainment, giving a sharp rise to the company's economic valuation in 2018. STIC Investments is a
n international private equity management firm composed of private investors, and their 12% stake purchase equals to about 104 billion KRW (~92 million USD).
This rise has given Big Hit Entertainment a total valuation of 870 billion KRW (~770 million USD), surpassing YG Entertainment that has a market cap totaling around 700 billion KRW. The biggest market cap had been topped by JYP Entertainment, with about 1.2 trillion KRW, and SM Entertainment had come in second with just over 1 trillion KRW.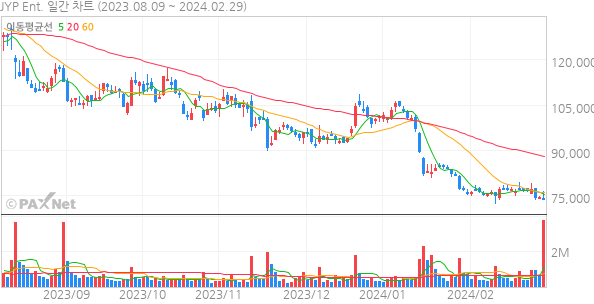 (photo: daily chart for JYP Entertainment from March 22nd to October 12th of 2018)
Since Big Hit Entertainment currently remains as a private company (with shares being traded on stock markets), a parallel comparison with the other public 'Big 3' companies "would be a stretch", according to 'PaxNet'. However, the unforeseen investment of STIC, placing the company on par with the 'Big 3' in terms of valuation, is making significant headlines. Due to the rising influence of BTS on global markets, 
the level of future-oriented expectation from investors appears to differ for Big Hit Entertainment.