It has been over a year since the release of "Ko Ko Bop", and all EXO-Ls have been waiting and have been finding many ways to cope with the EXO drought. While we love "Ko Ko Bop" and "Power", we are worried that our favorite boys will be going into 2019, still without a comeback. I decided to look at the existing evidence that we have and try to piece together the answer to the question that we have all been asking, "When is EXO coming back?" (Of course, I do not actually know, so do take my analysis with a pinch of salt).
Let's begin, firstly, one thing we do know is that the comeback is nearing. By looking at the members who have recently changed their hair colors, we are able to tell that something is brewing. Kyungsoo has long hair now (not extremely long, but not the usual cute egg head crew cut that we usually see on him. Suho dyed his hair honey brown, Baekhyun dyed his hair ash brown and Sehun dyed his hair red.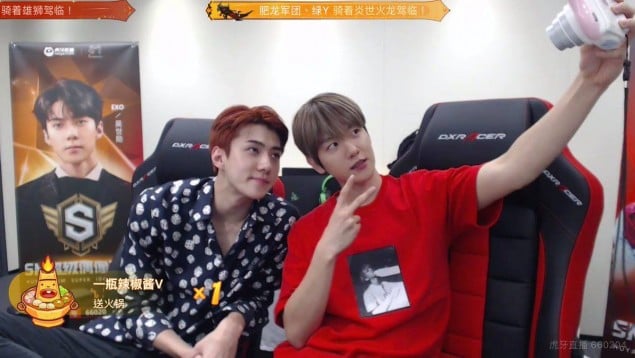 We have Jongdae with his brown hair and Minseok with his suspected perm. Kai actually grew out his hair to a mullet and Chanyeol dyed his hair not once but twice. Chanyeol spotted blonde hair at their performance at the 'Incheon Sky Festival' and at the Tommy Hilfiger Show but has dyed it once more to grey, which is his current hair color. This could be his final hair color for the EXO comeback. If one of the members dyes their hair, we could assume that they just wanted a change. However, seeing that every single member changed their hairstyle in a way, we are sure it cannot just be a coincidence.
To add to this, earlier this year, an SM Line up that was released mentioned that Girl's Generation was going to come back right before EXO and NCT 127 would return after EXO. Seeing that NCT 127 has already released teaser videos, we are waiting for a hint at their new comeback. There was also a report that the boys began their filming for their comeback MV.
Looking at each of the member's individual schedules, most of the members have already finished their solo projects. Kyungsoo is done with his acting role in '100 Days My Prince', Sehun is done with 'Dokgu Rewind' and his various modeling gigs. Kai is done with his modeling gigs and EXO-CBX is also done with their promotions for their previous comebacks. The two songs for SM station, Baekhyun's "Young" along with Sehun and Chanyeol's "We Young" have already been released as well. Looking at all their schedules, only Suho is not yet done with his own solo stuff as his musical, 'The Man Who Laughs' will run until the end of October and he is confirmed to continue starring in them until the 19th of October. This could be the last thing that needs to be settled before EXO is able to make a comeback.
EXO also has various upcoming performances lined up, which hint at when their comeback could be. They are doing a small performance at Seoul Plaza on Thursday, September 27 for the Korea Sale Festa. Also, on October 6, EXO-CBX will be performing at the Gangnam festival. They will also be performing again as a full group at the Busan one festival on the 20th of October.
It was said that EXO will have two comebacks by the end of 2018, one from their new album and another from their repackaged album. This means that their first comeback of the year should be nearing. Also, it is rumored that Xiumin will be entering the military as soon as at the end of the year, as he is already 29 in Korea age. This means that this could be the last OT8 comeback for EXO in a while. Since his military enlistment is nearing (although we all wish it wasn't), it means that EXO will have to be quick in their comeback to have enough time to promote their new songs.
It was also rumored that Lay would also be in this comeback since he was seen in South Korea for a few weeks. However, due to the fact that he is having a U.S. debut in the same month (October 19), that rumor seems quite unlikely. Although it is unlikely, there is a small chance that Lay is actually in the new EXO comeback as SM could be trying to call for more attention to be placed on Lay and his solo album by having him be in the new comeback MV and album despite not being able to do promotion in Korea after the release.
I think we can rule out EXO actually having a comeback until October 6 as it does not seem likely that SM will send EXO-CBX to perform at a festival right after EXO, as a full group, has just had a comeback. It is more likely that they send the full group for performances to create hype for their new song. As seen from how Lay's solo album will be released on October 19 and Suho's performances for his musical will end on the same date, it is likely the comeback will come slightly before or slightly after October 19.
My bet is that they will release it slightly before October 19 as the Busan One Asia Festival is actually one of the largest Kpop festivals in Korea each year and it will be a good place to create buzz for their new song as they start to promote for it. Also, from checking Suho's performance schedule, although his musical only ends on the 19th of October, he does not have performances every night so it is possible that he starts promoting with EXO even before his musical is scheduled to end. Thinking along this line, it leaves a window period of 7 October to about October 19 that the EXO comeback could occur. There is a high chance that SM will not schedule their comeback in the same week as Lay's comeback as it could result in attention being taken away from Lay as an artist.
My prediction (all of this is coming from me as a hardcore fan of EXO with nothing much to back it up) is that the EXO comeback will be in the week of October 7 to October 14. Also, looking at the release dates of some previous EXO comebacks (based on the date the video is released on YouTube), most of EXO's comeback videos were posted on a weekday in the first half of the week or a Thursday, almost never on a weekend. Based on this, my guess is that they will return around or exactly on October 10, a Wednesday, but this is completely based on analysis and my own speculation.
As a fan, I really wish EXO will really come back as soon as possible, but until then all we can do is rewatch their old videos and make theories on when they will actually return. If you have a different theory or analysis, do write it down in the comments because I would love to hear what you think as well. On a side note, I can't believe I am trying to predict the EXO comeback by analyzing the evidence that we have. I think this just goes to show how much we all need a comeback and soon, EXO please return!