Only the 3rd episode into the series, and our two main characters of '100 Days My Prince' are already married! But their marriage was supposed to mark the official start of the main story in the first place, wasn't it? So today, we got to watch the trickery that the female heroine Yeon Hong Shim (played by Nam Ji Hyun) pulled off with her father, in order to prevent her forced marriage to a much older, upper class aristocrat.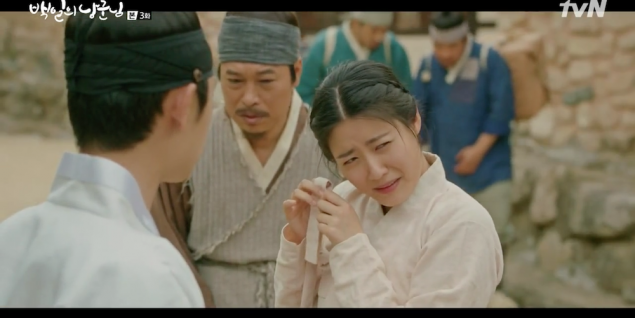 Truth: a woman's tears is capable of serious damage.
Through a few village-wide games of hide and seek, and all kinds of made-up stories about Won Deuk (played by EXO's D.O.) and Hong Shim's past as lovers, everyone is pleased(?) as the last(?) unmarried woman of Joseon finally holds her wedding ceremony. The village officials have carried out the decree ordered by the crown prince, Hong Shim escapes a forced marriage to an old geezer of an aristocrat as well as a beating for defying government orders, and the memory-less Won Deuk earns a home at the Yeon's.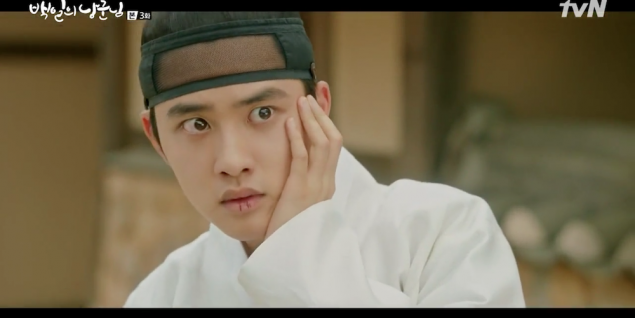 How many times do I have to tell you that it won't rain in this country until we bring Suho here?
The marriage allows Hong Shim's family to avoid some serious consequences for the time being, but now the real issue is dealing with Won Deuk. Sure, he was talked into the marriage to save Hong Shim from getting married off somewhere else, but despite his lack of any memories, Won Deuk has a very big attitude issue. He may be called Won Deuk by name, but his attitude is still 100% the snarky, stuck up crown prince who has a problem with everything in the world. Our poor heroine Hong Shim literally has a handful to deal with starting the very night of their marriage. Won Deuk refuses to sleep in the shabby, dirty room of Hong Shim's house, he refuses to eat peasants' food, he refuses to go work and earn a living... we can all really feel for Hong Shim here, how frustrating it must be to have such a burdensome "husband". With all that attitude spilling out of his mouth, his pretty face just isn't gonna cut it.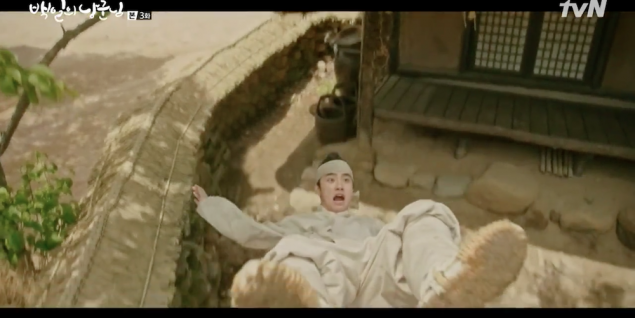 Now that I'm done dirty-talking about Won Deuk's character, let's re-watch him falling into a pile of sh*t.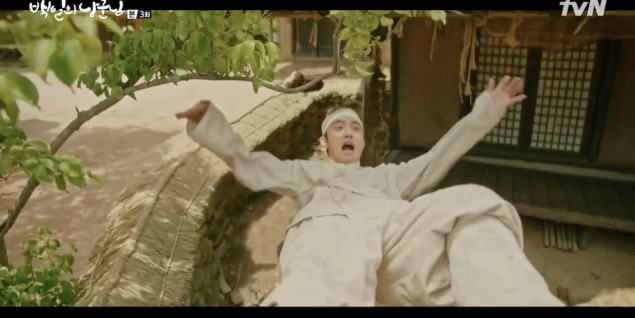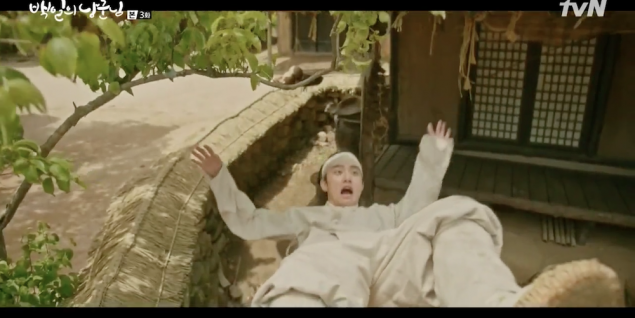 Meanwhile back at the palace, it's an ugly stalemate of everyone pretending like they're worried about the crown prince, when they're really not. The only two figures who have knowledge about the prince being missing, and who actually care, are the king (I mean, he's the prince's dad), and the princess consort.
This is where the conflicting motives and actions between the princess consort Kim So Hye and the king's #1 advisor Kim Cha Un poses some really confusing questions.
I'm personally still very confused as to why Kim Cha Un ordered his soldiers to kill the prince. In episode 3, when the princess consort comes to visit her father, Kim Cha Un tells her to reflect on the severe consequences of what she's done (a.k.a getting pregnant with someone else, not the prince). When asked what he's planning, Kim Cha Un tells his daughter to wait anxiously, as a fake crown prince will be returning to her soon. Kim Cha Un's demeanor indicates that he firmly believes the crown prince is dead. Or if not, he plans on making sure that he becomes dead one way or another.
But that's not what his daughter wants. His daughter, the princess consort, seems to direly want the crown prince to come back alive. And this is where it gets really confusing, and we're just going to have to watch further to find out what this family really wants...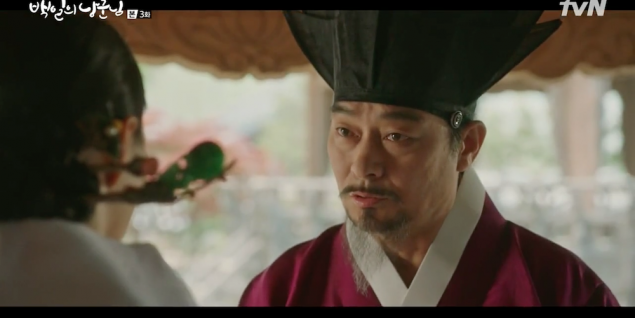 Are you sure you're my daughter?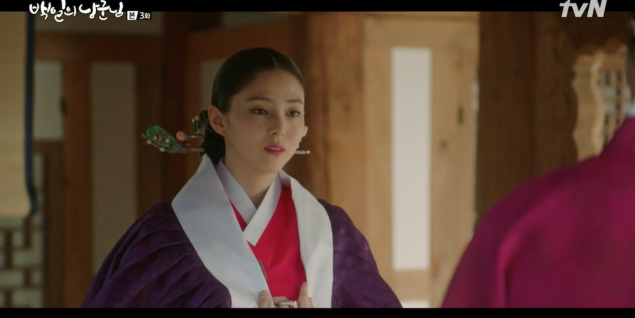 Are you sure you're my dad?
And wow! The secret's out of the bag. Kim Cha Un's secret servant/assassin Moo Yeon (played by Kim Jae Young) is, in fact, Hong Shim/Yoon Yi Seo's older brother! The secret revelation was a bit anticlimactic, I admit, but it's cool because his character is still mysterious and cool. But on the other hand, what's his relationship with the princess consort..?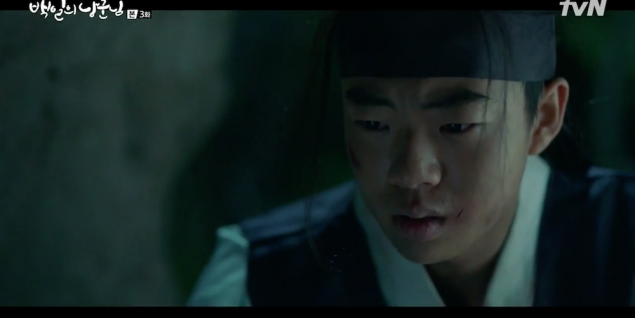 I KNEW WHO YOU WERE BOY, I KNEW!
And finally, at the end of the episode, we have Hong Shim's dad burying Won Deuk/Lee Yool's old, bloodied clothes in a ditch. Hong Shim's father doesn't want anyone to find out where Won Deuk came from, wanting Won Deuk to stay as his daughter's husband forever so that their family will be able to live "peacefully". At this point, Hong Shim's father is the only person who knows that Won Deuk was discovered in the mountains. Meanwhile, the only few people who know what really happened to the prince in the mountains remains - Kim Cha Un, Moo Yeon, and a few of the soldiers who seem to be following Kim Cha Un's orders. None of these men, however, know that the prince survived, however.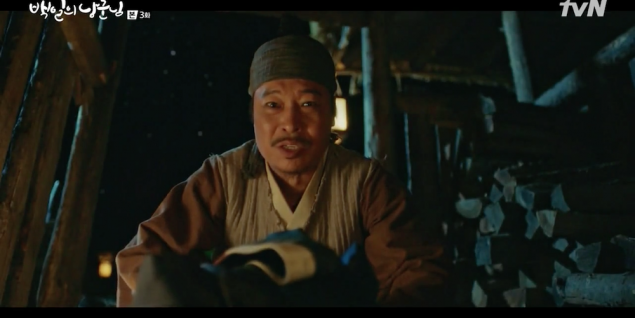 Dads. They always think they can just bury things in the ground to keep it a secret. (smh.)
A lot of secrets to be solved with very few clues... and a husband and wife who may or not start hating each other real soon... We weren't able to make as much progress plot-wise or pace-wise in episode 3, but I judge that this episode's importance mostly lies in covering the events leading up to our main characters' wedding. It's almost like episodes 1 and 2 last week were prelude episodes, and this episode 3 more worked as the beginning of the real developments from now on. Now in the next episode, let's see where this unlikely marriage leads...
SCORE

Plot......................................8/10
Performance.......................7/10
Pacing..................................7/10
OVERALL.........................7.3/10