Fans discovered that one macaron store located near the new
JYP
building recently thanked
Jeon So Mi
for visiting and leaving an autograph.
The macaron store 'Dear My' shared a photo of Jeon So Mi's autograph via its official SNS and stated, "IOI's Jeon So Mi-nim visited 'Dear My' today!!! Daebak daebak. She was 'Very Very Very' pretty hehe. She even left an autograph; thank you! Thank you all So Mi-nim, Yeji-nim, and Chaeryung-nim, for visiting. We want... to see you often... hehe."
Seeing the post, netizens suspected that Jeon So Mi visited the macaron store in the middle of practice with her fellow trainees Yeji and Chaeryung - further adding fuel to the rumors that Jeon So Mi's new girl group indeed includes Yeji and Chaeryung.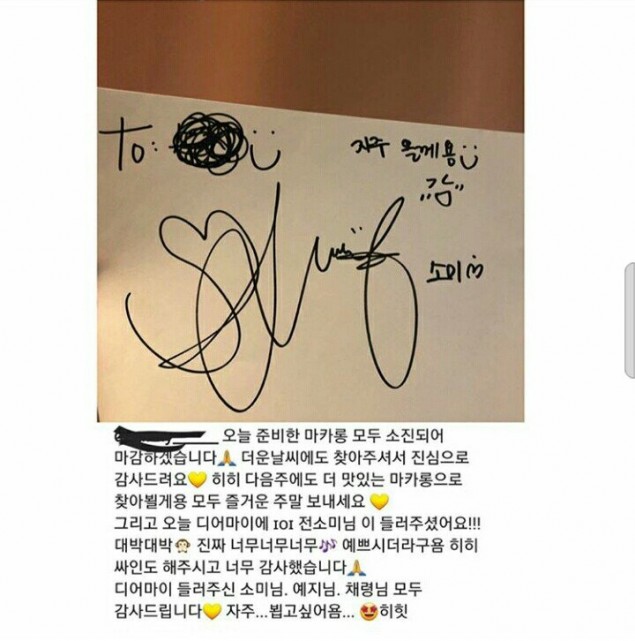 Back in July, rumors of JYPE's new girl group being 5-members became heated after the 5 in question - Jeon So Mi, Shin Ryu Jin, Lee Chaeryung, Hwang Yeji, and Choi Jisoo - were spotted attending TWICE's concert. 

Some netizens said, "The new girl group members went together", "Oohh are they getting ready to debut soon", "Chaeryung, Yeji, Somi, if you guys debut, I'll buy you a box of macarons", "'Dear My'..??? That place is so good!", and more.

Chaeryung, known for her appearance on 'Sixteen', was born in 2001. She is also the younger sister of 'Produce 48's Lee Chae Yeon. 
Hwang Yeji was first seen on '
Stray Kids
' and was born in 2000.