ARMYs, or fans of
BTS
, are loving
Steve Aoki
's "
The Truth Untold
" remix, which debuted at '
2018 Tomorrowland
' music festival in Belgium on July 20!
DJ Steve Aoki was the closing act for Day 1 of the 'Tomorrowland' festival, and during his set, Steve gave a big shoutout to BTS as well as ARMYs with, "This goes to BTS ARMYs all around the world!" while dropping a hype new remix of "The Truth Untold"! ARMYs, touched by Steve Aoki's gesture, is trending #TheTruthUntoldRemix at #1 worldwide on Twitter! In addition to #TheTruthUntoldRemix, you can also see hashtags like #Tomorrowland and #Aoki also trending, below: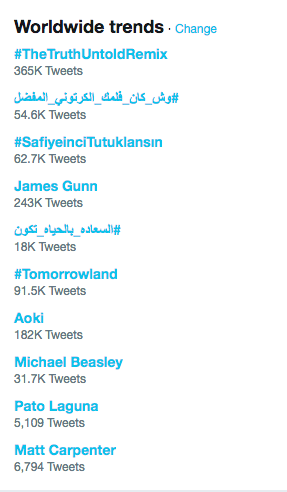 In addition to the debut of "The Truth Untold" remix, Steve Aoki also heated up the night with BTS's "MIC Drop" remix. Check out some Tweets as well as footage of '2018 Tomorrowland' day 1, below!
STEVE AOKI HAS A SPECIAL PLACE IN ALL OUR HEARTS

THE REMIX IS BEAUTIFUL OMG #TheTruthUntoldRemix pic.twitter.com/Buqy3SZC8e

— lea (@seokjinbit) July 20, 2018
THANK YOU VERY MUCH, @steveaoki FOR #TheTruthUntoldRemix THANK YOU FOR SAYING THAT THIS SONG BELONGS TO THE GUYS @BTS_twt THANK YOU FOR THEREFORE, YOU HAVE EARNED MY RESPECT AND THAT OF OTHER ARMYS #ArmyLovesSteveAoki pic.twitter.com/MYxYCERTjZ

— [???????]. (@Abigail82627458) July 20, 2018
when the song is emotional but it's a remix version#TheTruthUntoldRemix @BTS_twt @steveaoki pic.twitter.com/wUVoIZgHPG

— ??? (@infiressmaaan) July 20, 2018
Steve and the crowd were like 'f.uck language barriers' and jammed to Mic Drop Remix, and the fact that the crowd knew the lyrics to Mic Drop had me crying bts are really superior #TheTruthUntoldRemix
pic.twitter.com/EoSurNoeOA

— san (@outrosweetener) July 20, 2018
#TheTruthUntoldRemix@steveaoki X @BTS_twt

Shout out to Steve for making us all feel special!

Welcome in Boom, Belgium at @tomorrowland ! pic.twitter.com/1F6mR0J1Az

— BTS Europe (@BTS__Europe) July 20, 2018
THANK YOU STEVE AOKI
THANK YOU STEVE AOKI
THANK YOU STEVE AOKI
THANK YOU STEVE AOKI
THANK YOU STEVE AOKI
THANK YOU STEVE AOKI
THANK YOU STEVE AOKI
THANK YOU STEVE AOKI
THANK YOU STEVE AOKI
THANK YOU STEVE AOKI
#ArmylovesSteveAoki#TheTruthUntoldRemix @steveaoki @BTS_twt pic.twitter.com/ve3kiMZqX2

— ArmyLovesSteveAoki (@Jiniebts4) July 20, 2018