On May 21,
F.T. Island
's
Hongki
took to his Instagram to address the hate he has been receiving for watching a controversial BJ's live broadcast.
Recently, netizens talked about seeing the F.T. Island member in a live broadcast room run by BJ Chulgoo. BJ Chulgoo has been red flagged for his controversial remarks on live broadcasts such as derogatory comments toward recipients of government social assistance, mocking recent Democratic movements, violent claims toward women, and more.
Due to the controversy, Hongki stated in an Instagram post, "Ayee you people drive me crazy. I didn't watch [BJ Chulgoo] while he was broadcasting about those things you hate so much, I just coincidentally watched while looking through this and that in the morning. And you say you've lost affection for me?? If you know me well, you know I'm not that kind of person so why are you going berserk and demanding explanations from me. I can't do anything about the affection you lost. But I'm not like that, so let's not talk about this topic anymore."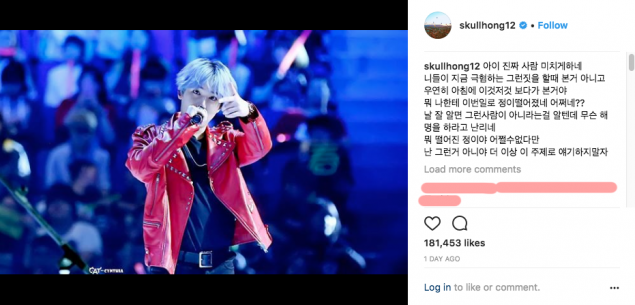 Despite Hongki's frustrated post on Instagram, netizens noticed that some anti-fans have started a government petition to "punish the arrogant celebrity Lee Hongki". The petition was started on May 22 and ends on June 21, and 8 people have signed it so far.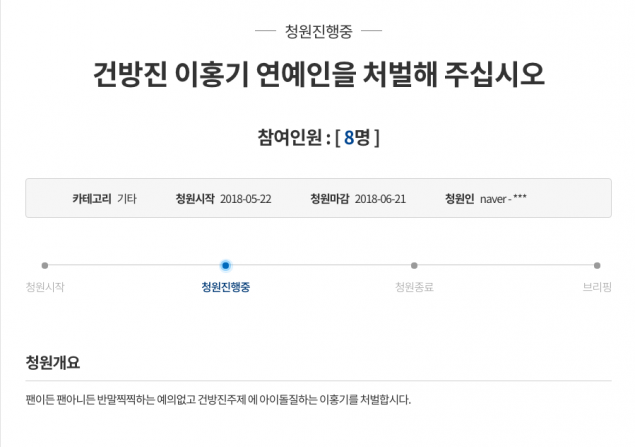 Alarmed by anti-fans going as far as to demand such a government petition, fans of Hongki have started a counter-petition, stating,
"Please take down the government petition regarding celebrity and singer Lee Hongki."
Both domestic and international fans have signed this counter-petition in order to defend Hongki, with over
8,000 signatures as of this writing
. What do you think of this incident?