ARMYs
are furious at both
MBC
and
Big Hit Entertainment
.
During the recording for 'Show! Music Core' on the 25th, BTS fans who were allowed in to watch the recording were moved out of the way to make room for, as the security put it, some 'VIP guests'. 
Furious fans took to Twitter to spread what had happened. One fansite master wrote, 
In Korea where connections are everywhere, you can even use that for music shows.You enter colleges and get hired illegally through connections, so for people who aren't fans, it must be laughable to watch 'just' an idol's music show performance through connections. It's not just once or twice, anyway. Fine. Whatever.
But MBC security, why would you use the wording 'higher-up guest' to make all the ARMYs, including me, who were already sitting down, move for one person? They said simply, "I want to watch it from a good spot. I want to watch it here", so you gave them the center seat in the 1st row of the 2nd floor, made all the ARMY who were sitting down get up, and move a row back. All the ARMY nearby, including me, heard clearly what they demanded, and we knew that we had to move because of their request.
Obviously we would not feel too good about that. Since I was annoyed, I couldn't help but glare, and security told me 'Don't do that to the higher-up guest', and made the mood threatening. They might be your superior, but they're not my superior. I don't even need to know who they are, and I don't have to understand their reason for taking advantage just because they're a higher-up guest. You said that they were a higher-up guest so confidently that I thought maybe I was employed at MBC.



When you told us to move, I said 'yeah, yeah' flippantly, and you suddenly talked rudely and threatened me, saying, 'Do you want to fight?' I was so shocked and angry that I'm writing this.

At that situation, I was totally the one at a disadvantage and could not say how upset I was. Even if I did, I was afraid that BTS would be hurt, or I would be hurt, so I couldn't say anything. I'm sure the security guard also knows very well that fans at a recording are the weaker party. I know that you use that knowledge to make sure fans can't complain. If you don't like them just a little, you tell them to leave, or say you're going to disadvantage them, and most fans are scared of that.

If you're talking rank by saying they're superiors, aren't you telling me that I'm someone who should be treated as an inferior to that person? What kind of person do you think I am that you tell me that they're my superior? Many of the fanclub members are underage. What did you mean by using that word? I'm curious if you think that discriminating and teaching superior and inferior rank is something obvious at the broadcast station. I'm so mad still that my hand is shaking and my stomach is uneasy. I came in a good mood to see my artists, and got treated like an inferior being. That feels great.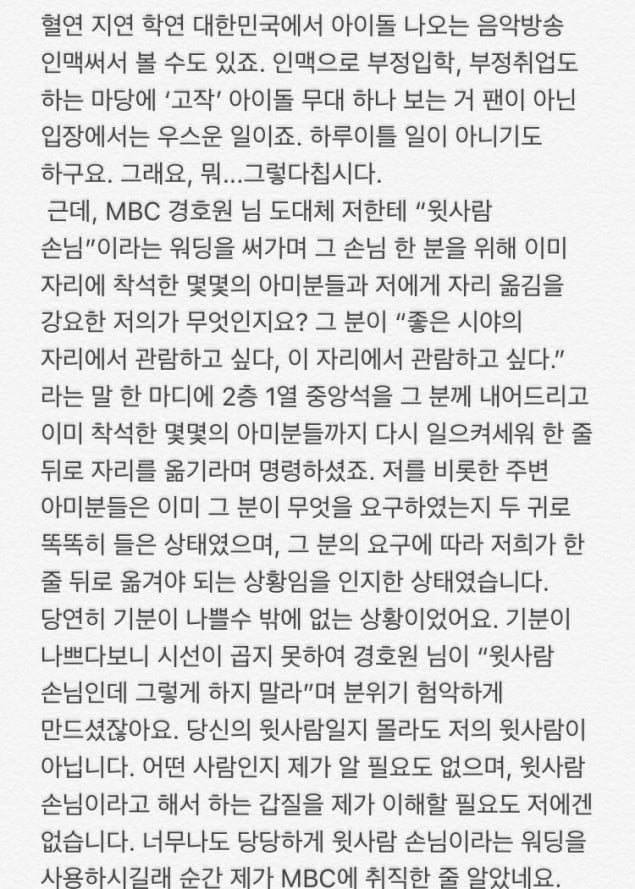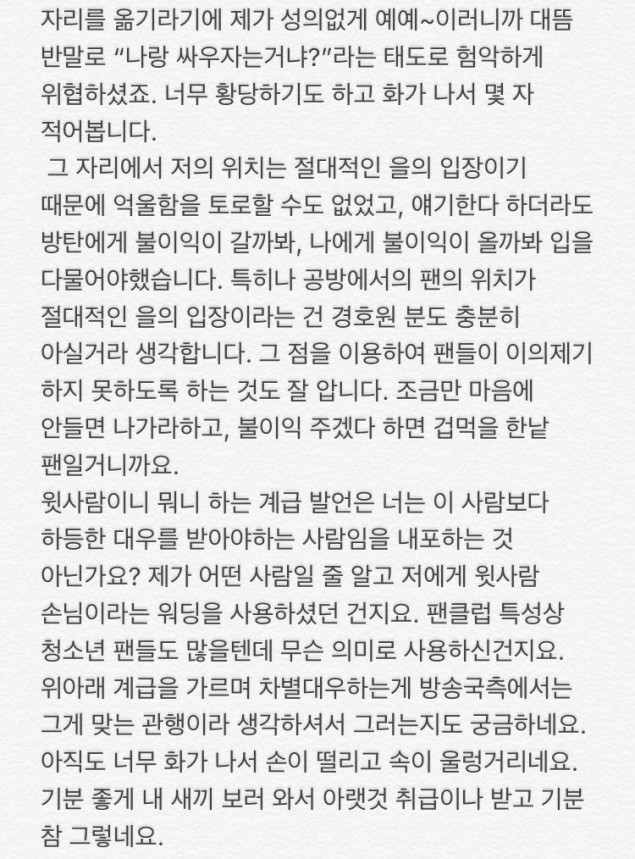 More fans also talked about the situation that they'd experienced. A fan wrote, "Girls with connections must've gotten some sort of feel today, and a f*ck ton of them came. The first row, second row, the sides were all girls with connections. They even blatantly said, 'Give me a good seat~'. Because of them, fans had to sit on the floor, sit on the stairs, or even go all the way to the back." A fan wrote in reply, "I had to move back, too. They told me to get out because they were gonna sit there."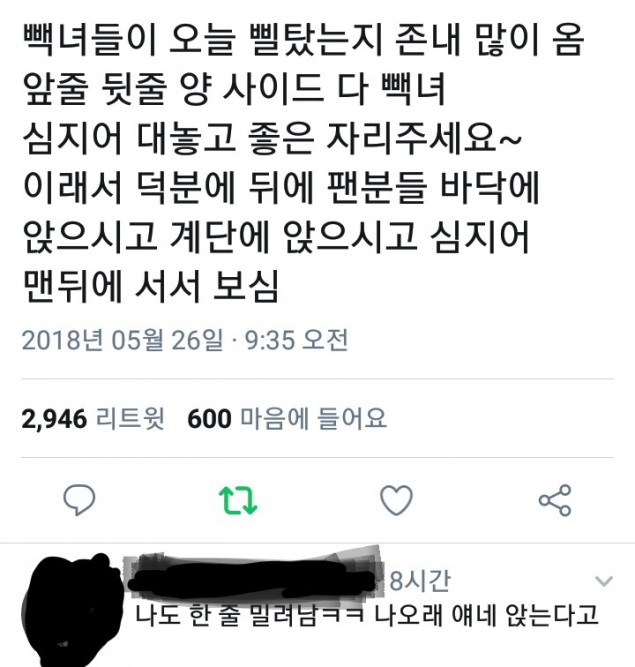 The same thing apparently happened for the pre-recording for 'Inkigayo'. A post read, "It's so f*cking funny. F*ck. The little girls with connections took out their phones and started to take pictures like crazy. They didn't even know the fanchat. We just try to take out our phone and we get yelled at by the fan manager. They were going f*cking crazy, zooming in to take pics and sh*t~~" (Note: Taking photos at a broadcast recording is normally not allowed by the broadcast station.)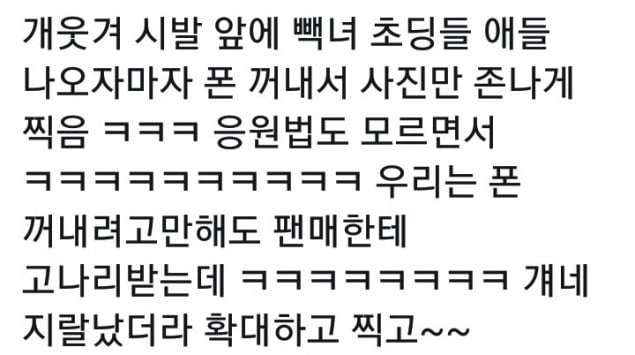 They also wrote, "They said the only people allowed at the recording was ARMY 4, but put that the first priority will go to people with connections, and then it's ARMY 4. The only thing they have to prepare is a CD to get autographs, and ARMY 4 has to prepare all 4 versions of albums with CDs, receipt of buying the song, MelOn personal information, ARMY Bomb, ARMY Note, ARMY Card, and ID. F*ck this sh*t."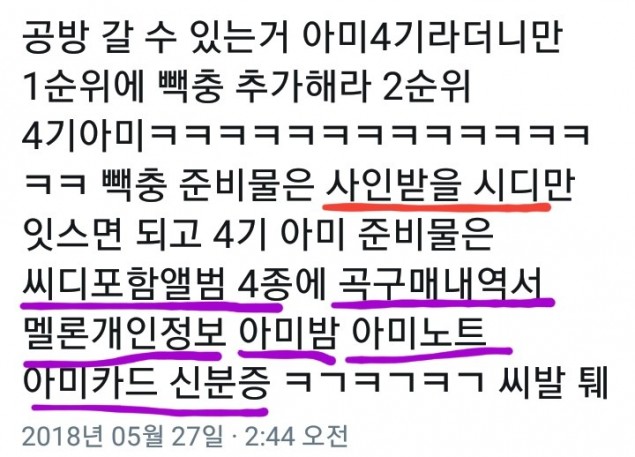 The post continued, "
They said Big Hit wasn't involved, but who the he*l gave those girls ARMY Bombs then? Inkigayo makes ARMY Bombs?
"

There were reportedly over 50 people who were not fans that were allowed to sit at 'Show! Music Core' that fans were originally sitting in, and that they were also allowed into BTS' waiting room, as evidenced by polaroids that they took in the waiting room and photos of CDs that BTS signed that were uploaded to their SNS.
Furious fans are demanding apologies from both SBS, MBC, and Big Hit Entertainment, as well as to make sure this never happens again. 
What do you think of the situation?