On the evening of January 23, numerous tweets were made via
Twitter
as fans noticed billboard ads on display at Times Square in New York City celebrating
iKON
's '
Return
'.
Fans visiting the famed tourist destination proudly took photos of the vertical/horizontal displays featuring iKON and B.I in light of his solo release "One & Only".

The signs gifted by iKONICs read, 'Congratulations on your solo iKON rapper B.I.' as fans also anticipated iKON's comeback with 2nd album 'Return' set to release on January 26.
SEE ALSO: iKON take another win for 'Goodbye Road' on 'Show Champion'!
What a lovely way to show support for their idol stars! Congratulations to iKON, B.I, and iKONICs!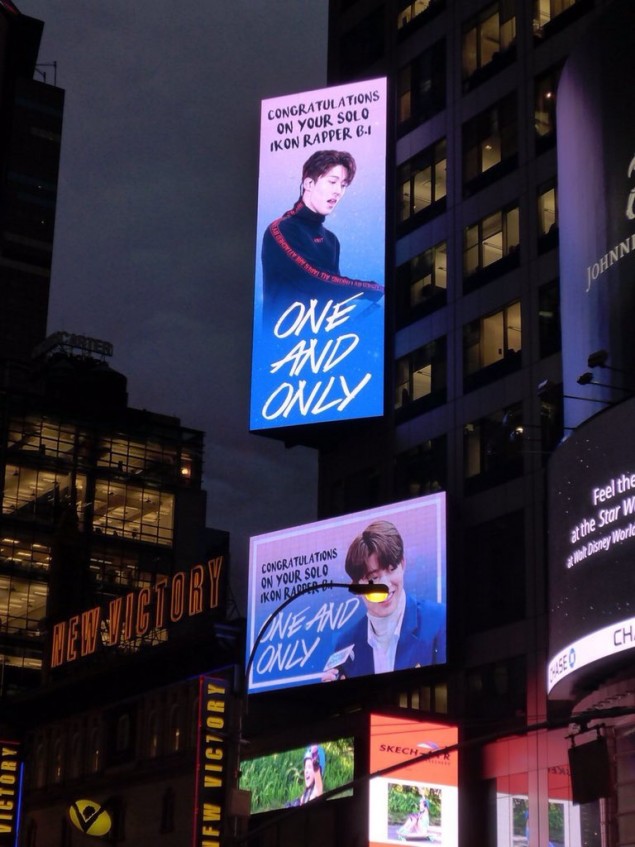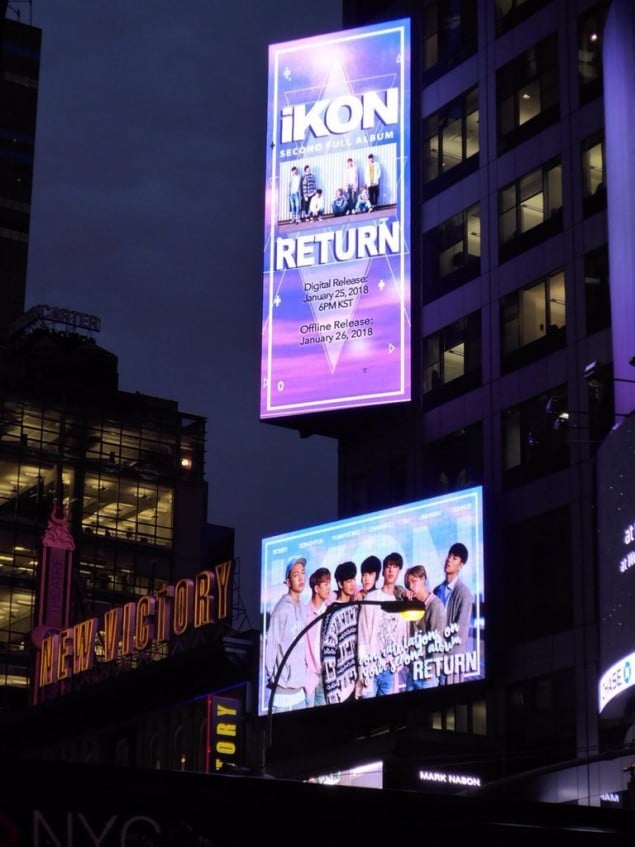 It was a last-minute project but it finally happened! iKON and Hanbin at New York Times Square!!

By @PresidentHanbin

Editor @ikonphile @beibeibin @iKONGRAPHIC

Photo credit @BEONE1022 @B_HIND_

More photos later ~ #iKON_RETURN #iKON #아이콘 pic.twitter.com/Zv7jFqEJ4u

— KONTATOES #iKON_Return (@kontatoesgc) January 23, 2018
NYC AD

January 23, 5PM (NYC time)

Thank you so much for making this happen: @PresidentHanbin
- Editor @ikonphile @beibeibin @iKONGRAPHIC
- Photo credit @BEONE1022 @B_HIND_

Hope many iKONICs in NYC see it!#iKON #아이콘 #iKON_Return #아이콘_사랑을했다 #사랑을했다 #RETURN pic.twitter.com/KTO81nZikU

— KONmunity (@KONmunity) January 24, 2018