On January 23, ARMYs randomly decided to trend
#ThankYouJimin
on Twitter and Jimin is asking fans what is going on.
As of this writing, #ThankYouJimin is trending #5 worldwide on Twitter. Using the hashtag, fans across the globe are leaving sweet thank-you tweets and expressing much love for the BTS member.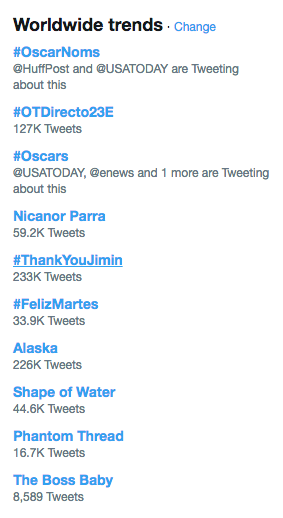 Jimin, who found out about the pleasant surprise online, tweeted,
"What is this? hehe logged in because I wanted to leave something and saw this. What is this hehehe"
이거 뭐에요? ㅎㅎ
무언가 남기고 싶어서 들어왔다가 봤어요
이게 뭐지 ㅎㅎㅎ pic.twitter.com/PppU3oEINK

— 방탄소년단 (@BTS_twt) January 23, 2018
Well, what it seems like is just some great ARMY love. Sweet!