"Ha-yi sil-jong," or the 'no-pants' fashion, can be literally defined as "missing bottoms," which kinda sounds like a crazy epidemic. And it might as well be one because many of our favorite female idols will, at one point in their idol career, go through a phase of wearing something so short on the bottom and wearing a shirt that covers the bottom, looking pants-less.
But it's really not as bad as it seems! Some of our female idols can totally rock the look with ease and without looking like they are intentionally trying to show some skin. Here are our top 10 female idols who can pull of the no-pants look!
Park Bom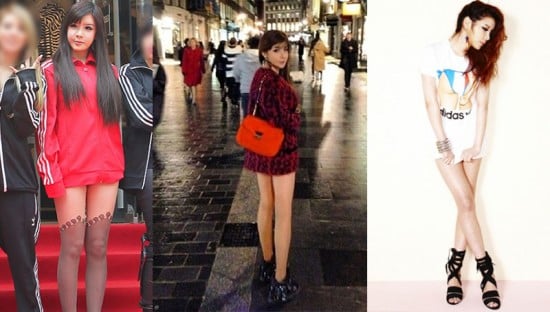 This idol has a pair of gorgeous legs and it would be a shame for her to not flaunt them with some no-pants styling. Park Bom's legs might just be as popular as Park Bom herself. But despite having slim legs, Park Bom's styling is unique especially her printed stockings complemented with oversized Adidas tracksuit (left).


Ga In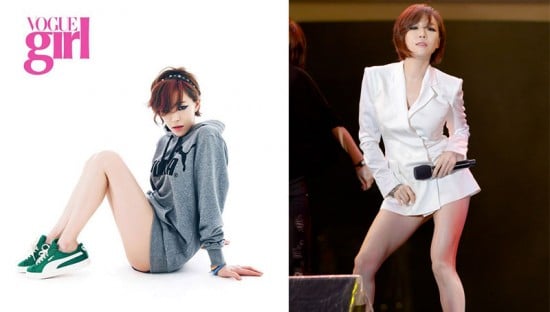 Ga In has been the definition of sexy nowadays. From her smokey liner to the passionate red hair color, and now her legs!? Although she stands only 5'4", she knows how to style her outfits to compliment her stature -- by wearing short-shorts with wearing high, very high, heels, she brings attention to her seemingly elongated height.

G.NA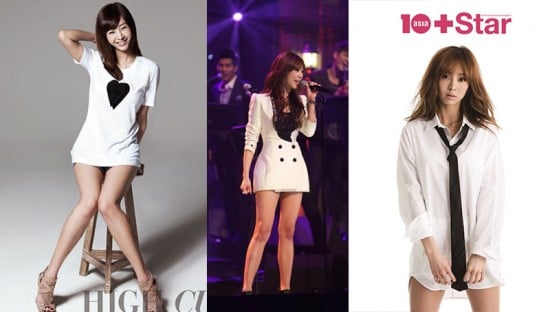 G.NA has been garnering much attention for her body and her weight loss tricks and with this, we can clearly see why. The classic miss-steal-yo-boyfriends-shirt look is also mesmerizing to look at.

Hyorin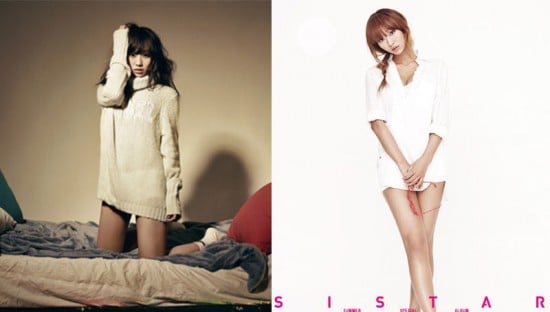 With her voluptuous figure, and her caramel-colored tan, Hyorin flaunts her fit legs with the no-pants fashion. No explanation is needed when it comes to talking about Hyorin's body because it has been proven through various dance covers that it is none-like-others. And with a body like that, who wouldn't want to show it off?
IU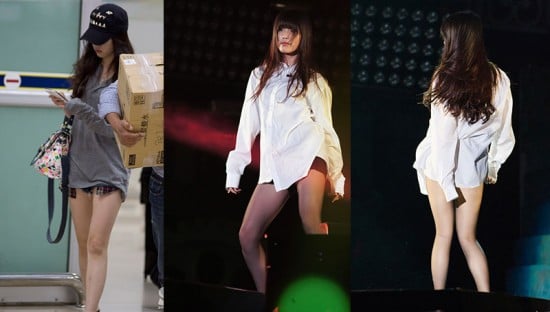 I would have never thought that the nation's younger sister would be able to pull off such an outfit. But IU exposing her slim, pale legs helps elongate her overall figure without looking too revealing. This idol does the no-pants styling right by wearing a conservative, oversized shirt on top complementing it with short-shorts to show some skin.
Jiyeon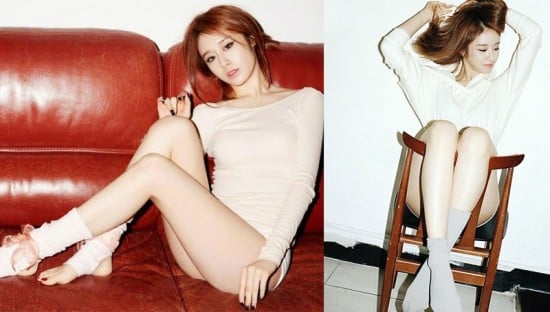 Now this, would be the true and literal definition of the 'no-pants' fashion. T-ara's Jiyeon boldly gives up her bottoms for a great ballerina-like photoshoot. Sure, she is pant-less, but I think the high socks covers up for the lack of cover-up and overall looks great. If you can't hide em', flaunt em'.
Minah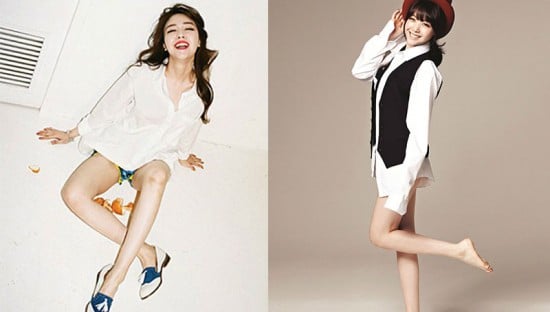 With the classic stolen-boyfriend-shirt styling, Girl's Day's Minah pulls off the girl-next-door look. Although the outfit is seductive, her radiating smile helps downplay the sex appeal and brings out more of the innocent and angelic look.


Nana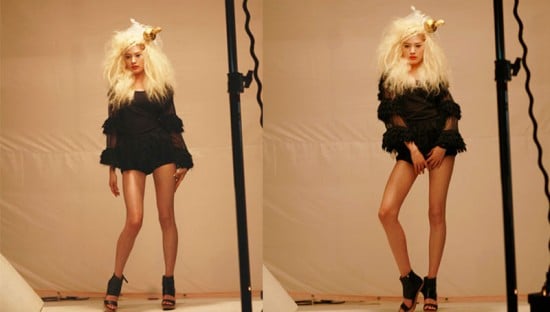 I would be lying if I said that I wasn't jealous of Nana's figure. She has elongated, slim legs that all girls would be dying to have. She would definitely be able to stand-tall amongst the top models out there with that body. Nana knows she has a jaw-dropping figure and she is definitely not afraid to flaunt them.
Sohee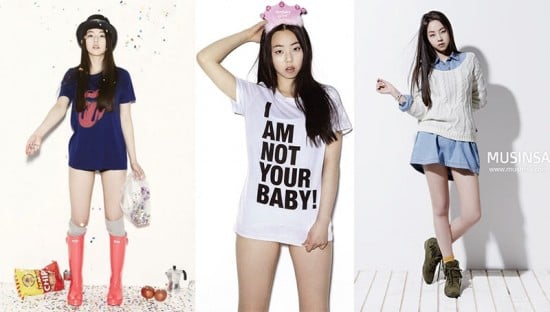 Our little Sohee is no longer so 'little' especially when 'Oh!Boy' decided to help her reveal some skin for their recent photoshoot. Tad bit too underdressed for me but with Sohee's superior body ratio, it doesn't seem that revealing. I totally believe that she is no longer our baby!
Son Dam Bi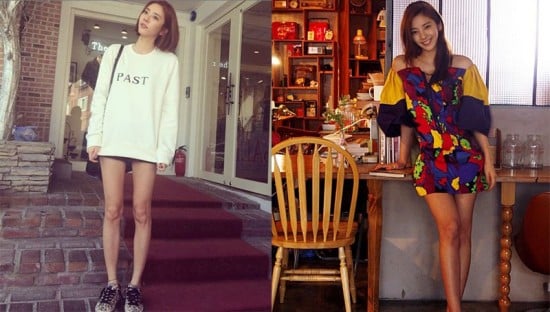 I really like the natural and cozy look that Son Dam Bi is pulling off here (left). It is the perfect fall styling for just running errands or just grabbing lunch with your friends. Despite the fact that you can't see her pants, her styling is clean, simple, and on-point for those who prefer dressing down.
Tiffany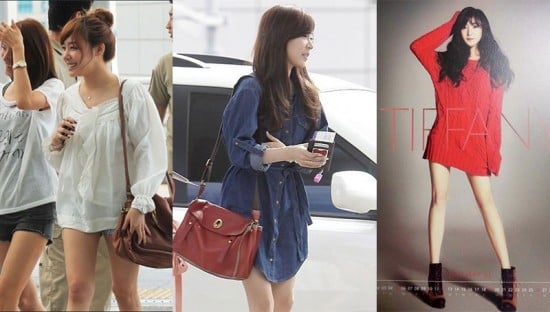 Last, but certainly not the least, Tiffany brings out the Cali-girl in her with most of her airport fashions and especially when she decides to go with 'no-pants.' She looks comfortable, clean, and still keeps things classy with all of her outfits. Fashion is not always about wearing tight, flashy things but it is also about what you feel most comfortable in and I think Tiffany tries to show that with her stylings.