On April 11, a broadcasting writer for MBC revealed on their personal Facebook that snacks meant for SHINee's Jonghyun and sent in by a Polish fan were consumed in his stead by the company's writers, stirring up some controversy.
The person wrote, "A fan of SHINee's Jonghyun from Poland sent a lot of presents to MBC. It seems that this innocent fan believed writing 'MBC address to SHINee's Jonghyun' would get it to Jonghyun.
However, this sincere present was unfortunately delivered to our manager of the same name as Jonghyun, and I bring this sad news that it went into not a snacking Jonghyun but the writers' stomachs. The Polish fan girl must be 10,000 times more upset than I am when I get on the wrong bus. I'll enjoy the snacks. I'll enjoy the snacks."
SEE ALSO: [INTERVIEW] HA:TFELT On Her Comeback, Music Videos, Germany, and More!
As soon as this was posted online, it was screen captured and uploaded onto fan cafes and online communities under "Gift sent by an overseas fan for SHINee's Jonghyun was pocketed by MBC writers," causing some controversy.
Netizens wrote in response, "The fact that the present was intercepted in the process is absurd itself, but it is even more ridiculous that the writer would even post this. Do you have any sense?" "Isn't Jonghyun a radio DJ for MBC? They could have definitely given it to him," "I feel sorry for the international fan who sent the present," and more.
The writer's Facebook post has since been deleted. What do you think about this incident?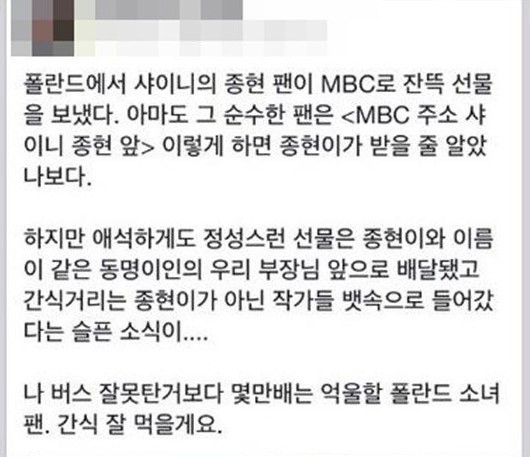 Tip: beata