On June 9, a 5-story building scheduled for demolition completely collapsed during the first day of deconstruction, falling onto a municipal road where civilian cars were moving.
The accident took place back on June 9 at approximately 4:22 PM KST at a demolition and construction site in Gwangju, located right next to a 6-lane municipal road. While demolition workers were working on one side of the building, the side facing a large construction site scheduled for renovation, the side of the building which was still somewhat intact suddenly collapsed onto the road.
As a result of the building's sudden collapse, a public bus which was stopped at a bus stop right by the building was entirely crushed by the structure. During the early stages of the accident, the bus was so buried underneath the building's wreckage that police and firefighters reported no casualties.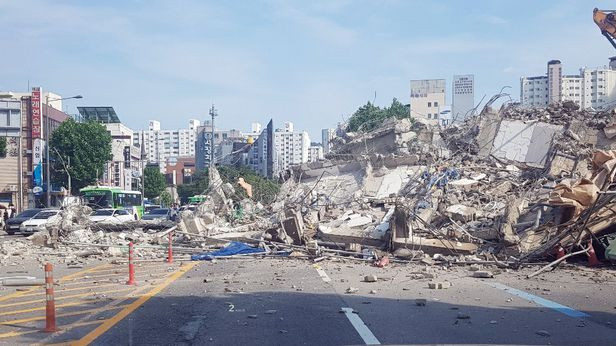 However, as police and firefighters began searching the wreckage site more closely, they soon discovered a public bus, crushed by the collapsed building. As of June 10, search and rescue teams have discovered 9 dead, 8 injured. Those deceased ranged from a woman in her sixties, a woman in her seventies, as well as a high school student in his second year.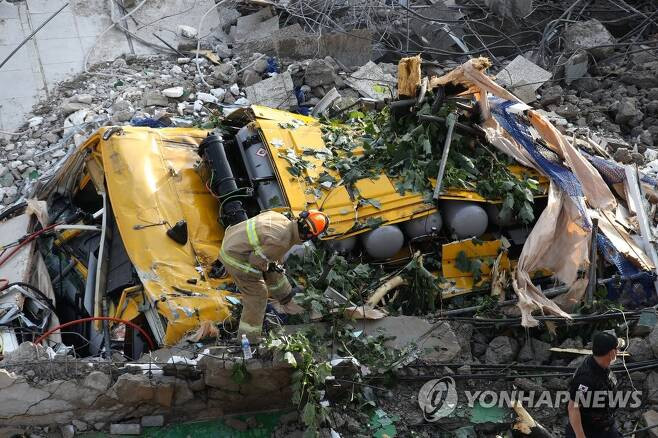 CCTV analyses of the incident have so far reported that other vehicles which were spotted near the site during the building's collapse were able to drive away before being crushed, and all of the victims found so far were passengers on board the crushed bus.


Meanwhile, experts have raised voices of criticism and anger toward the demolition company for its extremely 'unsafe' method used to demolish the 5-story building. Reports stated the the demolition company was using excavators to tear away one side of the building, causing the other side (the side facing the road) to weaken and collapse. Experts are also criticizing the demolition company for failing to block off the immediate vicinity during the operation.