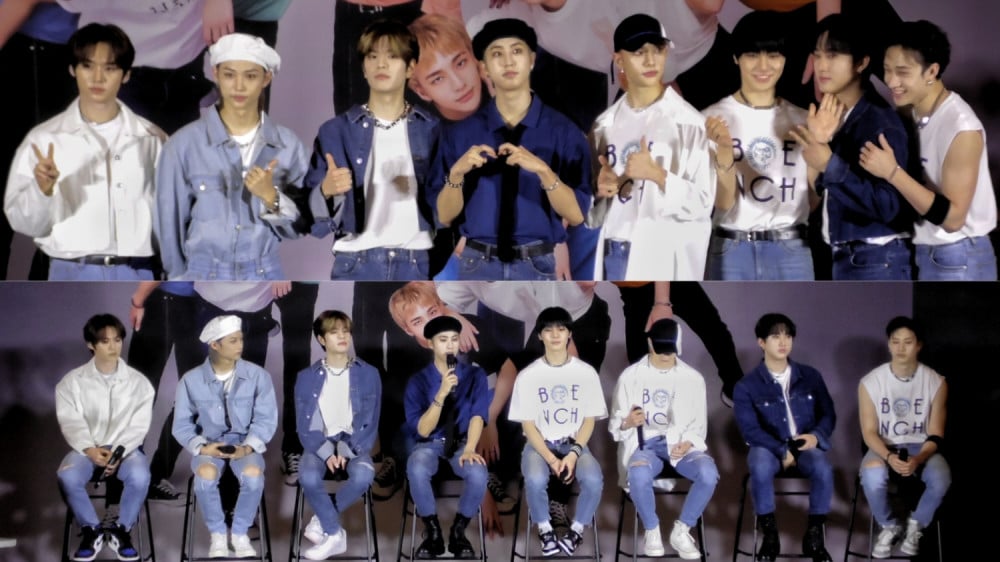 On January 20, Stray Kids held their fan meeting in Manila, Philippines, as 'BENCH' global ambassadors.
Decked out in blue-themed outfits, Hyunjin, Felix, Bang Chan, Lee Know, I.N, Han, Seungmin, and Changbin, greeted the media and took time to answer some questions prior to the event proper. It was not Stray Kids' first time visiting Manila, as they had their 'Unveil Tour I AM...' tour stop back in 2019. Bang Chan shared that what they remember the most is STAYs' loud screams, which they hear even if they were wearing in-ears.
"I feel like back then it was such an unforgettable moment as well. Everyone is so nice and treats one another with so much respect," says Felix.
As the newest member of the Filipino clothing brand 'BENCH' family, Bang Chan expressed his gratitude, saying, "It's a really great honor, and it's really nice to meet STAYs here in the Philippines. Thank you guys for having us with you."
The members also shared that their clothing is lovely and that they can wear it day to day as their outfits.
When it comes to a particular member who's really into fashion, they think that everyone is very interested in it, saying, "Each member has their own distinct style when it comes to fashion."
Being able to receive overflowing interest and love, the boys of the global boy group thanked their fans, stating that they are able to live their lives very happily, and as artists, they want to reach the expectations of their fans as well.
On their 7th Korean-language mini-album 'MAXIDENT,' which features "Case 143" as its title track, Changbin said, "We focused on this album where we want to showcase to you the daily situation we face and how we go through it. Also, this is the album where it's our first time to create a title song that talks about love."
When asked where they get their inspiration for making music, Han responded that they get motivation from various topics, such as from their daily lives and situations, sometimes from cartoons. "Of course, we can't forget our STAYs," said Han.
Stay tuned for the photos from Stray Kids' 'BENCH' fan meeting in Manila!