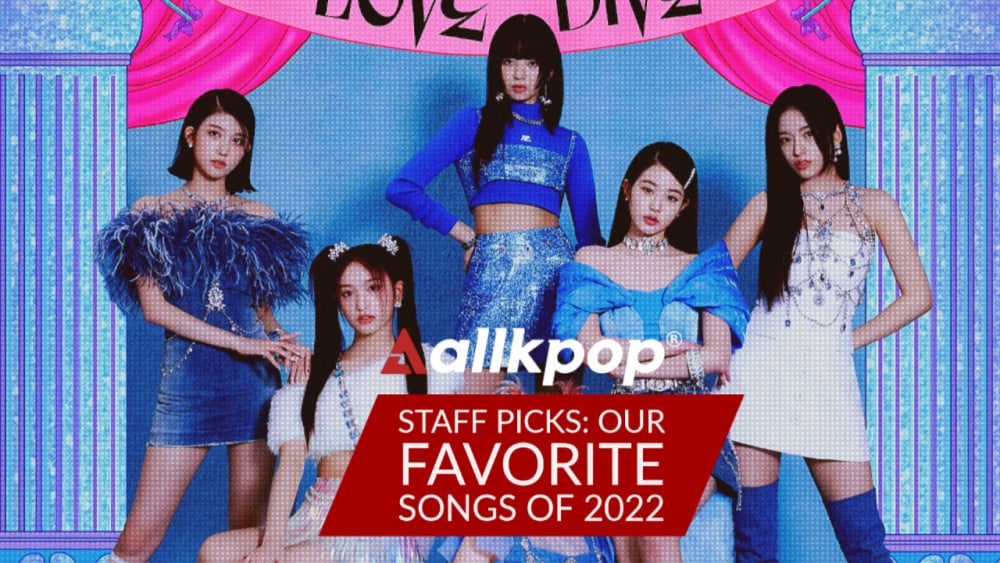 2022 was another year filled with amazing K-Pop releases. Out of the countless songs that came our way this year, here are the favorites that the allkpop staff loved the most!
Paul's Pick: Paul Blanco x BE'O - Summer
Paul Blanco is such an underrated artist. For the past few years, I've been picking him on my staff picks as he keeps delivering bangers, and like what DJ Khaled says, "Summer" featuring BE'O is "another one." Just listen to the track, and you'll know what I mean.
MaiaD's pick: SEVENTEEN - Don Quixote
"Don Quixote" is the third track of SEVENTEEN's "Face the Sun," characterized by the hybrid sound of rock and hip-hop, and the amazing vocals of SEVENTEEN can undeniably steal hearts and make you want for more. The addictive track references the meaning of the title, which means "impractical idealist," and reflects in the lyrics too. The song's lyrics imply that they aren't worried about what people think of them. Like Don Quixote, who adhered to his own principles, they will succeed in their endeavors regardless of the obstacles they face or what others may think.
Lorr-Ye's Pick: NCT 127 - Crash Landing
My favorite song of 2022 is a b-side off of NCT 127's "2 Baddies" album entitled "Crash Landing." My favorite thing about K-Pop, after speaking to so many songwriters, producers, mixers, and artists in my time as a writer at allkpop, is that K-Pop can boast really intricate structures, movements, and sounds that incorporate a mix of really different genres. "Crash Landing" utilizes UK Drill, a subgenre of drill music and road rap, that makes the song bop in a particularly unique way by employing a syncopated high hat structure and deep 808s. Taking that beat and pairing it with some of the unit's most heavenly vocal arrangements to date make it one of the best tracks this year. Sometimes with K-Pop, you listen to a song that just seems to scratch every part of your brain right, and for me... this is the one.
ean1994's Pick: Psy ft. Suga - That That
When this song was released, immediately knew that it would be a bop. The beat is so catchy it grabs your attention right away. Not only that, you know it's a good song when even your parents can't stop humming it around the house and ask you to play it repeatedly! It's a song that can get you dancing anytime and anywhere!
Rika-go's Pick: IVE - Love Dive
From the music to the lyrics to the vocals, everything about this song is well done. The perfect song that brought a rookie group the song of the year Daesang award.
Yaki-Jones pick: NewJeans - Hype Boy
Can you believe NewJeans debuted this July and already made their 3 songs (out of 4 they released) big? Aside from their stunning visuals and ingenious marketing tactics, I genuinely enjoyed listening to their song "Hype Boy." Yes, some of you may have already gotten tired of this song because of TikTok, but regardless of the influx of those dance challenges, I had this song on repeat for quite a long time which tells a lot. There were a few other strong contenders, but for this reason, I picked "Hype Boy" as my favorite song of the year.
optimusnins pick: TREASURE - JIKJIN
As soon as it was released, it went straight into my head and never left since (that's probably why it became my number-one Apple Replay song). This very dynamic and energetic hip-hop dance track always has me blasting it on maximum volume. The chorus, especially, when it goes "ooh" like an engine-like effect, and as it goes in from one ear to another, is super cool and seems like the cars are racing inside my head. Totally addictive. The shouty final sequence also reminds you of YG's signature sound, making the song even more energetic and fun.
Yeom-My's Pick: Red Velvet - Feel My Rhythm
Can k-pop sound so elegant? This perfect sampling with a classic has got me humming all spring long, and the queens of Red Velvet have reassured us again that their legacy still lives on today.
KG's pick: Junoflo - Midas Touch
This is the perfect song title because this man Junoflo got that Midas touch! Ever since he was on 'Show Me the Money' I have been a big fan of his, and he releases nothing but bangers. In the word of Randy Moss, this song is "straight cash homey."
David's Pick: G2 - GONE

I was worried about G2 after Hi-Lite Records shut down, but luckily for fans, he is still releasing music. "GONE" is a song that goes hard, and he kills it on this track. This rapping is perfect for gyopo's who are into hip-hop or, specifically, Koreans who were born and raised in the United States. Check out G2's music; you won't be disappointed.
Janie-Reign's Pick: P1HARMONY - Do It Like This
I am a sucker for supporting rookie groups, and it is hits like these that keep a hot group fresh. P1HARMONY isn't exactly a rookie group, but they are still looking to gain more mass popularity as a boy group. "Do It Like This" definitely did the trick and stole the hearts of many around the world. The song, released just days after the New Year, is a freakishly addicting dance pop that lives in your head all day long. It is unbelievable how easy to follow and recognizable this song is. Two listens, maybe, and it will have you singing and even vibing to it, as the choreography incorporates a fascinating hand gesture in the chorus. The song helped the group receive their well-deserved international spotlight, and I only hope they continue dropping "bops" like these in the future.
Germaine-Jay's Pick: CSR - <3TiCON
"<3TiCON" is a straight sugar rush of pop. I think every K-pop listener knows what that is and craves it sometimes. It's just a fun, cute song, and along with CSR's bright vocals, a great mood boost. Some K-pop songs go through an identity crisis, but I feel like this one knows exactly what it is.
Sofia-Sayson's Pick: ENHYPEN's "SHOUT OUT"
This song shot to the top of my list of favorite songs of 2022 as soon as I heard it. When I first listened to "SHOUT OUT," I felt a distinct difference; I liked it right away and put the song on repeat. Every time I listen to it, it gives me an unexplainable rush of energy and passion. The bridge is one of my favorite portions of the song, particularly Jake's part, especially when he sang the line that includes the word "areumdawo" (beautiful), which was flawlessly delivered; I was infatuated with that part, and it feels refreshing to hear it again and again. I love the pop rock song, and I believe it perfectly suits ENHYPEN; each member's vocal stands out in its own special way. The song also has a fresh, high school musical atmosphere, which adds to how much I enjoy it—possibly because it contains a motivating message from which I can relate or draw strength. The drum beats, in particular, were great in the instrumental. A sense of freedom comes over me as I listen to "SHOUT OUT."
Susan-Han's Pick: ATEEZ - Guerilla
I appreciate this song for what it represents in this period. I think K-Pop has become wrapped up in a number of somewhat political business relationships and dealings these past few years, and for me, it's significant that a group like ATEEZ, who definitely gets the short end of the stick a lot of times when it comes to getting access to that "inner circle" of K-Pop business, puts out a song that challenges society in a very Seo Taiji and the Boys-esque manner.
Sophie-Ha's Pick: Paul Blanco ft. BE'O - Summer
This collaboration between Paul Blanco and rapper BE'O is perfect, with Paul's deep husky vocals accompanied by BE'O's unique melodious rapping style. This was the best song for the summer and overall in 2022, in my opinion.
Jia-Lin's Pick: BE'O - LOVE me
BE'O had quite the year with "Counting Stars" becoming the fastest song to rise to number 1 on the Melon charts in 2021, but my favorite BE'O release is still the underrated "LOVE me," which was released earlier in April this year. "LOVE me" is a mainstream hip-hop song that has melodic lines that sounds like they could have been a boy group's b-side in the early 2010s–maybe that's why I like it so much. If you're a sucker for 2nd gen K-pop like me, do give this a listen!
A-Nish's Pick: Jimin and Ha Sungwoon – With You
This song just stole my heart. Jimin and Ha Sung Woon sounded heavenly in it. Their voices were able to make me feel different emotions. It is an OST for the drama, 'Our Blues' but even if you haven't watched the show, these two and their track is enough to invoke sorrowful pain and emotions in the listener. And that's exactly what it did for me the first time I heard it and still does even today.
Dani-Dee's pick: LE SSERAFIM – Sour Grapes
When LE SSERAFIM made their debut with the mini album 'FEARLESS' this May, it felt like all of the K-pop fans in my social circle were talking about the B-sides, especially "Sour Grapes." And with good reason. The single, whose writing credits include Morroccan-American pop artist Abir, tackles the topic of falling in love from a completely different angle – comparing the members' struggle to find romantic love to an Aesop fable detailing a fox's unsuccessful attempt at eating grapes that are too far to reach. Between the song's inherently vulnerable lyrics and modern R&B composition, it stands out as one of the most memorable K-pop B-sides of 2022.
Ja's Pick: NewJeans - Hype boy
I love nineties music, and NewJeans was a breath of fresh air for K-pop with their retro vibe. "Hype boy" was the song that got the most streams from my playlist in 2022, making it an obvious choice for my favorite song of the year.
jieun-im's Pick: Meenoi - Faraway
Meenoi's "Faraway" is one of the tracks included in her latest album 'NOI MAS', and it is seemingly the perfect song to showcase Meenoi's talent as a vocalist. I'm not sure if you are familiar with artist Meenoi - she is an artist currently managed by 8BallTown and recently experienced a surge in popularity in South Korea due to her activities on various entertainment shows. One of her most notable works includes her main MC position in the YouTube variety series 'Meenoi's Yorizori,' posted under music label AOMG's account. This show has invited top star guests, including actor Lee Dong Wook, Kim Go Eun, Jung Yu Mi, and more, and due to its immense success, it was renewed for a total of three seasons. However, you should also give Meenoi credit for her amazing singing skills. Meenoi has a soothing, full voice that instantly pulls you into the emotions of her songs, and "Faraway" really gives room for her vocals to shine with its minimal background music. I highly recommend listening to Meenoi's "Faraway"!