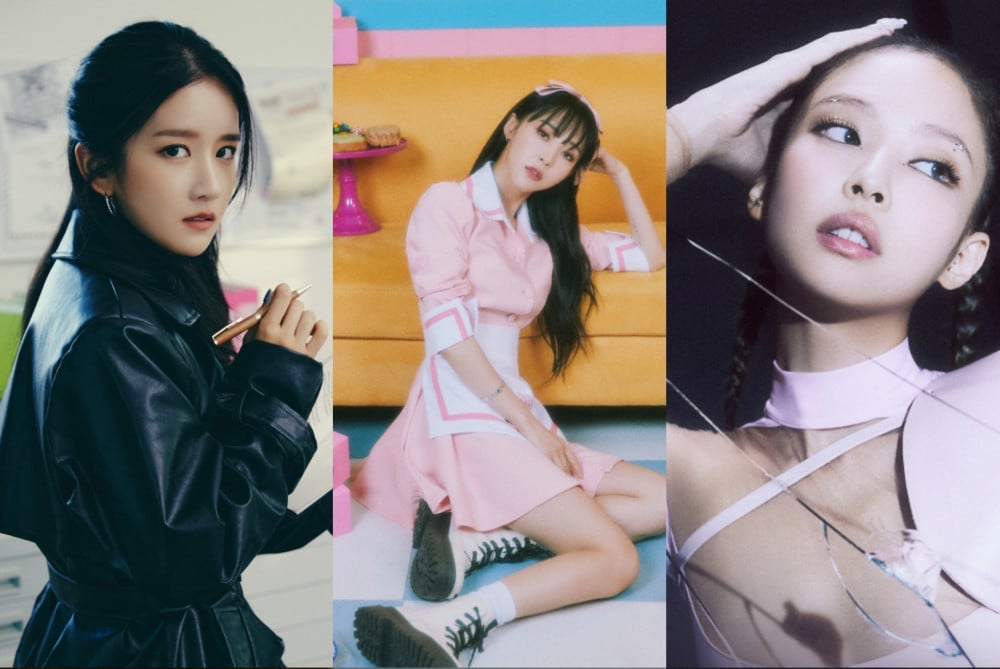 Most K-pop groups have specific positions assigned to their members, such as vocalist, rapper, dancer, leader, and visual, among others. These positions are assigned based on each member's individual strengths and talents, though the idols are not always given a chance to demonstrate their other abilities. However, there are some all-around idols who can fill any position, regardless of their designated role. Here we will look at some female rappers from the K-pop industry that can also pass as vocalists.
EXY - WJSN
WJSN's EXY began her career as a singer but later changed to rap in order to protect her vocal cord while she was still a trainee due to vocal nodules. Nevertheless, she is a fantastic vocalist. Fans got to see her perform on King of Masked Singer and hear how talented she is vocally. She came in second place in the final ranking of JTBC's survival program, "Second World."
JESSI
Jessica Ho, popularly known by her stage name Jessi, is a solo artist. Following the release of her album "Nuna," she increasingly gained popularity. She is known for her rap skills and badass attitude. But Jessi is also a good vocalist and has a unique voice. Her covers of "Can't Take My Eyes Off of You," "Dance Monkey," among others on "You Heeyeol's Sketchbook," left fans speechless.
JENNIE - BLACKPINK
Jennie is the main rapper of BLACKPINK. She also holds the position of lead vocalist in the group. She is renowned as a very skilled idol who can perform expertly in both rapping and singing. She was a featured artist in her seniors' albums as a trainee, and her vocal abilities have been praised since her pre-debut days. BLACKPINK's music and her solo works are also evidence of her talent as a vocalist.
MOON BYUL - MAMAMOO

MAMAMOO is known to be a vocal-based group that is heavily praised for their vocals. Given that the group is vocally focused, it is not surprising that Moon Byul, the group's main rapper, can also pass as a vocalist. She can slay high notes as well and has a strong, solid voice. She is the winner of JTBC's program "Second World," where rappers competed to showcase their vocal abilities.
CL

Known as K-pop's badass female rapper, CL is also a great vocalist. The former 2NE1 leader and main rapper are often praised for her fierce rap and impressive stage presence. But her talent as a vocalist could not be overlooked. Her capability as a vocalist is evident in 2NE1's music and her solo releases. Check out her last solo album, "ALPHA," and you'll know.
DAMI - Dreamcatcher
Lee Yu-Bin, better known by her stage name Dami, is a rapper, songwriter, and vocalist of the K-pop girl group DREAMCATCHER. She was a former member of MINX. She is renowned for her vocal versatility, perfectly nailing a deep voice and a high-pitched tone. We can witness her vocal talent in Dreamcatcher's music, particularly their B-sides.
CHAEYOUNG - TWICE
Chaeyoung is the main rapper, songwriter, and sub-vocalist of the popular K-pop girl group TWICE. She is one of those idols who holds the position of both a main rapper and a vocalist. Though she is a rapper, she didn't rap right from the start of her trainee days. In TWICE's songs, her talent as a vocalist is visible. Additionally, you can check on her solo covers too.
SOYEON - (G)I-DLE
Soyeon is the leader and main rapper of (G)I-DLE. She is also excellent at composing, producing, and writing lyrics. Soyeon is an all-rounder idol whose talent is evident in her works. Though she holds the position of the main rapper in her group, she is also a talented vocalist. During her participation in the survival reality show "Produce 101," she was lauded for her vocal abilities.