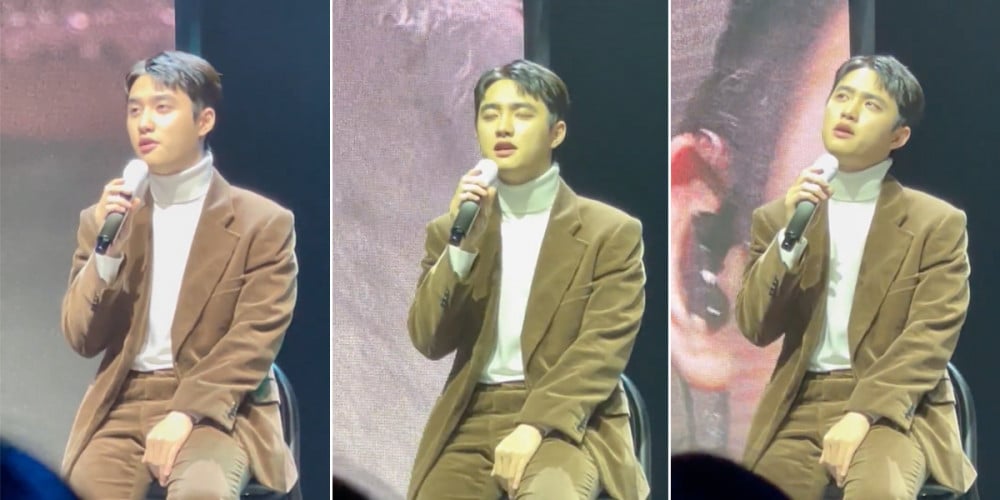 On January 16, EXO's D.O. held a birthday celebration with fans at a special fan meeting, '2023 Happy D.O. Day' at the Yes24 Live Hall in Seoul!
On this day, D.O. sent fans flying over the moon as his rich voice filled the venue. The idol sang some of his own songs like "That's Okay", "I'm Gonna Love You", and "Rose", as well as EXO songs like "The First Snow", "Peter Pan", "Don't Go", "My Lady", "Angel", and more!
Then, during another fun segment of the fan meeting, D.O. spent time singing quick snippets of songs suggested by fans on-the-spot. Despite the unplanned nature of the segment, D.O. just melted his fans as he sang comfortably, like singing your favorite songs with friends. Here are some of the songs the idol covered, below!
1. IU - "Through The Night"
2. Justin Bieber - "Off My Face"
3. Baekhyun - "UN Village"
4. Crush - "Beautiful"
5. Kyuhyun - "At Gwanghwamun"
Netizens reacted with comments like, "His voice is like treasure...", "UN Village?!?!?!", "This is so not fair TT. His voice is too gold TTTT", "I love how he's just singing so casually like without even trying too hard and it sounds amazing", "Until the day Kyungsoo sings 'Ditto'...", "Why wasn't I there TT", "Please give us a solo comeback!!", "What about Kai's 'Mmmh' TTTT", "I love his voice so much", and more.
Happy belated birthday, D.O!