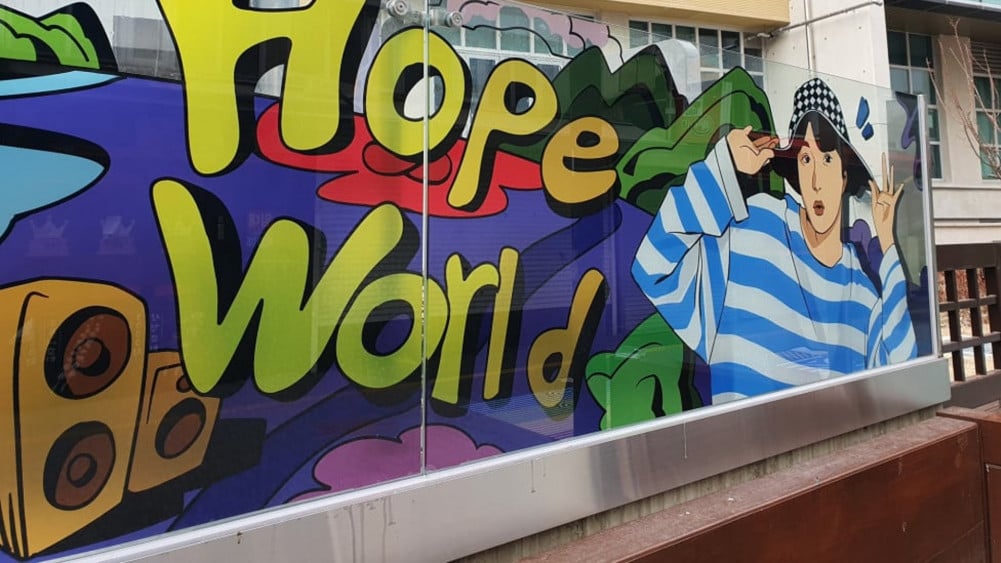 While South Korea is renowned for its iconic landmarks such as the Namsan (N Seoul) Tower, Gyeongbokgung Palace, Dongdaemun Design Plaza, Lotte World Tower, and the famous 63 Building, why not explore some of the country's most iconic K-Pop locations? Here are ten unique K-Pop locations you won't want to miss when visiting Korea!

1. Gwangju K-Pop Star Street: Found in downtown Gwangju, you can find the handprints of several of your favorite idols whose very hometown is Gwangju! But that's not all! There's also a star memorial hall and a mural that shows various albums from multiple artists!
2. Gangnam K-Star Road: Located right on the main road of Gangnam, connected to Apgujung Rodeo Station, you'll see all these bear statues inspired by your favorite K-Pop idols such as BTS, EXO, Girl's Generation, and more! Snap a photo with your favorite bear!
3. Gwangju's HOPE WORLD: Of course, you also cannot miss out on the sculpture inspired by BTS' J-Hope, filled with 21,800 messages of love and support to the fellow singer from ARMYs all over the world; this is the perfect spot to visit if you're an ARMY!
4. Gangnam Style Statue: Commemorating veteran singer Psy's ultra mega-hit "Gangnam Style" right in front of COEX Mall's East Gate, you'll spot a great big pair of hands posed in the iconic horse dance move!
5. Seoul Forest: A perfect spot for nature lovers! There's a forest in the middle of the city! But that's not all; there are two forests dedicated to BTS member RM!
6. Busan Gamcheon Culture Village: It's a way to get there, but so worth it as Gamcheon Culture Village has a giant mural of BTS Jungkook and Jimin! Known to be the hometown of both members, Busan is a great place to experience Korean culture including K-Pop culture!
7. SMTOWN COEX Artium: A space all inspired by your favorite SM artists, this is the perfect place to find albums, merchandise, and more to take back with you!
8. MBC World Hallyu Theme Park: One of the major broadcasting stations within South Korea, MBC created a Hallyu-themed park where they have virtual reality and holography!
9. Lotte FITIN: Want to attend a concert but not sure how to get tickets? No worries! Visit K-Live at Lotte FITIN, where you can experience realistic hologram concerts of YG Entertainment artists and JYP Entertainment artists as well!

10. Gangneung Beach Bus Stop: With Beachy waves and soft white sand, this place is excellent to visit regardless, but this spot is known for where BTS took a photo for the 'Spring Day' promotions!
For those who have a chance to visit South Korea, don't forget to add these spots to your itinerary, so you don't miss out!