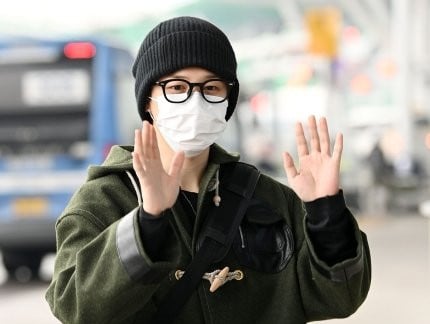 BTS's Jimin, who loves wearing beanies, was selected as the star with street sensibility who shows off his fashionable style in a beanie.
On the 3rd of December, after a week of voting, Jimin took first place in a DC My Celebs survey titled, "The star with a street fashion sensibility that goes well with Carhartt Beanie." He received a total of 9,575 votes out of 15,181 total cast votes on the site.
Jimin's attractive keywords were 70% Dazzling, 11% Cool, 10% Sensible, and the remaining 9% comprised of Chic, Free, and other descriptors. His representative images included Doll Person, Multi-Dimensional, Generating a Big Topic, Genius, and Energetic in Performance, among others.
Jimin has always shown his cool, sensual, and cute sense of style when wearing beanies which he has been seen donning to airports, promotional events, and more. The beanie is an everyday item loved by fashionistas of all ages and genders. He was even praised in August for wearing a beanie at the airport by a fashion critic. Korean and international media have lauded him for his proper utilization of various styles while wearing a beanie.
On his recent trip to New York for his personal schedule, Jimin topped off his cozy and stylish ensemble with a beanie and eyeglasses, taking the world by storm and delighting fans everywhere. His adorable and sophisticated appearance caused a surge of over 300k tweets, leading him to top the Twitter real-time trends worldwide with HAVE A SAFE FLIGHT JIMIN #1, along with other keywords Park Jimin, JIMIN JIMIN. Many complimented his adorable and sophisticated appearance. Fellow BTS member J-Hope could not resist Jimin's cuteness and shared a picture of his airport look on both Weverse and Instagram with a mochi sticker and captioning it with 'soft.'
Congratulations to the sensible fashion King Jimin!