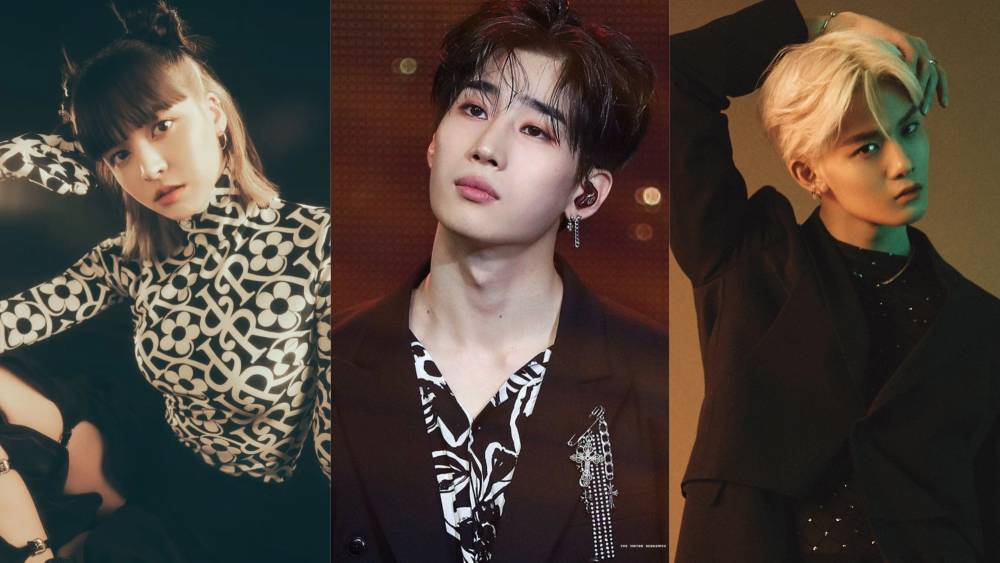 K-Pop is home to some of the most talented vocalists, with voices that are so unique and recognizable that you can identify them even if it's your first time listening to the song. Here are some of the most unique and instantly recognizable voices in K-Pop.
NMIXX Lily
JYP's monster rookie group NMIXX has this crazy talented and effortless gem, Lily, who is always confident in her ability and makes singing seem effortless. Her powerful yet very soothing voice always makes fans fall deeper in love with her.

PURPLEKISS Swan
Living up to her name, she truly is a swan with the most magnificent and majestic voice yet. She always puts on her own style whenever she sings with her unique, rich, and deep diva-like vocals. Your ears will be dripping honey just listening to her.
Need we say more? Felix's deep voice is one of the most recognized voices in the industry. It's not just simply deep, but it just has a lot of character and power in it, making any line he sings a memorable one.
Ever since his debut, Haechan is always known and praised for his unique vocal tone. He doesn't have a special vocal technique or anything. He just has a very unique voice, along with his insanely talented singing skills; you certainly would notice him, even if you're not a fan.
NCT Mark
SM's golden child, Mark, is certainly known for his fire rap skills. He doesn't particularly have a super unique voice, so to say, but it is such a well-recognized voice, and the way he sings and raps will certainly make you know that it's THE MARK LEE.
Not only is he a great leader, producer, and songwriter, but he also has a great voice. There is something so unique and addictive in his voice that keeps pulling you in for more. His voice sounds so smooth to the ears that anything he sings becomes a lullaby.
You'd be lying if you say you don't find peace hearing V's voice. Known for being one of the best baritones among K-Pop idols, our multitalented prince can also easily and smoothly hit falsettos.

You know he eats CDs for three meals a day when he can effortlessly carry a Naomi Scott song in the original key. He is known for his insanely high vocals that just leaves fans... speechless.
Another one of K-Pop's most famous baritones yet, Jinyoung has a very unique and easily recognizable voice. He showed so much growth in his singing since his first appearance in Produce 101 Season 2, Wanna One, and now killing the stage with CIX.
This angel truly has such a raw, strong, and certainly unique voice. Her distinct water-like vocals that is strong, deep, and smooth; she never fails to amaze fans and keeps pulling in listeners.
Is there anyone that listens to K-Pop does not know this queen's voice? She has a very distinct high-toned, and addictive voice, that whatever she sings is bound to end-up being on repeat, especially with the character she puts into her singing.
I was going to put them separately, but since we have this absolutely gorgeous cover of them both, it's a crime not to have them on here together. These two are not only renowned as some of K-Pop's most talented vocalists, but their distinct voices lend an unmistakable beauty to their singing. Even if you're not a fan of them or their respective groups, you can easily recognize their voices from a mile away.
K-Pop's vocal king, Baekhyun, can mesmerize anyone, even with his casual singing! Not only can he pull off a ridiculously high note casually while eating, but he has a very unique voice that can immediately touch a listener's heart.
Just like her name, Joy really has that joyfulness in her voice whenever she sings. That's what makes her voice very unique, and you can easily pick out this cheerful voice anywhere!
ONF MK
His singing voice is sharp, but his actual speaking voice is actually deep. MK has a very distinctive, more on the higher-tone side and a unique-sounding voice.
If you don't know him yet, you should start paying attention, for you will surely recognize an angel's distinctively beautiful yet powerful and unique voice anywhere now.