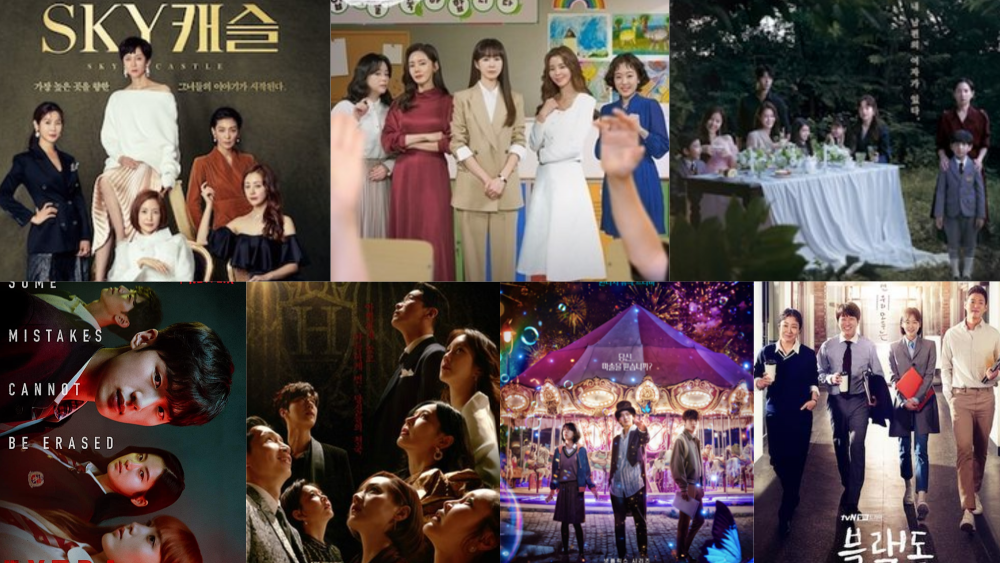 If you're into Korean culture, you might have heard that they have a rigorous and stressful education system, where students are pressured into getting only the best grades possible and signing up for cram school/tutoring classes, all so they would get admitted into prestigious universities.
This painful reality faced by South Korean students has been depicted in many series. You might be surprised knowing that these shows are not exactly exaggerating the stress and pressure shown but actually shining a light onto students' sufferings. Here's a list of 7 Kdramas about South Korea's pressuring school system and the struggles of Korean students.

Disclaimer: Please be aware that most of these series might involve some triggering topics.
SKY Castle
Cast: Yum Jungah, Jung Joonho, Kim Hyeyoon, SF9's Chani, Yoon Saah, Kim Byungchul, Park Yoona, Kim Donghee, Kim Seohyung, Kim Bora
You may have heard of this one, as it was one of the most popular dramas of 2019. "SKY Castle" is a residential area home to wealthy Korean elite families who would do absolutely anything to get into SKY. SKY is an acronym for the top three prestigious schools in South Korea: Seoul National University, Korea University, and Yonsei University).
The Penthouse: War In Life
Cast: Lee Jiah, Kim Soyeon, Kim Youngdae, Han Jihyun, Eugene, Kim Hyunsoo, Park Eunseok, Yoon Jonghoon, Uhm Kijoon, Choi Yebin
The families in this drama would go through extreme measures to ensure that their musically talented kids are admitted into some of the best schools and become someone great in the classical music industry. To the extreme that their kids would lose their minds due to the pressure put on them.
The Green Mothers Club
Cast: Lee Yowon, Choo Jahyun, Kim Gyuri, Jang Hyejin and Joo Minkyung

This one's a bit more upsetting because they're showing how the pressure and stress start as early as elementary school. When we were busy running around with our friends, these kids were already constantly pressured to only get good grades in school, and the parents would be blamed for neglecting their duties if they didn't pressure their kids as per standards.
High Class

Cast: Cho Yeojeong, Kim Jisoo and Kim Youngjae
This drama also involves elementary kids getting pressured to only perform academically instead of learning to be kids. It's a fascinating drama about a mother and a child moving to Jeju Island after their husband/father dies, and found out that the new people around them are somewhat related to their dead husband/father, and what they find out after is more sinister.

Extracurricular

Cast: Kim Donghee, Park Juhyun, Nam Yoonsu, Jung Dabin
Oh Jisoo, a poor high school student strives to get into SKY and to be able to afford the extra tutoring, but he finds himself involved in serious criminal activity.
The Sound of Magic

Cast: Choi Sungeun, Ji Chang Wook, Hwang InYoup
A high school student abandoned by her parents, who dreams of becoming an adult to escape poverty, along with a student with wealthy parents, but is constantly pressured by his parents into becoming the top of his class; both meet with a magician that brings light and magic into their realities.
Black Dog: Being a Teacher

Cast: Seo HyunJin, Ra Miran, Ha Joon, Lee Changhoon
Other Kdramas have shown the pressuring education system from the student's point of view, but this one shows the sacrifice of the teachers who wish for a better environment for their students. This drama shows that, no matter how passionate a teacher is, it is often very helpless because that's just how complex the Korean education system is.