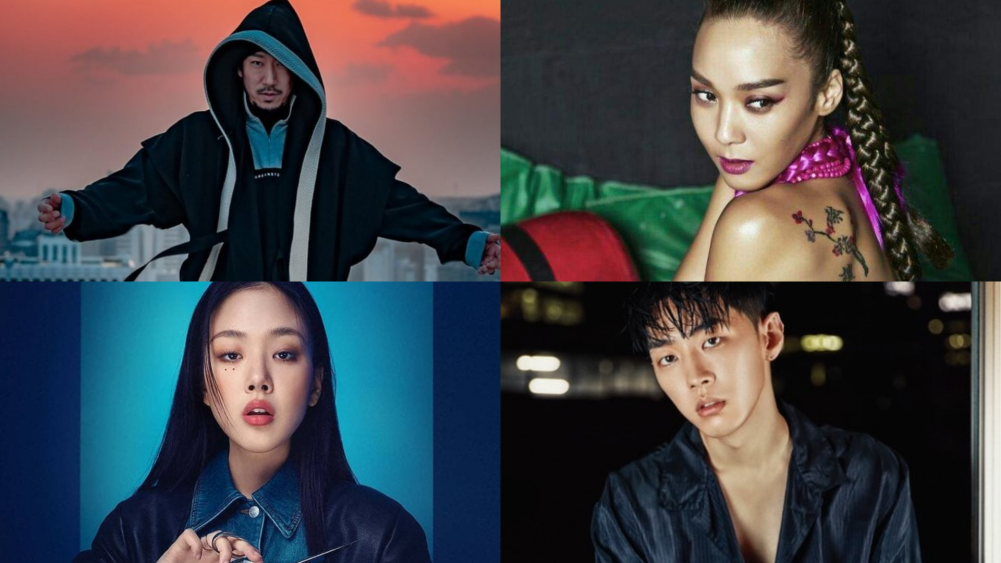 Many Korean artists venture into various genres, exploring their skills and capabilities. One of these genres is Korean hip hop, one of the subgenres of Korean popular music or K-pop. While they are definitely inspired and influenced by the origins of hip hop, K-hip hop referenced and capitalized on the Korean culture and language while incorporating other elements and, sometimes, code-switching.
Although sometimes much known to casual fans and listeners as rapping, the genre has a comprehensive music discography to offer, with many K-hip hop artists rising in the scene. Aside from the famous active and former idols who also actively engaged in the K-hip hop scene, there are many K-hip hop soloists who are definitely delightful to audiences and fans.
Here are twenty-one of the many talented and versatile K-hip hop artists you should try listening to and probably stan in the future!
1. Tiger JK

"The OG," best known as a founding member of the Korean hip hop group Drunken Tiger, Seo Jung Kwon, popularly known as Tiger JK, is a rapper, record producer, and businessman. The record labels Jungle Entertainment and Feel Ghood Music were also created by him. He is acknowledged for playing a significant role in the growth of Korean hip-hop and in introducing the genre into popular culture. He was described as "perhaps the most popular Korean rapper in America, Asia, and the world" by The Los Angeles Times in 2011. He has also won the 2009 Best Male Artist of the Mnet Asian Music Awards and other recognitions for his influential hip-hop discography.
2. Yoon Mi Rae

Natasha Shanta Reid, better known by her Korean name Yoon Mi Rae, is a Korean-American solo rapper, singer, songwriter, and producer. She is the wife of Tiger JK and made her debut in 1997 with the group Uptown. She later made her solo debut in 2001 under the stage name "T," which she further abbreviated from "Tasha." With her song "Touch Love" from the South Korean drama Master's Sun, she claimed the top spot on Billboard's Korea K-Pop Hot 100 chart in September 2013. She won various awards, such as the 2013 Best Original Soundtrack, both from MelOn Music Awards and Mnet Asian Music Awards.

3. BIBI
Kim Hyung Seo is a South Korean singer-songwriter better known by her stage name, BIBI. Yoon Mi Rae discovered her self-produced tracks on SoundCloud, and she subsequently signed with Feel Ghood Music in 2017. She participated in the SBS reality competition, 'The Fan,' as a participant, where she ultimately came in second. On May 15, 2019, she released her first song, "Binu," which served as her formal debut. R&B, soul, hip hop, and ballad are among the many genres represented in her discography, which is known for being spontaneous, creative, and unconventional.
4. GRAY
Lee Seong Hwa, best known by his stage name GRAY, is a South Korean singer, rapper, and record producer. His first and debut single, "Blink," was released in 2012. His first studio album, "Grayground," was published in 2021. He is presently an artist and signed to the hip-hop label AOMG. Through hundreds of singles, features, and produced tracks, he has made contributions to the K-hip hop industry. From 2017 to 2019, he received three nominations in a row for Producer of the Year at the Korean Hip-hop Awards.
5. LOCO

South Korean rapper Kwon Hyuk Woo, best known by his stage name Loco, is signed to the hip hop label AOMG. He was the first champion of Mnet's rap competition "Show Me the Money," the first season in 2012. In addition to appearing on multiple soundtracks, he has released a number of singles that have achieved success on both the Korean and international charts. Aside from being recognized as a singer, he has also won the 2018 Hot Issue Entertainer Award from the KBS Entertainment Awards alongside Hwasa, with whom he has collaborated several times.
6. Verbal Jint

Verbal Jint, the stage name of South Korean rapper, record producer, and musician Kim Jin Tae, is renowned for his ground-breaking innovations in Korean hip hop rhyming schemes. He was the first to establish actual Korean rhyme systems, and his technique has since become the norm for Korean rapping in the hip-hop community. Before finding widespread fame, he made a name for himself as one of South Korea's most well-known underground rappers of the 2000s. He manages his own independent label, Otherside, while under contract with the hip hop recording company Brand New Music. He won various awards, including 2004 Featuring Artist of the Year, 2011 Single of the Year, 2011 Music Video of the Year, 2014 Video of the Year, and 2014 Collaboration of the Year from the HiphopPlaya Awards.
A hip-hop recording artist from South Korea, Jung Ki Suk, is much known under the stage name Simon Dominic. As a part of the hip-hop duo Supreme Team, he made his debut in 2009. The group burst into the South Korean mainstream and garnered significant recognition throughout their career, winning the Hip Hop Award at the 2010 Golden Disc Awards and Best New Male Group at the 2009 Mnet Asian Music Awards. After the group split up in 2013, he eventually pursued a solo career. Simon Dominic, aside from being a rapper, was co-CEO of the hip-hop record company AOMG from 2014 until 2018 and was also part of different variety shows such as 'Show Me the Money 5' and 'I Live Alone.'
8. Sumin
South Korean singer-songwriter-producer Sumin made her stage debut on December 7, 2015. Sumin is a multifaceted artist who blends hip hop, electronic, and bass music to create what she refers to as "Neo K-pop." The singer-songwriter, who has steadily established herself as a name to watch not only in the world of Korean hip hop but also in K-pop, having written songs for popular K-pop groups like Red Velvet and BTS.
9. Zion.T

Kim Hae Sol, also known as Zion.T, is a South Korean rapper and R&B singer signed with The Black Label, a subsidiary label of YG Entertainment. He has two extended plays as well as the critically lauded studio album "Red Light." Additionally, he has appeared on songs by well-known K-pop performers, including G-Dragon and Zico. He ended the year 2015 by surpassing more well-known singers and went on to win two awards at the annual Mnet Asian Music Awards: Best Vocal Performance (Male) for the song "Eat" and Best Collaboration, with Crush, for the song "Just." Additionally, he received other honors, such as Bonsang Awards from the Seoul Music Awards and Golden Disk Awards.
10. Beenzino

Rapper Lim Sung Bin, also known by his stage name Beenzino, made his debut in front of the public on June 5, 2011, at Dok2's Hustle Real Hard Concert. Since then, he has published three solo albums in addition to various collaborative works. He is well-known for rapping and rhyming in a melodious way. He first gained popularity in the Korean rap scene before becoming well-known with songs like "Dali, Van, Picasso," a mainstream hit. He won 2010 and 2011 Featuring of the Year, 2012 Best Lyrics/Verses, and 2013 Single of the Year from the HiphopPlaya Awards.
11. Lee Young Ji

Lee Young Ji is a South Korean rapper under Mainstream who debuted in 2019 with the single "Dark Room." She was the winner of the Mnet hip hop survival show, 'High School Rapper 3', and signed with her current label after her win. She also took part in the 2020 Mnet hip hop show, 'Good Girl,' and participated alongside other well-known soloists and idol members. Aside from her released singles, she has also participated in various collaborations and as a featured artist.
12. Tablo

Daniel Armand Lee, popular with his stage name, Tablo, is a Korean-Canadian hip hop recording artist, lyricist, composer, and record producer. Tablo is known for being the founder of the independent music label HIGHGRND and the leader and producer of the renowned Korean hip-hop group Epik High. The ensemble has subsequently released ten full-length albums and 1 EP, with Tablo having produced and co-written all the tracks. Fever's End, his first solo album, was published in 2011. He participates in group projects and also works as a record producer and songwriter for other musicians. His music mixes a variety of genres, including rock, trip-hop, and trance. Tablo was also claimed to be the first artist in Korea to employ the "rhyming rifle" method. His lyrics are quite fantastic as he graduated from Stanford University with honors in English literature and creative writing.
13. Mirani

South Korean rapper and composer Kim Yoon Jin is also known as Mirani. She first attracted recognition and attention in 2020 when she made an appearance on the rap competition television program 'Show Me the Money 9'. Together with the rappers Munchman, Khundi Panda, and Mushvenom, she recorded the single "VVS." It turned out to be her most successful single, spending seven weeks straight at the top of the Gaon Digital Chart and earning Hip-Hop Track of the Year at the Korean Hip-hop Awards. She released the extended play Uptown Girl after signing with the hip-hop label Area in 2021.
14. Code Kunst
Jo Sung Woo is a South Korean composer and music producer better known by his stage moniker Code Kunst. He switched from his previous label to AOMG in June 2018. It was announced in July 2018 that he would participate as a judge on 'Show Me the Money 7'. In 2019, the Korean Hip-Hop Awards nominated him for the Best Producer Award. The same year, Code Kunst participated in the Hip-hop reality competition 'High School Rapper 3', where he produced the song "Go High," which was performed by Lee Young Ji, the show's final winner. Code Kunst was named a producer for 'Show Me the Money 9' in August 2020 and returned to the show as a winning producer for 'Show Me the Money 10'.
15. pH-1

Rapper Park Jun Won, also known by his stage name pH-1, is a South Korean-American rapper based in Korea. In 2017, he released his first extended play, "The Island Kid," and in 2019, he released the full-length album, "HALO." He moved to Korea in order to pursue his music career after Jay Park contacted him via Instagram to join his newly formed record label, H1GHR MUSIC. The three keywords he pursues in his music are truth, positivity, and experience; as such, he tries to contain only positive messages as much as possible, staying away from the usual themes.
16. BewhY
BewhY, the stage name of South Korean rapper Lee Byung Yoon, is a member of the "$exy $treet and Yello Music Crew." He first decided on the stage name "BY," but then altered it to "BewhY" to give the name some substance. After placing first on Show Me the Money 5 in 2016, Bewhy went on to release three studio albums, three extended plays, a mixtape, as well as numerous songs and collaborations that were well-received on the Korean charts. He won Top Ten Artist during the 2016 Melon Music Awards, 2017 Discovery of the Year (Hip Hop) from Gaon Chart Music Awards, 2017 Best Hip Hop Song from Korean Music Awards, and 2017 Hip Hop Track of the Year from Korean Hip-hop Awards.
17. Crush
Crush is the stage name of a hip-hop singer, songwriter, and producer who is known to frequently incorporate Jazz musical instruments in contemporary songs. He made his debut on April 1, 2014, with the song "Sometimes." Nine of Crush's tracks, including "Just," "Beautiful," "Don't Forget," "Bittersweet," and "Sleepness Night," reached the top five on the Gaon Digital Chart, while thirteen of Crush's singles reached their highest peak on the chart. In December 2016, Crush also released the hit OST "Beautiful" for the drama 'Guardian: The Lonely and Great God', and later received a nomination for Best OST at the 19th Mnet Asian Music Awards. Crush released his critically acclaimed second full-length album, "From Midnight To Sunrise," which won R&B Album of the Year at the Korean Hip-hop Awards.

18. Jessi
Rapper, singer, and performer Jessica Ho, better known by her stage name Jessi, had her professional debut in South Korea in 2005 and briefly joined the hip-hop crew Uptown in 2006. She took a brief break from music before making a comeback as a solo performer and a member of the hip-hop trio Lucky J. With five Top 10 entries on the Gaon Digital Chart, including her highest-charting solo single "Nunu Nana" and the chart-topping single "Don't Touch Me" as a member of the Refund Sisters, several of her solo and group singles have found success. She participated in the first season of Mnet's hip-hop competition show Unpretty Rapstar, where she finished in second place and gained widespread recognition. Aside from her many recognitions as an entertainer, she was also highly recognized as a rapper, winning 2021 Best R&B/Hip-Hop Artist from Korea First Brand Awards and 2021 Best R&B Hip-hop Award from Seoul Music Awards, among others.

19. Sik-K
Kwon Min Sik, better known by his stage name Sik-K, is a South Korean rapper. He made noise and became famous due to his participation as a contestant on Show Me the Money 4. He released his first EP, "Flip," on July 20, 2016. His discography was expansive and gained success on Korean charts, from his two studio albums, six extended plays, numerous singles both as main artist, singles as collaborations, and singles as a featured artist.

20. SINCE
Shin Sujin, known professionally as Since, is a South Korean rapper and songwriter. She first came to public recognition in 2021 when she participated in the rap competition television program 'Show Me the Money 10' and became the first female rapper to proceed to the show's finale, where she placed second. In the same year, she released her debut studio album Since 16, which received positive reviews and had the lead single "Spring Rain" nominated for Best Rap Song at the Korean Music Awards. She became the first female rapper to take home the Korean Hip-hop Awards' New Artist of the Year award in 2022.
21. Paul Blanco
Last but definitely not least is Paul Blanco, a Korean-Canadian rapper who hails from Toronto, Canada. This guy is so talented as he produces most of his own music. Paul is both an awesome rapper and a wonderful singer. He recently signed with Ambition Musik.
Among many hip-hop artists and soloists who made their name through hard work and talent, here are some that you should definitely try listening to! Is your favorite listed here? If not, who is your favorite K- hip hop soloist that you would recommend to other fans as well?