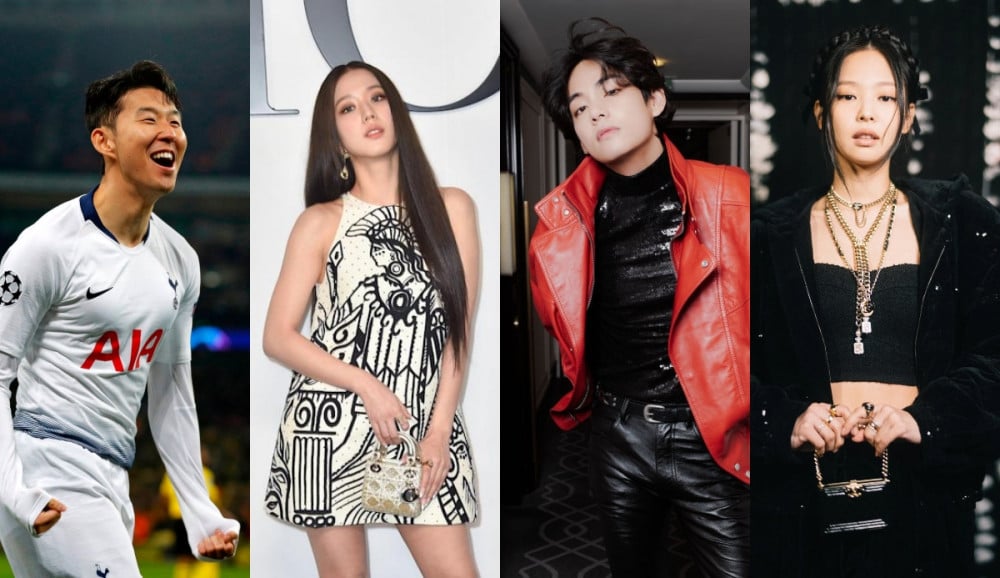 Netizens discussed whether YG Entertainment's quick response of denying BLACKPINK's Jisoo and Son Heung Min's dating rumors proves that all the other dating rumors must be true.

On August 18, one netizen took to an online community forum and created a post titled, "YG's response when the dating rumors are really not true." Here, the netizen included several screenshots of articles that showed YG Entertainment's quick response to BLACKPINK member Jisoo and soccer player Son Heung Min's past dating rumors. The articles read, "YG reps [respond]: 'BLACKPINK Jisoo and Son Heung Min's dating rumors are all false".
The netizen then wrote, "[Jisoo and Son Heung Min's dating rumors] were really false rumors, so they made a clear statement denying it. Jisoo even said in a magazine interview that she doesn't know [Son Heung Min] personally."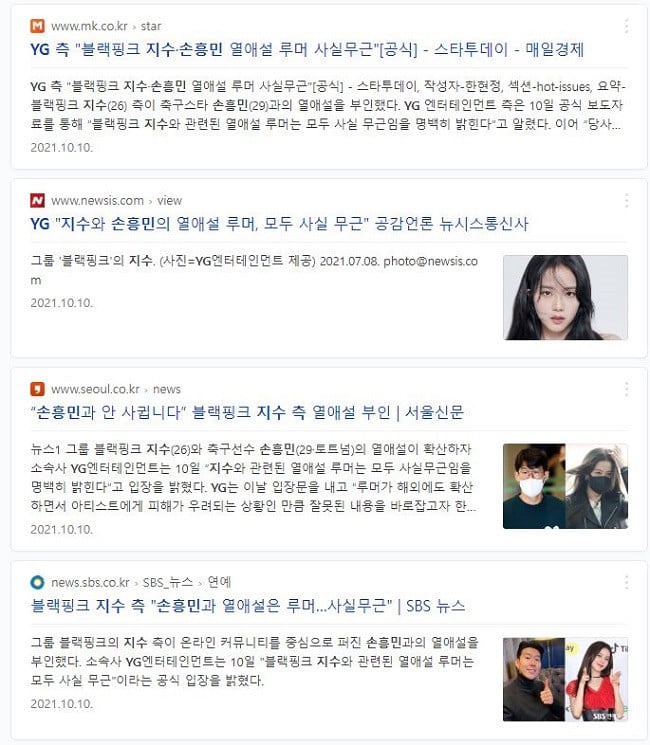 Netizens commented:
"I think everyone is staying quiet about V and Jennie, but I think they're really dating."

"When it's really false, they always deny it."

"It was funny that they said V and Jennie's photo was photoshopped."

"Why would Jisoo date Son Heung Min anyway? I'd rather her date Jung Hae In."

"But [YG Entertainment] responding that it's hard to confirm when there clearly are photos... Isn't that kind of belittling the public?"

"If you know, you know how the pattern of YG works. Lolll. If it's true, they can just say it's true, but they're so restrained despite pretending to be such a free-spirited company."

"Son Heung Min already had a bad image among girl groups because of his relationship with Girl's Day Minah, but do you think a top girl group member like Jisoo would even look at him?"

"Jisoo didn't have any photos taken of her, but Jennie and Kang Seung Yoon did. loll. Even if you shove evidence up their noses, YG stays quiet."