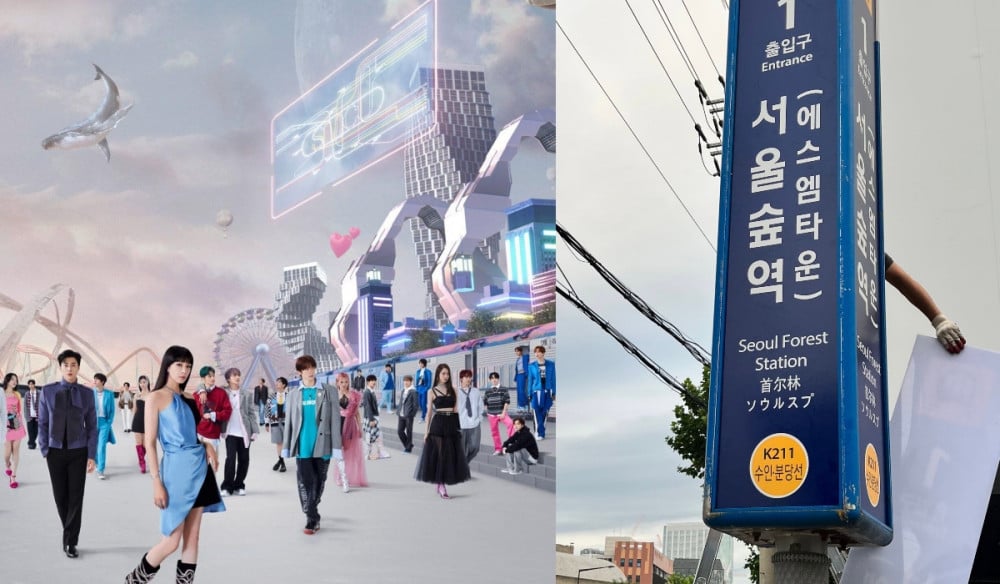 SM Entertainment has officially made its mark on its new location.
On August 29 KST, a photo of an updated Seoul Forest Station subway sign created a buzz on online communities, as it no longer simply says 'Seoul Forest Station' but now the Korean portion of the sign reads 'Seoul Forest Station (SMTOWN).' Seoul Forest Station is the closest subway station to the new SM Entertainment headquarters in Seoul's Seongdong district.
"Wow, SMTOWN has been added to the station's name," a poster sharing the photo wrote, adding a joking "Someone said thank god it isn't Kwangya Station." Another took to Twitter to share the photo with a simple "Congrats?" tweet.

The name change is part of an ongoing trend of subway station naming rights being partially sold to large companies to make up for profit losses. Previously, this trend began with Seoul subway Lines 2 and 3, operated by Seoul Metro, with 'Euljiro 3-ga Station' now being 'Euljiro 3-ga Station (Shinhan Card) and 'Sinyongsan Station' now being 'Sinyongsan Station (Amorepacific).'
In SM Entertainment's case, they have partially purchased the naming rights of a station on the Bundang Line, owned by KORAIL. As SM often uses a subway theme as part of their SMCU concept, SMTOWN now becoming a physical subway station is humoring local K-pop fans

Comments from netizens include, "Wow, SM artists are probably going to upload [photos] a lot from this photo spot," "When did it.. change..? This weekend I want to check it out. Let's go to Kwangya!," "What a shame. It would've been cool if it was named Kwangya Station," "Kwangya finally became real," and "But it's really right in front [of SMTOWN]. When you come out [of the station] and look directly up, it's there." Others responded in surprise as the rename showed that Seoul Metro was not the only railway operator in the city that was having profit loss issues.