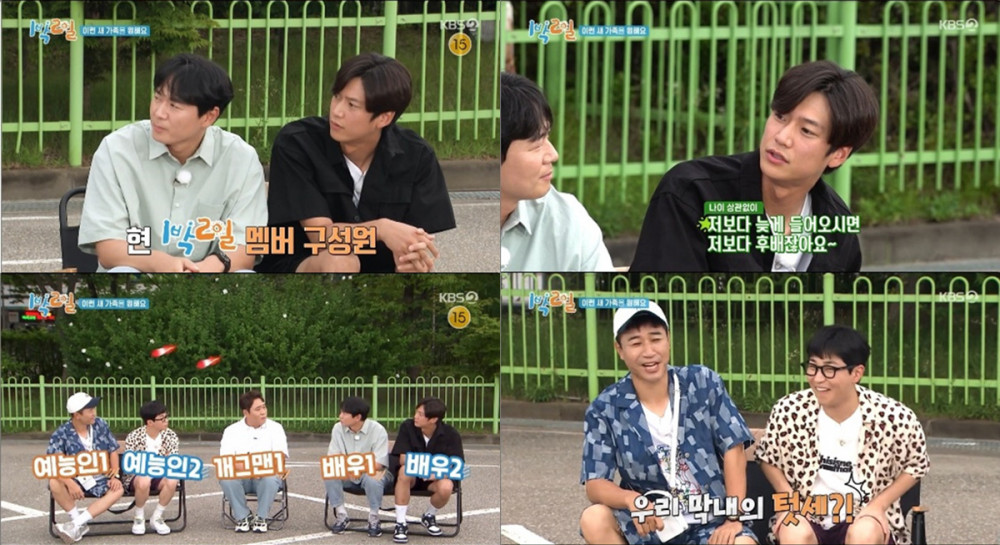 The cast members of KBS2's '1 Night, 2 Days' season 4 discussed what kind of person they would like to have join them as a new member!
During the opening of the August 21 broadcast of '1 Night, 2 Days', members Yeon Jung Hoon, Kim Jong Min, Moon Se Yoon, DinDin and Na In Woo caught up on one another's lives while sitting in comfortable chairs. Here, Moon Se Yoon said, "It's the show's 15th anniversary and all, and I've been thinking that it's probably time to have another member join. Do you guys have any preferences for what kind of person you'd like to have join the program?"
Yeon Jung Hoon replied, "We have two actors, one comedian, and two variety personalities. We need a singer!" Hearing this, DinDin refuted, "My song is climbing up the charts!" while Kim Jong Min also said, "Koyote just had a comeback!"
Meanwhile, Na In Woo commented, "I was the latest join, so whoever comes after me will be my hoobae. I will take good care of my hoobae and teach them everything!"
Kim Jong Min remarked, "Since it's been 15 years since '1 Night, 2 Days' started, I want to see a young and passionate friend come on, someone who can lead this program for another 15 years." Moon Se Yoon also added, "I want someone who can eat well like me."

Who do you want to see joining KBS2's '1 Night, 2 Days' as the newest cast member?