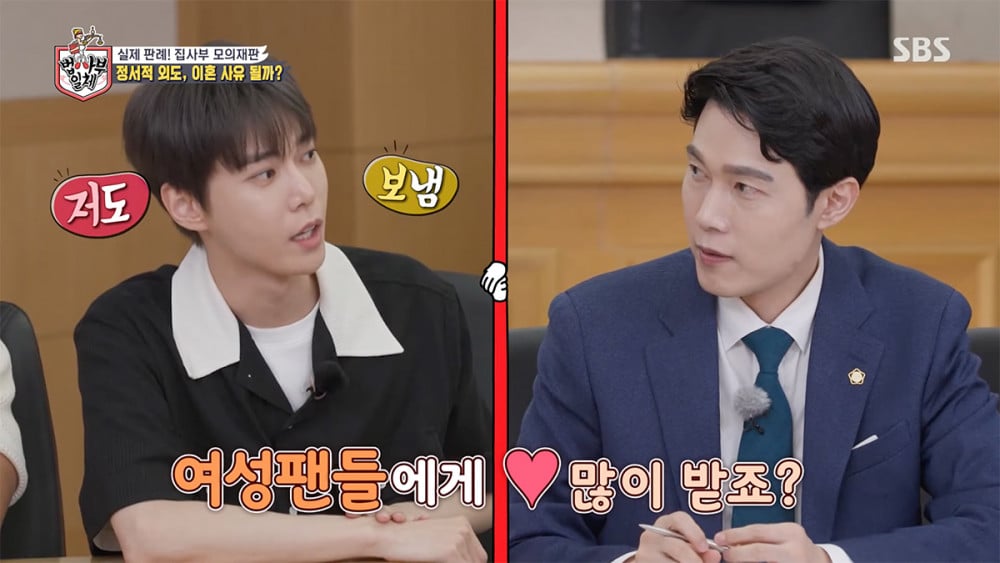 NCT's Doyoung caused laughter with his pro K-Pop idol response to a question asking, "What if your girlfriend said she doesn't want you to send heart emojis to your fans?".
On the July 31 broadcast of SBS's 'Master In The House', the cast members used scenarios from a real court room to learn the practice of defending a case. During a case about a man who was suspected of cheating on his wife based on his use of heart emojis, Doyoung was asked, "You must receive many heart emojis from your female fans, right?"
Doyoung replied, "I also send them many hearts." The lawyer then followed up with, "What if your girlfriend saw those, and she felt uneasy about them?"
Doyoung quickly responded, "I don't have a girlfriend."
The lawyer persisted by asking, "What if you did have one?" Doyoung once again stated, "I don't."
Kim Dong Hyun chimed in with, "Let's just pretend that you have one." However, Doyoung shook his hand adamantly and said, "I just don't have one. I will never have one as long as I live."
Hearing this, the other cast members burst into laughter. Lee Seung Gi commented, "That is the life of an idol!"
While laughing at his own stubbornness, Doyoung emphasized, "I don't have a girlfriend. I will never have one."
Netizens commented, "He is really funny on this show lol", "It's a smart and cute answer. I bet the fans are smiling lol", "His answers don't even match the questions being asked lol", "How is he never going to have one for as long as he lives lol", "LOL He's a pro idol alright", "So funny lol".