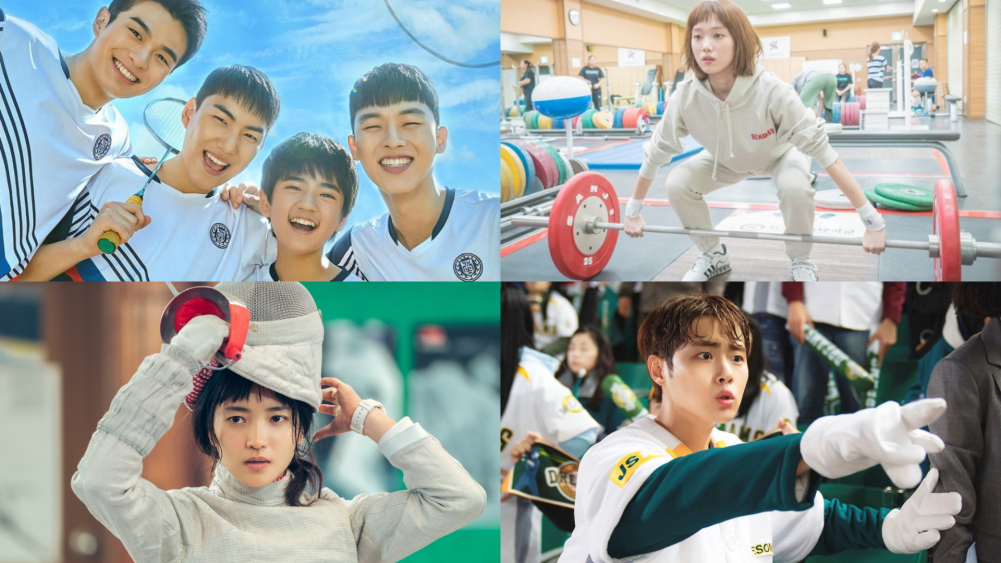 Korean dramas are expected to bring forth vicarious pleasure and even pain, feeling the joys and sufferings of the characters we have come to love as they progress in their lives. The thrill doubles in sports dramas, from watching how they trained with blood, sweat, and tears, entering the competition, and the results that could be either a glorious win or a devastating defeat.
To sports enthusiasts or to fans looking for a way to experience cheering without watching a real sports competition, here are some sports K-Dramas tailored to your preference!
1. Racket Boys
Synopsis: The series follows the growth of teenage boys and girls and the challenges faced by the badminton club at their school, which was attempted to be revived with the help of a coach despite originally having only three members.
Cast: Kim Sang Kyung, Oh Na Ra, Tang Jun Sang, Kim Kang Hoon, Lee Jae In
2. Weightlifting Fairy Kim Bok Joo

Synopsis: The series showcases the story of a group of college athletes, from weightlifters and swimmers to gymnasts, who are all fighting for their dreams and resolving their issues, all while experiencing and finding love in the process and growing every step of the way.
Cast: Lee Sung Kyung, Nam Joo Hyuk, Lee Jae Yoon, Kyung Soo Jin

3. Twenty Five, Twenty One
Synopsis: The series retells the love story spanning the years 1998 to 2001, centering around the story of a teen fencer who pursues big ambitions and meets a hardworking young man who seeks to rebuild his life, meeting for the first time at the ages of twenty-two and eighteen, and falling in love at the ages of twenty-five and twenty-one.

Cast: Kim Tae Ri, Nam Joo Hyuk, Bona, Choi Hyun Wook, Lee Joo Myung

4. Hot Stove League
Synopsis: The series revolves around a professional baseball team named "Dreams," which has been the worst in the league as they placed last for four consecutive years. With the help of a new general manager, facing various problems, they try to rebuild the team for the championship.
Cast: Nam Goong Min, Park Eun Bin, Oh Jung Se, Jo Byeong Kyu

5. Run On
Synopsis: The series tells the love story of Ki Seon Gyeom, a former sprinter who is working to become a sports agent, and Oh Mi Joo, a subtitle translator, who was Seon Gyeom's first real friend.

Cast: Im Si Wan, Shin Se Kyung, Choi Soo Young, Kang Tae Oh
6. Going To You At A Speed Of 493km / Love All Play
Synopsis: The series is a sports romance drama about their experience as athletes and the affectionate love between the male and female mixed-doubles protagonists within their group of badminton team members.

Cast: Park Ju Hyun, Chae Jong Hyeop, Park Ji Hyun

7. Thumping Spike
Synopsis: The series tells the story of a young female volleyball player filled with potential named Kang Se Ra, who experiences an unfortunate incident and she ends up coaching a struggling men's high school volleyball team where Hwang Jae Woong is the star player, with the rest of the team nowhere near his level.

Cast: Song Jae Rim, Hwang Seung Un

8. Fight For My Way
Synopsis: The plot is around underdogs with enormous dreams who are fighting for survival and success in a field in which they are underqualified. A long-standing friendship between two immature friends—a taekwondo player and a department store manager is turning into a passionate romance.
Cast: Park Seo Joon, Kim Ji Won, Ahn Jae Hong, Song Ha Yoon

9. Short

Synopsis: Kang Ho Young is a restless young guy who lacks vision and direction in his life until he discovers short-track speed skating. Despite being a novice, Ho Young soon adapts to the sport and begins to compete with Park Eun Ho, who is regarded as the king of the short track and hails from a sporting family. Yoo Ji Na, a former figure skater who had to retire due to an injury, also meets Ho Young.

Cast: Kang Tae Oh, Kim Do Yeon, Yeo Hoe Hyun

10. Cheer Up / Sassy Go Go

Synopsis: The drama depicts the lives of five students as they try to survive in a hostile environment dominated by intellectual elitism. Kang Yeon Doo is the leader of the outcast street dancing club, a group of students that band together due to their low academic performance, whereas Kim Yeol is the President of an elite club made up of students in the top 5% of their class. When the two groups are forced to join to form a cheerleading team, they put their differences aside for the good of their respective organizations.
Cast: Jung Eun Ji, Lee Won Keun, Chae Soo Bin, Cha Hak Yeon, Ji Soo

11. Heading to the Ground / No Limit

Synopsis: The series revolves around Cha Bong Kun, who plays in a small Korean league, and aspires to play football for the Premier League in England. Bong Kun nearly avoids death three times while chasing his passion, and along the process, he also falls for soccer agent Kang Hae Bin.
Cast: Yunho, Go Ara, Lee Sang Yoon, Lee Yoon Ji
12. Triple

Synopsis: The drama follows Lee Haru, a figure skater who dreams of becoming famous. When she reunites with her step-brother, Shin Hwal, after many years apart, her life becomes problematic. While Haru attempts to realize her dreams, she accidentally brings Choi Soo In, her skating coach, and Hwal together. Haru begins to have feelings for Hwal, but things become even more complicated when she learns that Soo In is her brother's estranged wife.
Cast: Min Hyo Rin, Song Joong Ki, Lee Jung Jae, Yoon Kye Sang, Lee Sun Kyun, Lee Ha Na
13. Punch

Synopsis: The series centers around Yoo Bin, who is left alone in the world after her only brother, Yoo Cheol, died in a boxing fight. She leads a tough life, but an opportunity to train as a female boxer transforms her into a mature woman who works as a boxer during the day and as a nightclub solicitor at night.
Cast: Joo Jin Moo, Shin Min Ah, Sung Shi Kyung
14. Running Gu

Synopsis: This youth drama follows Dae Gu, a young man who is unable to complete a marathon and has been estranged from his friends as a result of his guilt over his brother's death in a fatal accident. He finds himself in need of money by chance, forcing him into competitive running.
Cast: Park Min Young, Baek Sung Hyun, Yoo Yeon Seok
15. Basketball

Synopsis: This series takes place between the Japanese colonial period and the separation of Korea into North and South Korea. Kang San comes from a humble background. He is fighting to get out of poverty. He achieves success and meets a girl from the higher class through the game of basketball. He dreams about their love transcending their class differences.
Cast: Do Ji Han, Lee Elijah
Here are only some of the many dramas which focus on athletes and their experiences regarding the sport they play! Which among these dramas is your favorite, and which sport do you like to see more of in a drama?