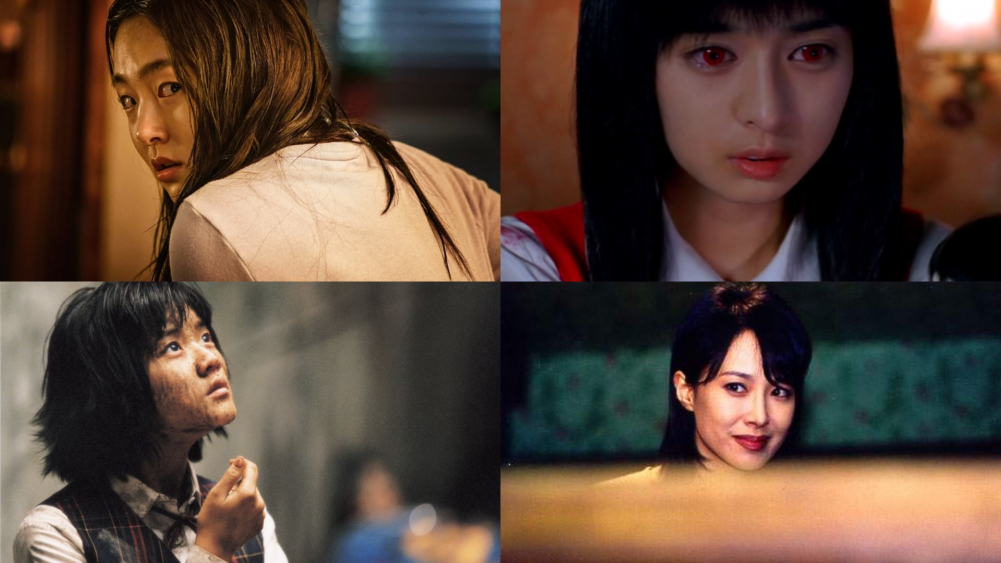 Korea is one of the countries known for its uniquely scary horror films, distinguished from other horror films as it steers away from the usual gore. Korean horror films do not only include ghosts and supernatural themes but also include terrifying social commentaries and imageries.

These horror films were also highly influential in exposing social realities and promoting the Korean film industry internationally. There's no denying that aside from the usual blood and guts aspect of horror films, the eeriest scenes and plots can bring forth the fears we truly crave as viewers.
Here's the second part of the list of horror movies for interested and new viewers (Part 1 can be found here)! Small caution, please watch according to age rating and be careful with horror themes and underlying genres that can trigger you.
1. The Host

Synopsis: Gang Du is a dim-witted man working at his father's tiny snack bar near the Han River. One day, Gang Du's one and only daughter Hyun Seo comes back from school irritated due to his drunken uncle. In an instant, the object reveals itself as a terrifying creature turning the riverbank into a gruesome sea of blood. Amid the chaos, Hyun Seo is helplessly snatched up by the creature right before Gang Du's eyes. With no one to turn to, Gang-du and his family are thrust into a battle with the monster to rescue their beloved Hyun Seo.
Cast: Song Kang Ho, Byun Hee Bong, Park Hae Il, Bae Doo Na, Go Ah Sung
2. Bunshinsaba

Synopsis: Lee Yoo Jin, a high school girl, moves with her mother from Seoul to a small Korean village. She starts school there, but he immediately becomes the target of bullying and harassment, along with two other students. One day, Yoo Jin and her two bullied friends use an Ouija Board to put a curse on their bullies by calling on a ghost to haunt them.
Cast: Kim Gyu Ri, Lee Se Eun, Lee Yoo Ri
3. The Quiet Family

Synopsis: Jeong Soon Rye, alongside her husband, Kang Dae Goo, Dae Goo's brother Kang Chang Goo, and their children decide Kang Young Min, Kang Mi Soo, and Kang Mi Na, to leave Seoul and open up their own lodge in the countryside. Their plans for peace and quiet, however, quickly go awry as their first guest commits suicide. Worried about the bad publicity the death might bring, they bury the body and pretend nothing happened. But, oddly, they suffer a string of misfortunes as each successive guest commits suicide, and the Kangs continue to hide the corpses.
Cast: Park In Hwan, Na Moon Hee, Choi Min Shik, Song Kang Ho, Go Ho Kyung, Lee Yoon Seong
4. Tell Me Something

Synopsis: It follows Detective Jo's return to the police force after being accused of accepting money to deal with his mother's terminal illness and funeral arrangements. He returns to duty, and he ends up leading an investigation on a horrific, high-profile serial killer case who amputates the limbs and heads of his victims and mixes body parts, swapping a new part into the body of each new victim. The investigation eventually reveals a connection that threads together the victims- they were all Chae Soo Yeon's former lovers.
Cast: Han Suk Kyu, Shim Eun Ha
5. Death Bell

Synopsis: On the eve of the dreaded university entrance examinations, the lives of 24 of the smartest students in a high school are on the line as they are all locked inside a classroom and have nowhere to escape. A television monitor broadcasts a terrified Hae Yeong, the top student, tied up and seated on a chair inside an aquarium that slowly begins to fill with water. A voice announces if the 24 cannot finish the exam administered within the allotted time, Hae Yeong will die, and so will everyone held captive inside the classroom.
Cast: Lee Beom Soo, Kim Bum, Yoon Jung Hee, Nam Gyu Ri
6. The Doll Master
Synopsis: 60 years ago, a doll-maker and a woman in a red kimono fell in love in the Korean countryside, and the doll-maker made a doll in her image. Later, when the red kimono woman was found murdered, the blame was put on the doll-maker. In the present day, Hae Mi, Tae Seong, Young Ha, Jung Ki, and Sun Young arrive at an isolated doll museum after receiving an invitation that dolls will be made in their image. They are greeted by siblings Choi Jin Wan, the museum's curator, and Im Jae Won, the paraplegic doll-maker. Things take a nasty turn when someone destroys Young Ha's doll, Young Ha is found hanged, and inside the house, Sun Young and Jung Ki are both murdered.
Cast: Jeong Yu Mi, Kim Yoo Mi, Shim Hyung Tak, Im Hyung Joon, Chun Hon Jin, Lim Eun Kyung
7. The Wrath

Synopsis: In the household of Lee Gyeong Jin, a high-ranking official of the Joseon Dynasty, three sons die from an unidentified horror on their wedding day. A woman pregnant with a child of the third son soon learns of the evil spirit that haunts the house. This eventually pits two Joseon women, Lady Shin and Ok Bun, against each other when the said tragedy befalls the family.
Cast: Seo Young Hee, Son Na Eun
8. The Uninvited

Synopsis: During a ride on the subway, Jeong Won sees two young girls asleep on the train by themselves, but he has to get off at his stop. The next day, he learns that the girls were poisoned on the train. They keep haunting him, and it's slowly driving him crazy. With the help of Jeong Yeon, the only other person able to see the children, Jeong Won tries to solve the mystery behind the two ghost children.
Cast: Jun Ji Hyun, Park Shin Yang
9. The Loner

Synopsis: Discussing hikikomori, which meant total withdrawal from society and reclusivity from social life through isolation. Jeong Soo Na, a 17-year-old high school student, becomes agoraphobic as her bullied best friend, Lee Han Jeong, is subjected to a cruel public prank that pushes her to commit suicide. Han Jeong's bully arrives to apologize, but she is too late and eventually takes her own life too out of guilt. Soo Na's condition worsens, and eventually, they try to find out about the mystery that surrounds her situation.
Cast: Go Eun Ah, Jeong Yoo Seok, Chae Min Seo
10. Metamorphosis

Synopsis: Gang Goo and Myung Joo are married, and they have three children- Sun Woo, Hyun Joo, and Woo Jong. They move into a new home, but bizarre and terrifying things happen to the family. The devil transforms into one of the family members, and they call their uncle Joong Soo a Catholic priest, who performs exorcisms.
Cast: Sung Dong Il, Jang Young Nam, Cho Yi Hyun, Kim Kang Hoon, Bae Sung Woo
11. Cinderella

Synopsis: Hyun Soo has never felt sad despite having an absentee father, as there is a perfect mother who loves her and is a renowned plastic surgeon. She is also surrounded by her friends but eventually realizes that each of her friends who have received facial surgery from her mother started to commit mysterious suicides by cutting out their faces. She comes to find a secret from her past, which will bring great turmoil to mother and daughter.
Cast: Do Ji Won, Shin Se Kyung
12. Into the Mirror

Synopsis: After accidentally causing the death of his partner during a hostage situation, Wu Young Min quits the police force to work for his uncle as head security of Dreampia, an immense shopping center. Before its reopening, some strange murders begin to occur in the building and were concluded as suicide in very gruesome and unconventional ways. He is very suspicious of the police explanation and starts his own investigation, but unfortunately for him, an old acquaintance, Ha Hyun Su, is in charge of the police investigation and still blames Young-min for the death of their friend.
Cast: Yoo Ji Tae, Kim Hye Na, Kim Myung Min
13. Gonjiam: Haunted Asylum
Synopsis: In 1979, patients at Gonjiam Psychiatric Hospital killed themselves, and the hospital director went missing. Due to this, rumors and strange stories about the now abandoned Gonjiam Mental Hospital spread like wildfire. An internet broadcaster recruits a handful of people for their show at Gonjiam Psychiatric Hospital and streams it live on the show. To attract more viewers, the show hosts play tricks on the guests, but things start to get out of hand when they are inside the asylum.
Cast: Wi Ha Joon, Park Ji Hyun, Oh Ah Yeon, Moon Ye Won, Park Sung Hoon, Yoo Je Yoon
14. Antarctic Journal
Synopsis: On their journey to the Pole of Inaccessibility (POI), the remotest point of the Antarctic, led by Captain Choi Do Hyung, they discover a journal that was left behind by a British expedition 80 years earlier. The journal was preserved despite the snow, and Kim Min Jae, another member of the expedition, gets the job of examining it. They learn that the two expeditions shared the same goal, and soon, other strange similarities between them start to show up.
Cast: Song Kang Ho, Yoo Ji Tae
15. Phone
Synopsis: Investigative reporter and magazine journalist Ji Won is suffering from a threatening phone call from an unidentified person over revelations about dating. To escape the relentless clanging of the telephone, she changes her number and moves out, but the phone call continues to go on. Weirder things happen, and Ji Won gradually thinks there is something related to the phone and goes on an investigation to dig up this hidden fact. In the process, Ji Won learned that two of the previous owners were mysteriously killed, and the other high school girl was missing.

Cast: Ha Ji Won, Kim Yoo Mi
Here are only some of the many horror films that you can watch even before Halloween comes! Which among these is your total favorite, and which ones scared you the most?