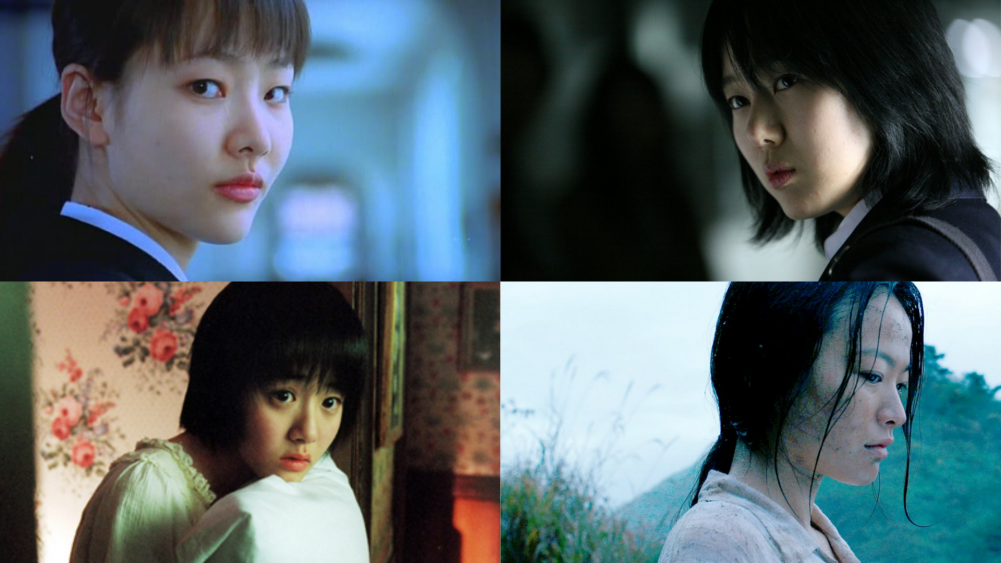 Korea is one of the countries known for its uniquely scary horror films, distinguished from other horror films as it steers away from the usual gore. Korean horror films do not only include ghosts and supernatural themes but also include terrifying social commentaries and imageries.
These horror films were also highly influential in exposing social realities and promoting the Korean film industry internationally. There's no denying that aside from the usual blood and guts aspect of horror films, the eeriest scenes and plots can bring forth the fears we truly crave as viewers.
Here's the first part of the list of horror movies for interested and new viewers! Small caution, please watch according to age rating and be careful with horror themes and underlying genres that can trigger you.
1. Whispering Corridors Series
Whispering Corridors 1: The Movie
Synopsis: In an exclusive all-girls school, a former pupil returns to start a new job as a teacher and builds a friendship with two students. But when a teacher is found dead, circumstances of what happened in the past and their connection to the present begin to unveil themselves. As the body count rises, a series of ghosts haunt the corridors of this troubled school.

Cast: Choi Kang Hee, Kim Gyu Ri, Lee Mi Yeon
Whispering Corridors 2: Memento Mori
Synopsis: Seen from the eyes of student Min Ah, she finds a diary owned by friends Shi Eun and Hyo Shin, who are in a secret relationship with each other. However, their taboo relationship resulted in terrorization among fellow students and claimed Hyo Shin's life as an extreme consequence. After her death, supernatural occurrences occur to everyone who has condemned their relationship.
Cast: Lee Young Jin, Park Ye Jin, Kim Min Sun, Gong Hyo Jin
Whispering Corridors 3: Wishing Stairs
Synopsis: Jin Sung and So Hee are close friends who study ballet in an all-girls school, but their friendship takes a wrong turn as they compete for a single spot in a Russian ballet school. As Jin Sung hears about the wishing stairs from Hye Ju, she wishes to gain the spot, which happens due to an accident with So Hee and her death. Hye Ju, who empathized and worried about So Hee's death, wished for her to come back, which happened but at the expense of her body being possessed by So Hee's soul.

Cast: Song Ji Hyo, Park Han Byul, Jo An
Whispering Corridors 4: Voice
Synopsis: Young Eon, the top singer at an all-girls school, is murdered mysteriously by a music sheet cutting her throat. But even in death, Young Eun's voice continues to be heard by her best friend, Sun Min, who will attempt to help her uncover the mysteries of her death. She finds help from Cho Ah, who can hear the voices of the dead, and realizes things may not be what they seem. As they run through the truth, they learn that being forgotten by the people who knew you meant losing their voice.
Cast: Kim Ok Bin, Seo Ji Hye, Cha Ye Ryun

Whispering Corridors 5: A Blood Pledge
Synopsis: Friends Eun Joo, So Hee, Yoo Jin, and Eun Young make a blood pledge of taking their own lives that night, only for Eun Joo to fulfill the said pact and the remaining girls to cheat on the said pledge. Eun Joo's sister, Jeong Eun, who witnesses her gruesome death, attempts to uncover the secret of each person who made the said pledge. Now, the avenging ghost of Eun Joo is set on making her friends pay.
Cast: Son Eun Seo, Jang Kyeong Ah, Song Min Jeong, Oh Yeon Seo, Yoo Shin Ae

Whispering Corridors 6: The Humming

Synopsis: Strange things happen in the closed toilets of Eun Hee's old school, where she worked as vice-principal. Ha Young and So Yeon, who used the place as their hideout, believed there was a ghost after they heard a humming sound echoing in the toilet. With a plant pot discovered by chance as evidence, Ha Young links the mystery to Eun Hee, who lost her memories of the past. Eun Hee then suffers from visual and auditory hallucinations and realizes she was indeed thereafter seeing female students with injured faces all over her old school.

Cast: Kim Seo Hyung, Kim Hyun Soo
2. A Tale of Two Sisters
Synopsis: Su Mi, after being treated for shock and psychosis in a mental institution and returns home to her home with her father, her younger sister Su Yeon and their stepmother, Eun Joo. Su Mi then sees the ghost of her mother in the form of a nightmare and discovers the mysteries of what happened to their family. Su Mi soon realizes what happened to her, her sister, and her mother and how Eun Joo is somehow responsible for most of these situations.
Cast: Im Soo Jung, Moon Geun Young, Yum Jung Ah, Kim Kap Soo
3. Someone Behind You

Synopsis: Kim Ga In, a bright, pretty girl who is loved by everyone, witnesses the deaths of people around her. It is revealed that the family believes they are cursed, and at least one member dies in incomprehensible ways, first-hand seeing it with the death of her aunt. Ga In searched for the truth about the curse with Seok Min, a boy who always lingers around her, and her boyfriend Heon-Joong, but attacks on her life by those dearest to her, like her best friend and her mother, never cease.
Cast: Yoon Jin Seo, Park Ki Woong, Lee Ki Woo
4. The Wailing
Synopsis: The film centers on Jong Goo, a policeman who investigates a series of mysterious killings and illnesses in a remote Korean village called Gokseong in order to save his daughter, Hyo Jin. This unknown infection and the violent killings have been pointed to a Japanese stranger, who has been claimed by the mysterious woman called Moo Myeong as a ghost. Jong Goo taps the help of Oh Seong Bok and his nephew, Yang I Sam, to resolve the situation and catch the culprit.
Cast: Kwak Do Won, Hwang Jung Min, Chun Woo Hee
5. The Vengeance Trilogy
Sympathy for Mr. Vengeance

Synopsis: Ryu is a deaf-mute man who works in a factory whose sister is in desperate need of a kidney transplant, but Ryu's is not a match. After he loses his job, he gets conned and loses his severance pay that could've been used for his sister's operation. His girlfriend, Yeong Mi, suggests that he kidnap his boss' daughter in an attempt to acquire ransom money. His kidnapping goes wrong as her sister takes her own life, and while burying her, his boss' daughter drowns in the nearby river. His boss, Dong Jin, learns about the death of his daughter and takes revenge on the people who kidnapped his child.
Cast: Song Kang Ho, Shin Ha Kyun, Bae Doo Na
Oldboy

Synopsis: Businessman Oh Dae Su misses his daughter's birthday because of drunkenness and wakes up to be accused of his wife's murder and imprisoned by an unknown captor. When he is finally released, Dae Su finds himself still trapped in a web of conspiracy and violence. His own quest for vengeance becomes tied in with romance when he falls in love with an attractive young sushi chef, Mi Do. He will soon learn about the mystery surrounding everything and a painful discovery about his love.
Cast: Choi Min Shik, Yoo Ji Tae, Kang Hye Jung
Sympathy for Lady Vengeance

Synopsis: Lee Geum Ja is released due to her apparent reformation and spiritual transformation after serving a sentence for a crime she did not commit. In reality, when she was a young girl, she became pregnant and turned to the wrong person for help, Mr. Baek, who will only use her in his illegal activities. Mr. Baek is also the real culprit; however, she was forced to take the blame, threatening to murder her child if she doesn't. Now that she's finally free, she walks a path of vengeance toward the real suspect.
Cast: Lee Young Ae, Choi Min Shik
6. Bedevilled
Synopsis: Hae Won, a middle-rank officer in Seoul, takes up an offer to have a vacation in her childhood hometown and meets her former friend. Bok Nam, her friend, warmly welcomes her, but she then realizes that her friend is experiencing abuse and being treated as a slave by the people close to her, only living for her daughter Yeon Hee. However, with Bok Nam's foiled attempt to let Yeon Hee escape the island, Yeon Hee dies by accident, and Hae Won remains to become a simple bystander instead. Bok Nam now takes revenge and kills everyone who she deems guilty of her daughter's death.
Cast: Seo Young Hee, Ji Sung Won
7. I Saw the Devil
Synopsis: Jang Kyung Chul, an academy bus driver, is actually a serial killer who has been killing his passengers, including a pregnant woman named Joo Yun, who he brutally murdered. Through Joo Yun's father, Kim Soo Hyun, an agent in the National Intelligence Service and Joo Yun's fiance, learns about the suspects and vows to take revenge. He learns that Kyung Chul is indeed the perpetrator, and instead of letting justice run its course, he shoves a GPS tracker down his throat and follows him to give him agonizing torture.
Cast: Lee Byung Hun, Choi Min Shik
8. Epitaph
Synopsis: Dr. Park Jung Nam finds a photo album dating back to his days as an intern at the Ansaeng Hospital. This triggers memories of 1942 when he was a young medical intern, where his arranged marriage ended when his fiancée, whom he had never met, committed suicide. Later he was assigned to monitor the morgue late at night and fell in love with a corpse, which is later revealed as the body of his deceased fiancée. Soon other mysterious events take place in the hospital, involving a young girl haunted by ghosts and a serial killer targeting Japanese soldiers.
Cast: Jin Goo, Kim Tae Woo, Kim Bo Kyung, Ko Joo Yeon
9. The Witch
Synopsis: At a secret hospital, twisted scientists perform bizarre experiments on children, led by the single-minded Doctor Baek and her sidekick Choi try to shut down the operation in the cruelest possible manner. But one young girl escapes their clutches, and eventually meets a couple who decide to take her in and treat her as if she were their own daughter. Ja Yoon now lives her own life and attempts to help her family's finances by joining in a competition, only to put her spotlight on the people who have been finding her for years and want to take control of her once more.

Cast: Kim Da Mi, Choi Woo Shik, Jo Min Soo, Go Min Si, Park Hee Soon, Kim Byung Ok
10. The Housemaid
Synopsis: The film is a domestic horror, following the story of an upper-middle-class family falling into destruction due to the introduction of a sexually predatory femme fatale housemaid into the household. Myung Sook, the housemaid, brings chaos to the household after taking control of the father of the family and eventually controlling the family and leading them towards their demise.
Cast: Kim Jin Kyu, Lee Eun Shim, Ju Jeung Ryu, Um Aing Ran
Here are only some of the many horror films that you can watch even before Halloween comes! Which among these is your total favorite, and which ones scared you the most?