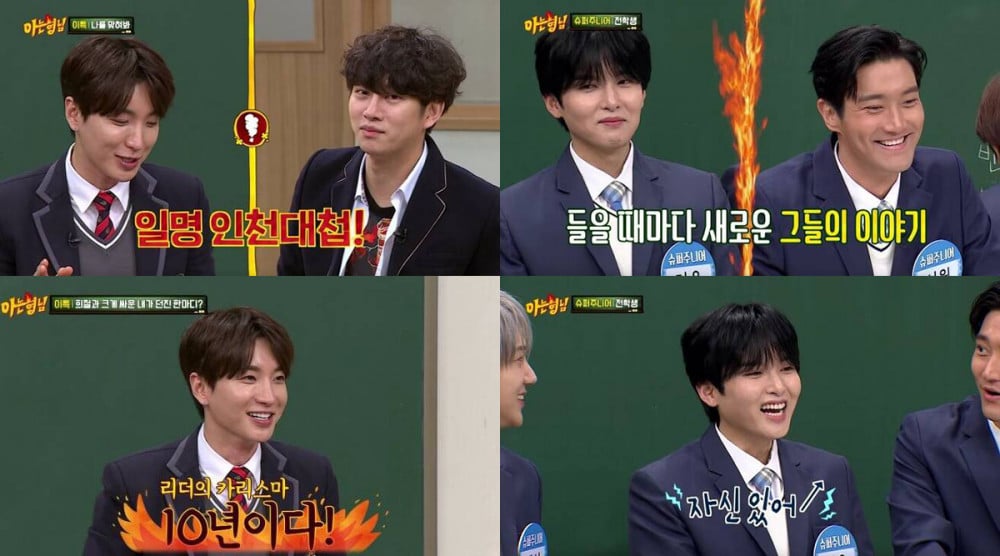 There's never a dull moment when you're a member of one of the longest lasting K-Pop idol groups around, Super Junior.
Throughout their 17-year long careers, the members of Super Junior have "put up" with one another even in their most vulnerable moments, fighting it out, and then making up again, building a genuine, lasting bond just like a real family.
It also happens that the members of Super Junior, being known as one of the funniest K-Pop idol groups around, tend to share all kinds of stories from when they actually fought with one another through variety program appearances!
Many "fight stories" from Super Junior's careers have become famous, to the point that even muggles (non K-Pop fans) have heard of the legendary tales.
Now, netizens have decided to cast their vote for which of Super Junior's "fight stories" are the most memorable! Check out which stories made the list, below.
1. The Incheon Battle (Leeteuk & Heechul)
Summary: In 2010, right before going on stage for a performance at Incheon Munhak Stadium, Leeteuk exploded at Heechul due to their completely opposite personalities. Leeteuk angrily said to Heechul, "I've put up with you for 10 years!", and the two "fought" in the hallways until the moment they had to go on stage. They didn't talk properly for 3 months afterward, until they sorted it out over drinks after performing at an event in the United States. From then on, Heechul promised that he would take Leeteuk's side in the team's matters no matter what.
2. The Teen Drama Fight at Inkigayo (Leeteuk, Kyuhyun, Eunhyuk, Donghae)
Summary: In 2011, during Super Junior's "Mr. Simple" promotions, Eunhyuk, Donghae, and Kyuhyun went too far while playing pranks on Leeteuk, causing Leeteuk to lash out at the members. Leeteuk left the waiting room angry, Kyuhyun went to talk it out but Leeteuk turned him away, Kyuhyun left for the upstairs hallway crying, and Eunhyuk cried in the waiting room. Super Junior won #1 on 'Inkigayo' that day, but the members were too angry with one another to properly celebrate during the encore. The members thought the situation was so serious at the time, that they might disband due to the fight, but on the same day, Eunhyuk performed well on the variety program 'Dream Team', and all of the members celebrated afterward.

3. Yes, I Can Do It! (Ryeowook & Siwon)
Summary: Ryeowook dislikes close skinship, while Siwon enjoys intimate skinship with the other members. Siwon kept asking Ryeowook for a high-five, but Ryeowook didn't want to high-five him, and yelled at him to quit asking for one. Siwon, angry, said, "Are you prepared to cut ties with me for good?" Ryeowook, with his high-pitched voice, shouted, "Yes, I can!".
4. The Yesung Kick (Yesung & Kyuhyun)
Summary: (Video below starting ~ 10:40 mark.) This occurred in 2006 during Super Junior's "U" promotions, when Kyuhyun was still adjusting as a member of the group. Kyuhyun, who was trying to figure out if Yesung was more of a serious type or a joking type, decided that Yesung was more of a joking type. Yesung asked Kyuhyun for a bite of his ice cream, and Kyuhyun playfully said, "No!". After a few more rounds of teasing, Yesung suddenly kicked Kyuhyun's ice cream out of his hand.
5. The Battle of Bangkok (Leeteuk, Shindong, Sungmin, Eunhyuk)
Summary: During a promotional event in Bangkok, Thailand, Leeteuk was trying to decide which outfit to match with his unique hair style at the time. Shindong and Sungmin kept making fun of his hair and his outfit choices, for nearly 3 hours. According to Eunhyuk, Shindong was the one making fun, while Eunhyuk laughed along. But Leeteuk, who grew angry at the constant teasing, suddenly got up and slapped Eunhyuk's neck, upsetting Eunhyuk. Leeteuk confessed that he lashed out at Eunhyuk at the time because he felt like he could not take on Shindong (who was larger than him) or Sungmin (who was learning martial arts at the time). Eunhyuk revealed that he cried from the incident, and he and Leeteuk did not talk with each other for 3 weeks.
6. The Inkigayo Sandwich (Yesung & Shindong)
Summary: In 2012 during Super Junior's "Sexy, Free & Single" promotions, Shindong was eating the infamous 'Inkigayo' sandwich in the waiting room. Yesung then came up to him and said, "Are you eating AGAIN?". Shindong, upset, replied, "Isn't he a crazy b******?". Yesung was surprised by Shindong's highly emotional response, and said, "Why are you being so sensitive?". Even to this day, Shindong and Yesung both believe that they can win if they fight each other.
Netizens commented,
"Every single one of these stories is so hilarious kekekekekeke."
"I can do it~~~~!"
"The teen drama fight one is so freaking funny."
"I can do it is legendary. Even people who aren't fans know that one."
"SuJu fought so much kekekekeke."
"I can do it kekekekeke. My little brother kept doing that for a time after we watched that episode kekekekeke."
"I remember all of these kekekekeke."
"That teen drama one is so detailed kekekekekeke."
"They talked about the Incheon battle so many times, and it's a little different each time kekekekeke."
"The teen drama one was so funny because each person had their own perspective and it starts to make sense little by little once you hear everyone's tales kekekekekeke."
"All of these are so funny."
"Incheon battle and I can do it, both are legendary kekekekeke."