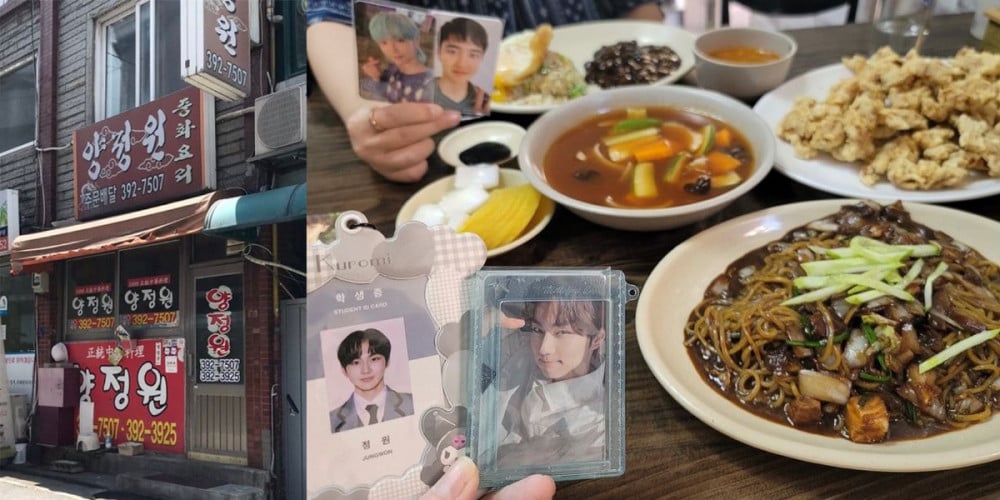 A unique little hole-in-the-wall restaurant has become a trending spot for fans of the boy group ENHYPEN.
The spot is called 'Yang Jung Won', and is a Korean-Chinese restaurant serving classics like jajangmyeon, jjambbong, tansuyuk, and more. So how did this little neighborhood restaurant become such a hot place for K-Pop fans, exactly?
Fans of ENHYPEN may have guessed it already - the restaurant coincidentally has the same name as ENHYPEN's leader, Yang Jungwon!
The restaurant has been around for quite some time, and its history goes a little something like this:
"The owner of the jajangmyeon place, 'Yang Jung Won', said that business was terrible, and when they looked around, a lot of the other business in town were named 'Yang-Jung-Something' and they had a lot of customers, so they decided to change the name to 'Yang Jung Won'."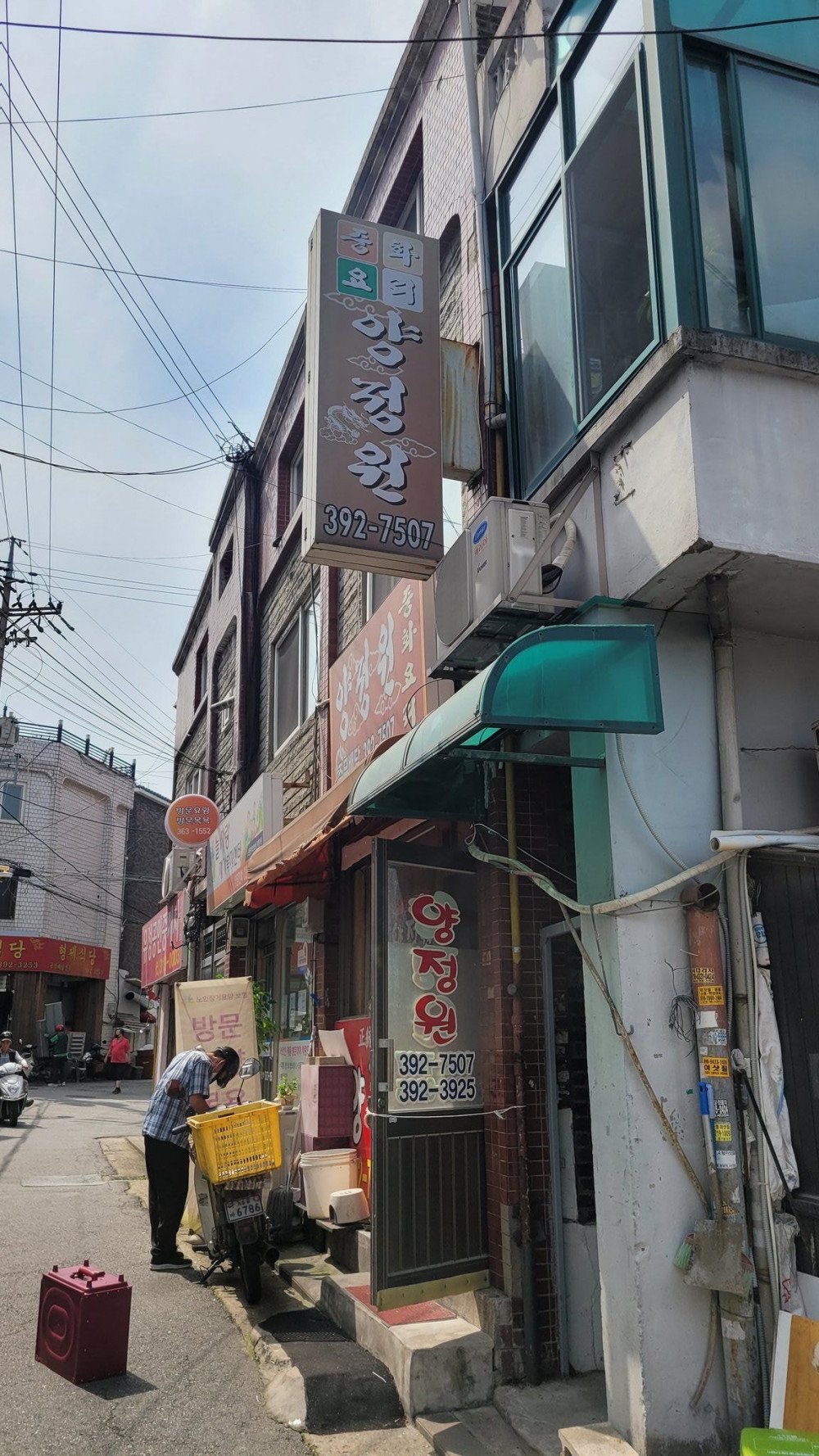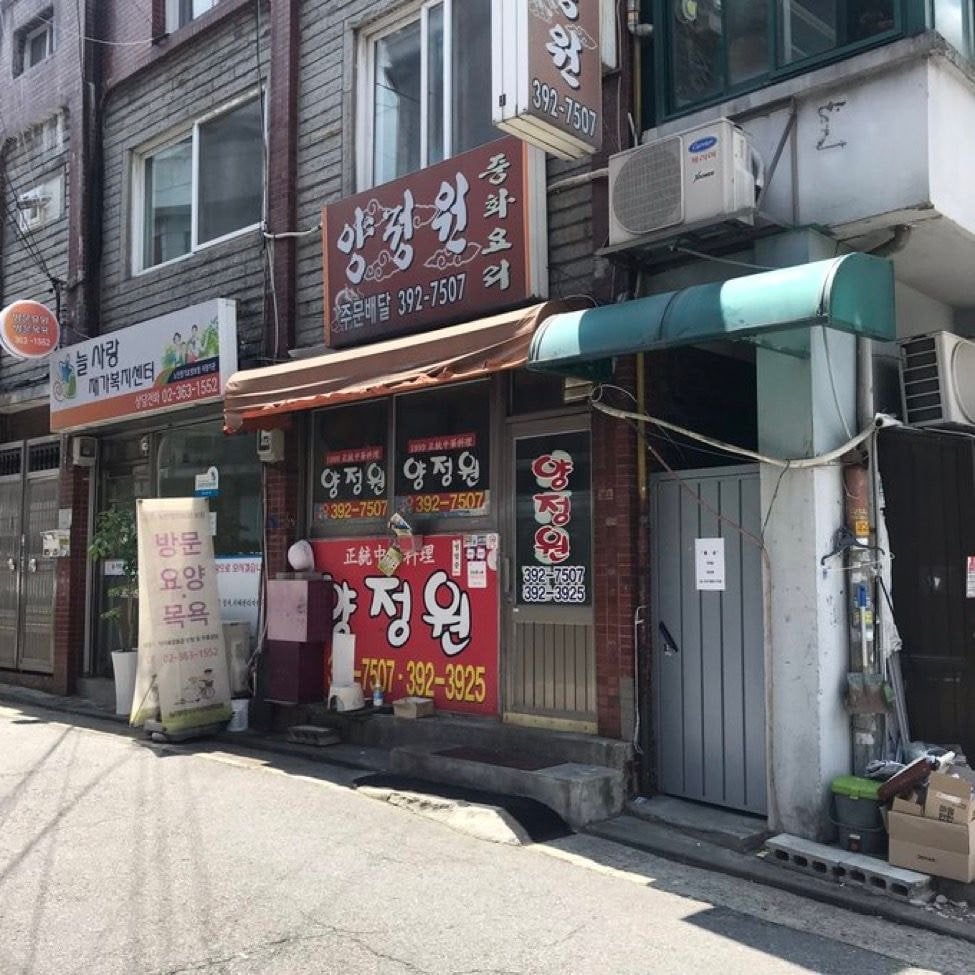 What a cool coincidence that there's a restaurant with the same name as Jungwon!
Well, the word is already spreading quickly to in-the-know ENGENEs, especially with the new trend these days among K-Pop fans to upload "Etiquette shots" on SNS (Etiquette shots = Taking photos of your food with your favorite idol's photocard before you eat.)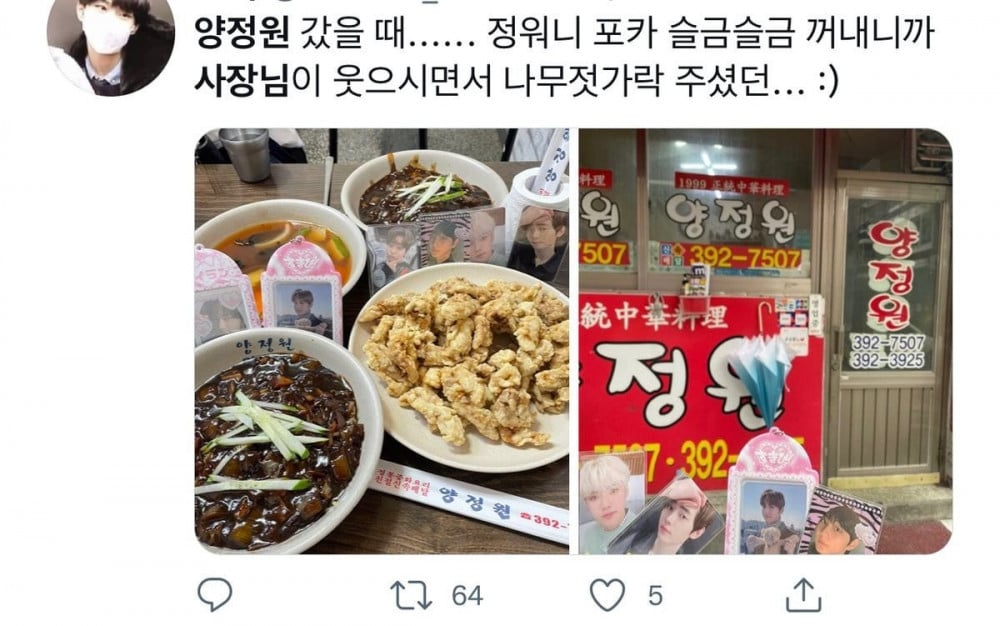 But there's another little surprise when fans visit 'Yang Jung Won' to have an "etiquette" meal:
"As soon as we went in, the owner smiled at us like they knew something. And then when we started opening our albums, they came and gave us the wooden chopsticks! How funny!"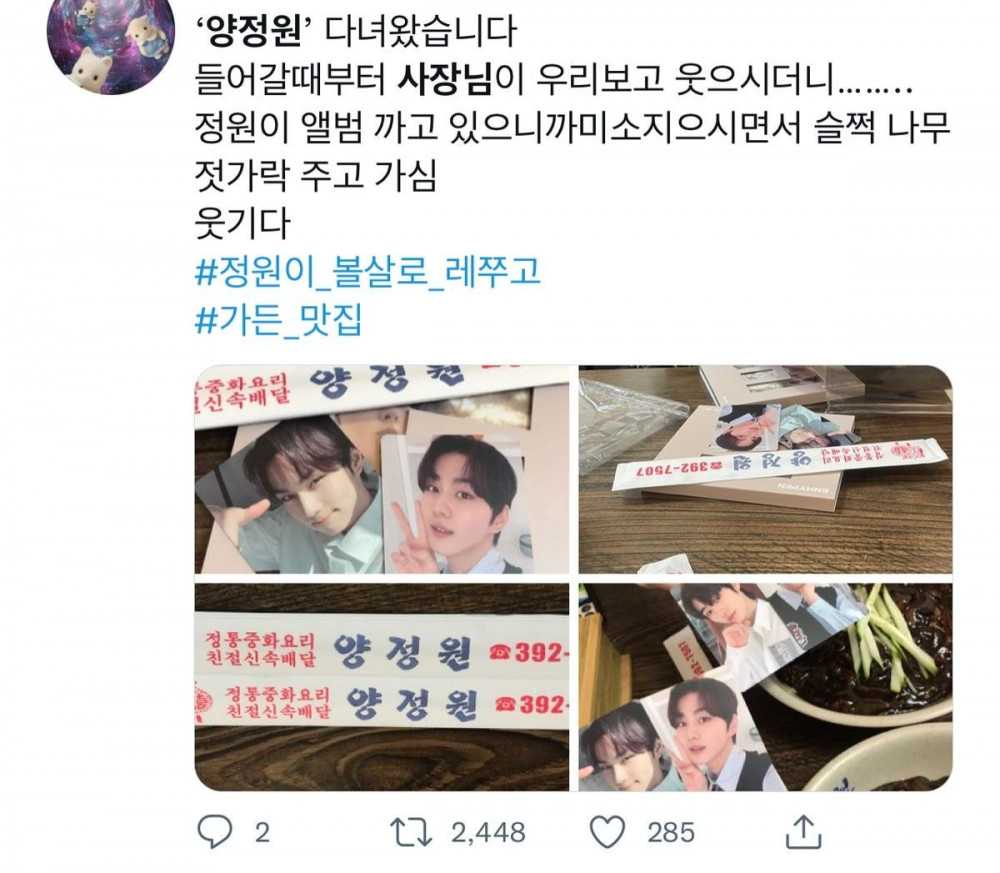 Another fan said:
"I finally went to 'Yang Jung Won'! The owner was also having lunch, so they even gave us some grilled beef! So generous (heart)."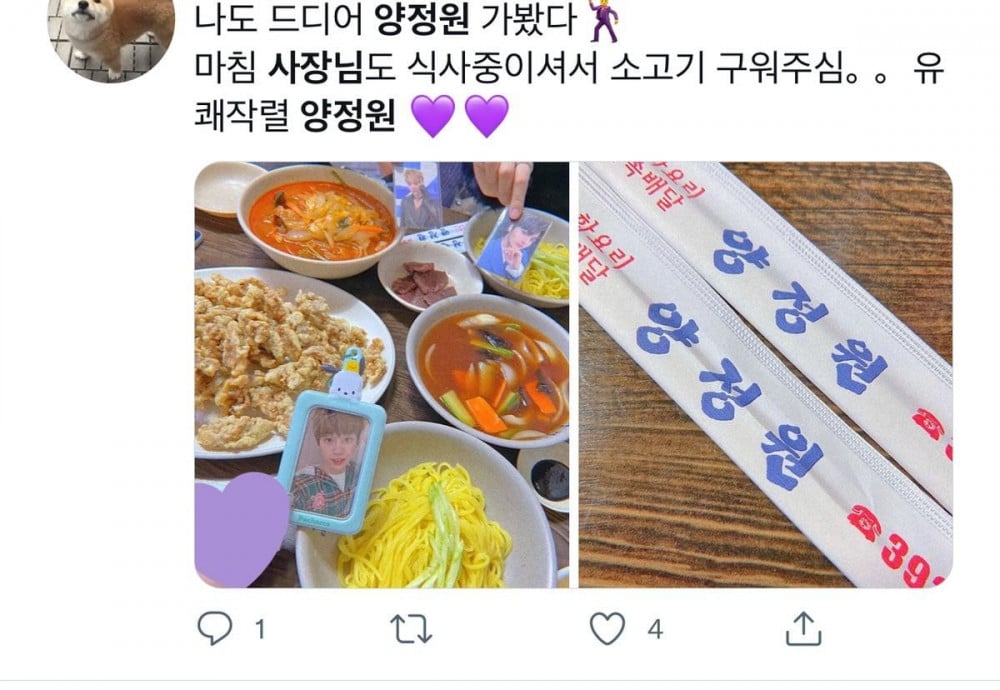 What's so special about these wooden chopsticks, anyway? The thing is, regular customers who visit the restaurant are offered metal chopsticks to reduce waste. The owner only gives out the wooden chopsticks, packaged with the logo which reads "Yang Jung Won", if you're a fan of ENHYPEN's Jungwon!
"Yesterday, when we were talking about the fan meeting, the owner came and gave us the wooden chopsticks :). How sensible. Apparently a lot of fans have been coming for the chopsticks... It's actually a really tiny place, but the owner is super nice. The tangsuyuk here is so good."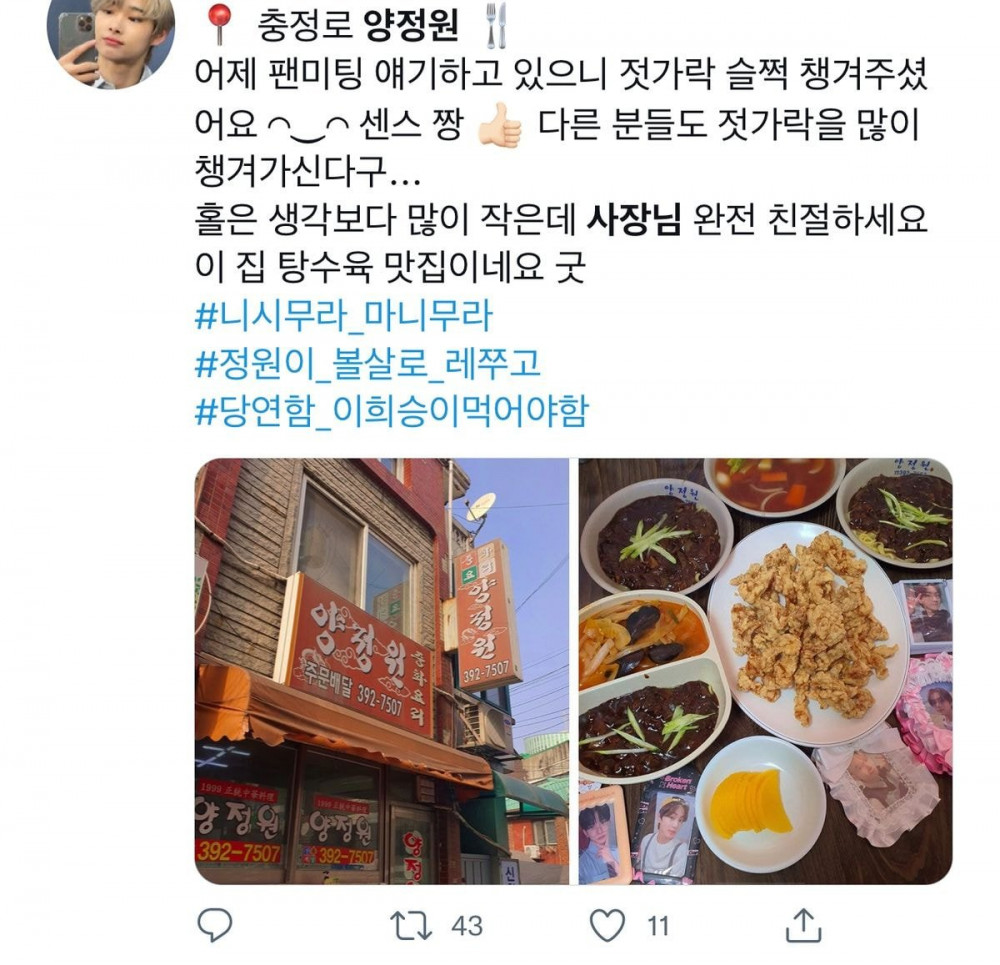 "I went to 'Yang Jung Won' with my friend! A lot of people have been saying that the tangsuyuk is good, and it really is. I was wearing white, and the owner gave me an apron and said that there have been so many young kids coming here lately so they bought some. So kind kekekeke."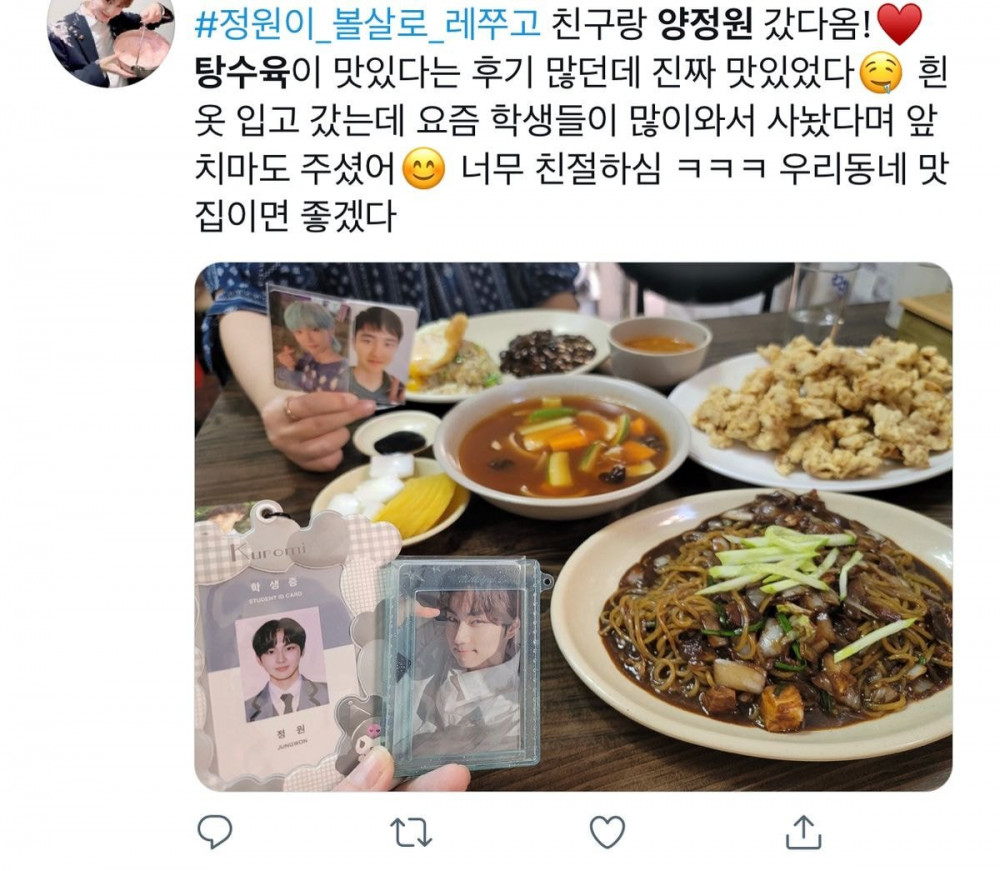 Oh, but there's another fact to note about 'Yang Jung Won':
"Just FYI, this is a really hole-in-the-wall place where they get most of their business by delivering food, so they only have three tables inside."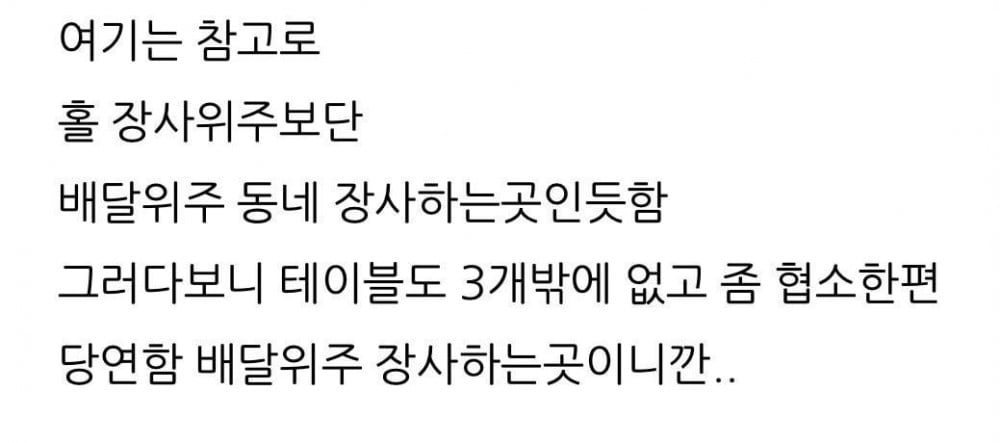 But anyway, the place has become so popular among ENHYPEN fans that some fans have even decided to host a birthday event for ENHYPEN's Jungwon there this year, from February 6-10!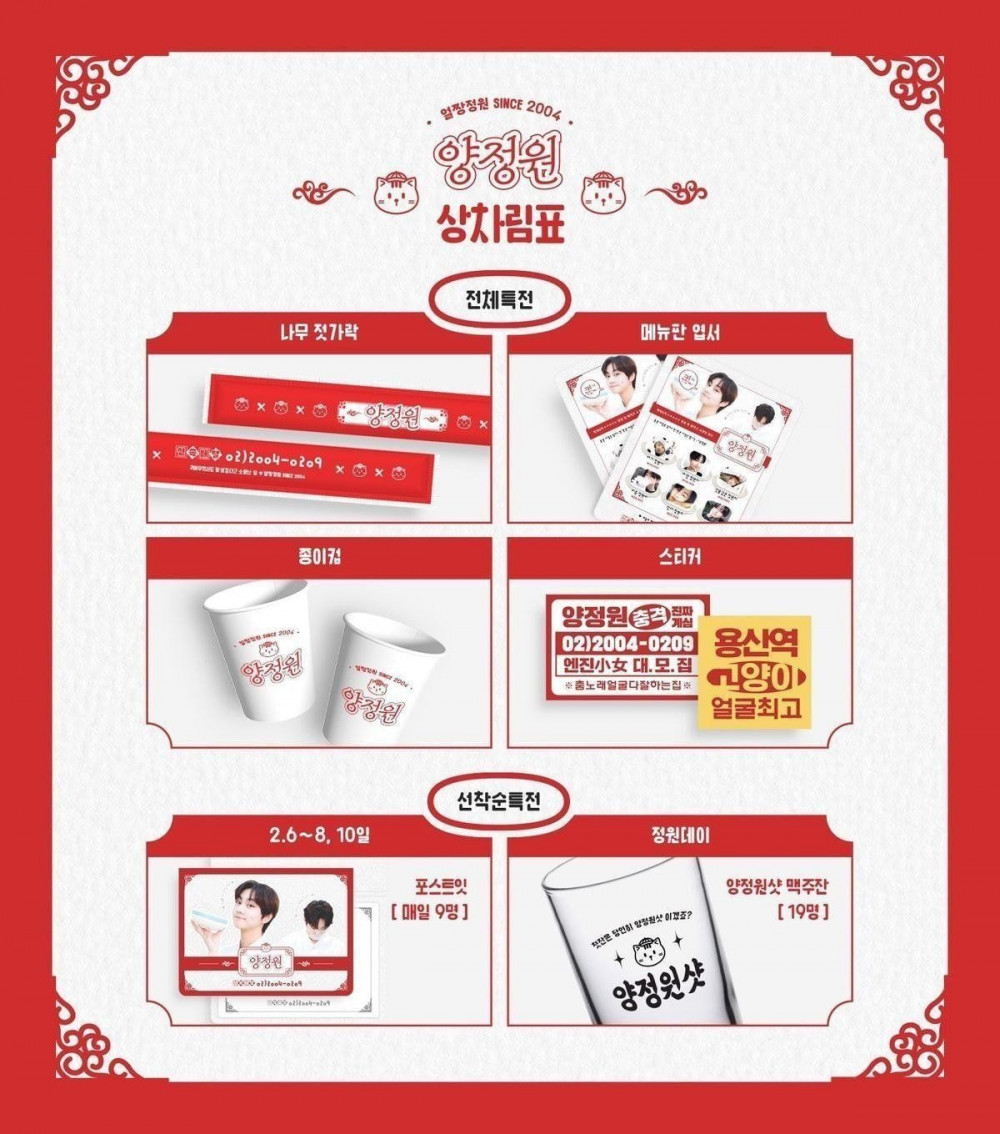 Now, with the birthday event approximately a month away, there's a new dilemma:
"If they only have 3 tables at 'Yang Jung Won', then does that mean that we all have to bring picnic towels and sit in that alley while we eat jajangmyeon??"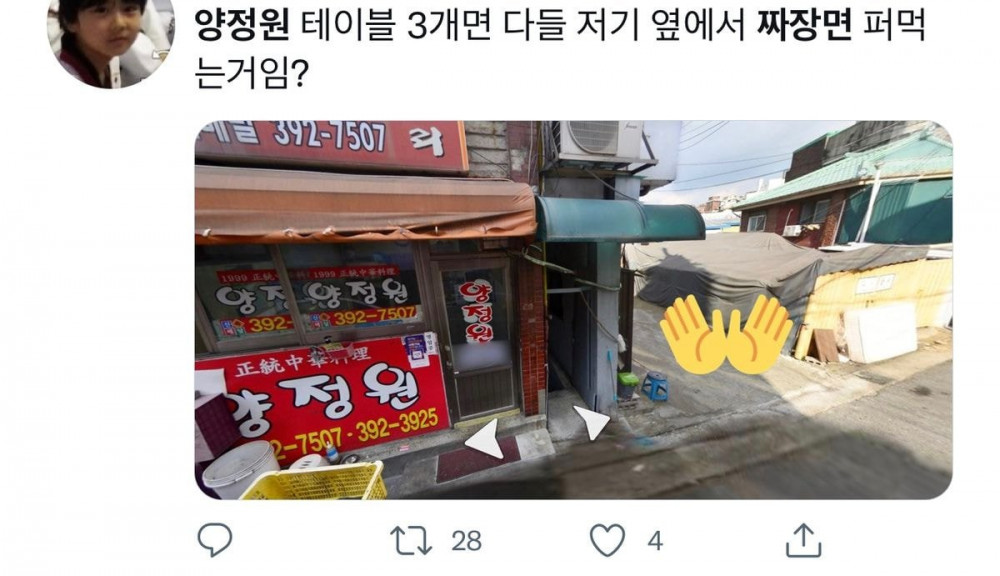 Who else wants to try jajangmyeon and tangsuyuk at the new hot place for ENGENEs, 'Yang Jung Won'?