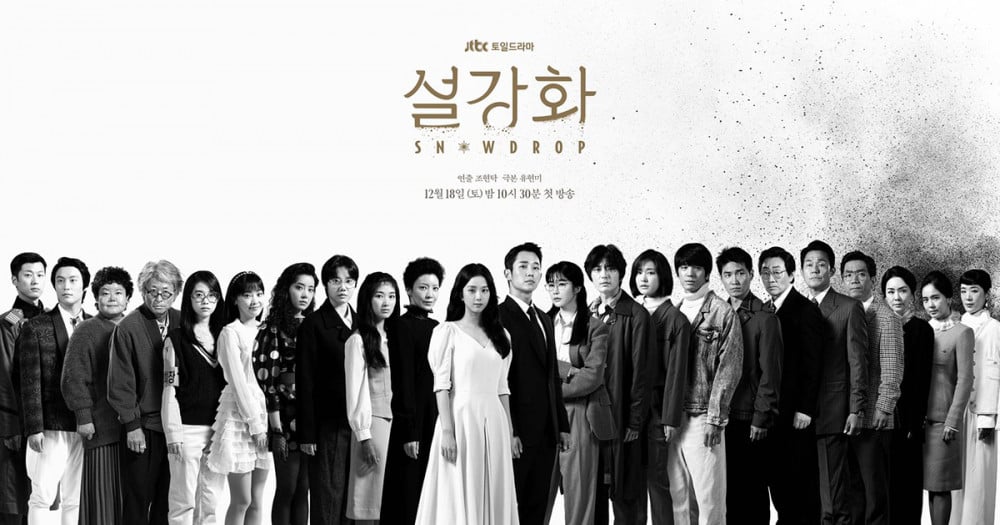 JTBC's upcoming new Sat-Sun drama series 'Snowdrop' has unveiled an attention-grabbing teaser poster, featuring its complete lead cast.
First, the story's male and female leads Jung Hae In and BLACKPINK's Jisoo take up the center spot, dressed in black and white. The two stars will be transforming into a mysterious character on the run, Lim Su Ho, and an innocent university student, Eun Young Ro, respectively. Next, to Jung Hae In's left, actress Yoo In Na pulls off a classy look as the girl-crush surgeon Kang Chung Ya. Additionally, to Jisoo's right, actress Yoon Se Ah holds a studious pose as the director of student housing, Pi Seung Hee, while actress Kim Hye Yoon poses as the telephone girl Kye Bun Ok.
There's also Jang Seung Jo as the fearsome police chief Lee Kang Moo, Jung Yoo Jin as the goal-driven police force officer Jang Han Na, as well as Heo Jun Ho, Park Sung Woong, Jung Hye Young, Park Ji Won, and more.
Set in 1987 Seoul during a tragic period in modern Korean history, JTBC's 'Snowdrop' premieres this coming December 18 at 10:30 PM KST. Are you interested in finding out what sorts of stories will unfold?