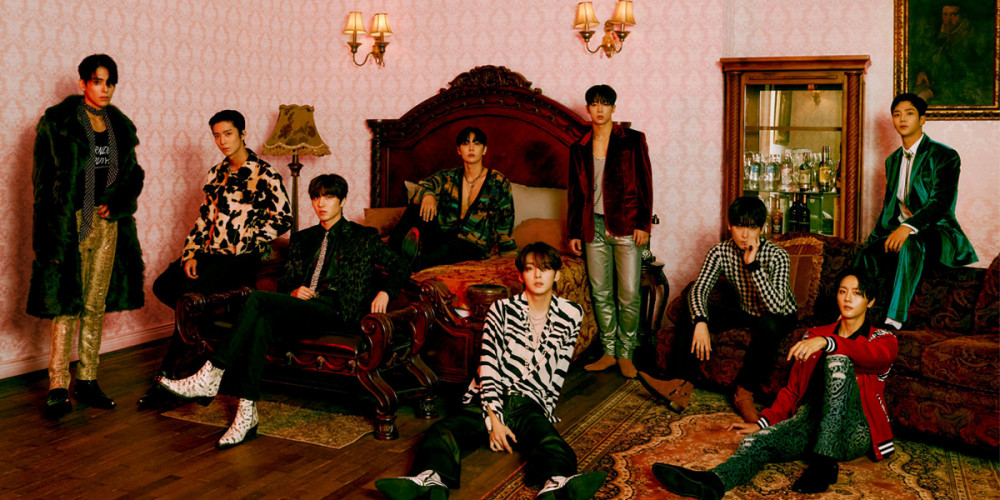 A recent discovery of embezzlement within the K-Pop community has become a hot buzz topic online.
According to fans, a moderator of SF9's chart streaming team is currently facing severe criticism for embezzling donations made by fans, which were made to aid in the digital streaming of SF9's comeback songs, instead using the funds for personal gain.
Previously, the streaming team claimed that they were lacking the proper funds to streaming SF9's songs for the competition program 'Kingdom', and asked both domestic and international fans to donate money to help in the effort.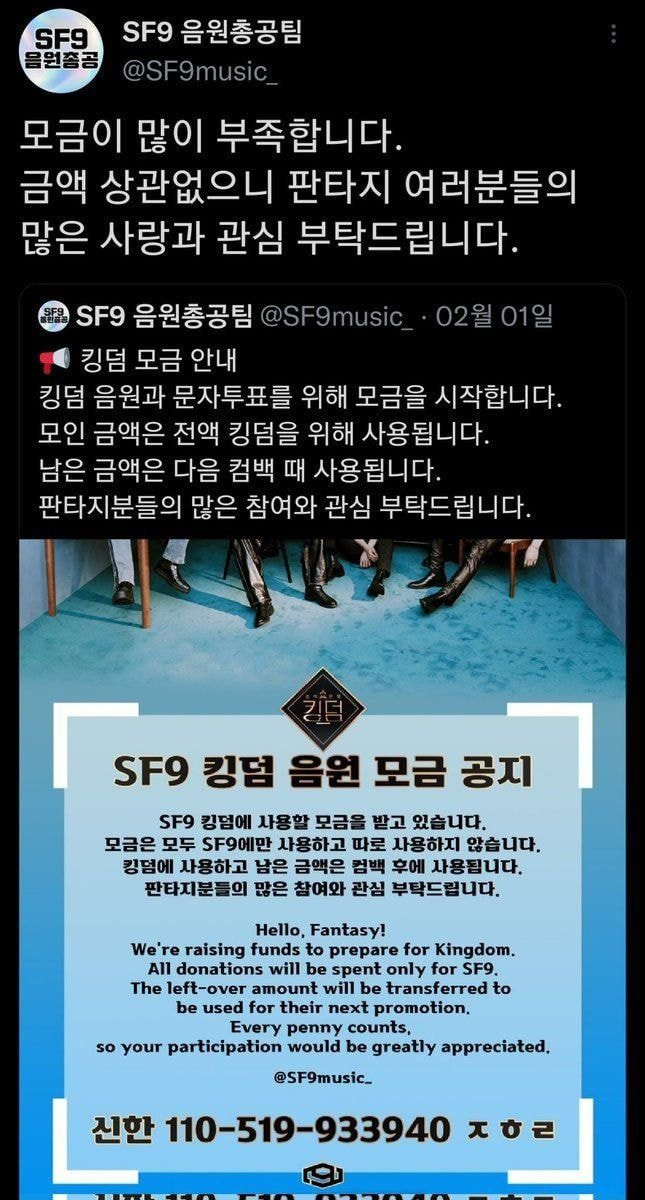 However, soon after the above streaming team took over the handling of mass fan-led streaming for SF9, many fans noticed that SF9's digital scores were poorer than they were during their past comebacks.
It was pointed out that during SF9's "Good Guy" promotions in 2020, the group recorded a total of 4,467,301 digital streaming points. During the group's "Summer Breeze" promotions also in 2020, the group recorded 3,235,319 digital streaming points. Then, during the group's "Tear Drop" comeback earlier this summer, the group recorded approximately 2,416,332 digital streaming points. The group's latest comeback title track "Trauma" has also thus far recorded 2,464,452 digital streaming points.

Furthermore, fans also broke down the total amount of donations accrued for SF9's most recent promotions.
During "Tear Drop", the total donation amount was approximately 3.5 million KRW (~ $3,000 USD). However, the fan-led streaming team only used about 237,000 KRW of the funds for SF9's promotions. Similarly, for SF9's most recent comeback promotion track "Trauma", the total donation amount was approximately 2.3 million KRW. Adding the unused funds from the previous promotion's donations, the streaming team had at their disposal approximately 5 million KRW (~ $4,200 USD) to use toward SF9's digital streaming. However, once again, the team only used around 250,000 KRW.

As a result, it's estimated that the streaming team is guilty of embezzling at least 4.8 million KRW (~ $4,000 USD) in fan-led donations.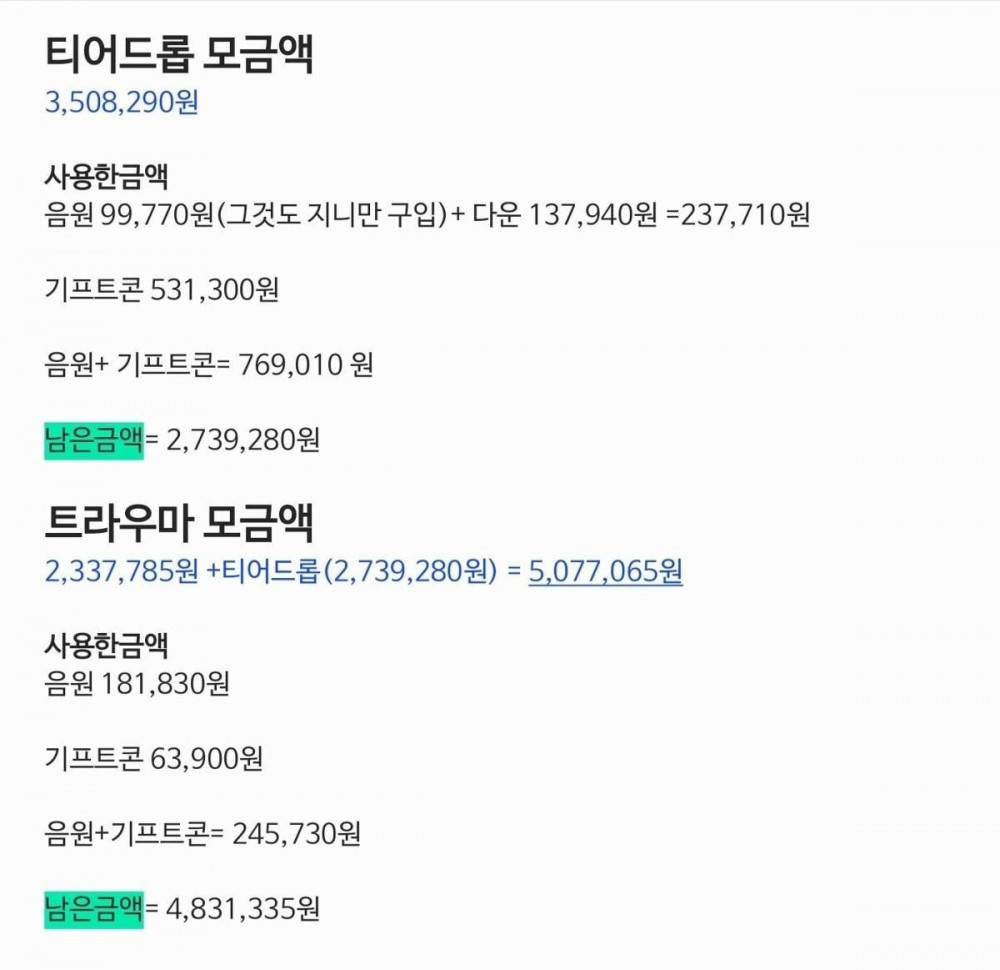 Netizens have discovered additional evidence that the moderator of this streaming team has been using fans' donations toward their personal agenda, including getting into SF9's fan sign events, attending the SF9 members' musicals, nail art, and more.
As of December 3, the streaming team has issued an official apology, admitting to both the charges of embezzlement and to lying about past uses of the fund.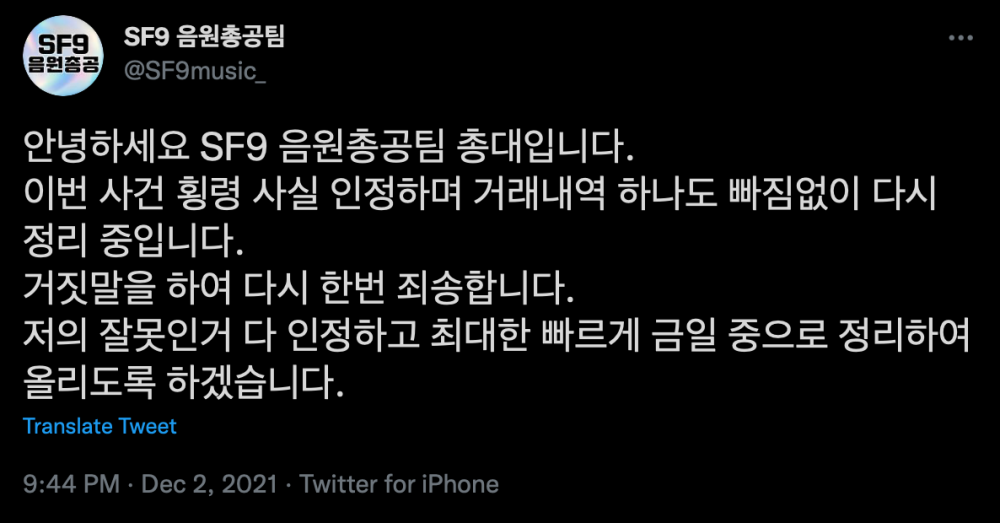 Numerous K-Pop fans are currently reacting to the controversy with comments like, "That is something you can face punishment in court for", "Wow, so they took donations from fans and then just treated it like their own money", "They better cough all that money back up", "This is just a crime", "Who in their right mind would play with other peoples' money like that?", "The fans must be so upset", and more.