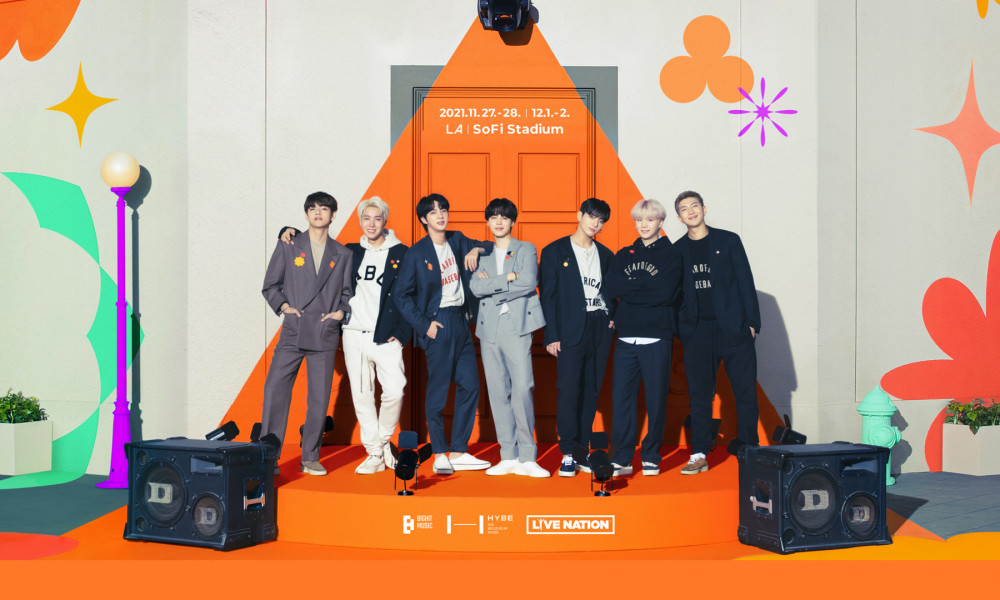 In the Korean K-Pop fandom, there are individuals who take high-quality photos and videos of their favorite idols and share these photos on fansites. These individuals are called "Home-ma (홈마)" - short for "Homepage master" - or fansite masters.
These fansite masters run sites or social media accounts for fans where they upload the latest photos of their favorite idols. These "Home-mas" have become a unique part of the Korean K-Pop culture as they play a large role in the organic marketing of the idol groups by sharing their high-quality photos and videos. With the increase in idol groups' fame, Home-mas themselves also gain fame as fans begin to recognize their work.
However, there have been recent outbursts and complaints from some Korean BTS Home-mas as they claimed they were harassed and bullied by international BTS fans at the 'Permission To Dance On Stage' concert in Los Angeles. Various BTS Home-mas have taken to social media to share their experience at the concert.
One Home-ma wrote, "Please stop the reckless physical assaults at the concert!" She continued to write, "At the concert venue for 'Permission to Dance in LA' some of the local fans would whisper if someone who looks, Korean, Chinese, or Japanese walk by them. Then they would assume we're Korean and even harass us - with multiple people filming us with their cellphones threatening to upload them on TikTok, Instagram, and Facebook."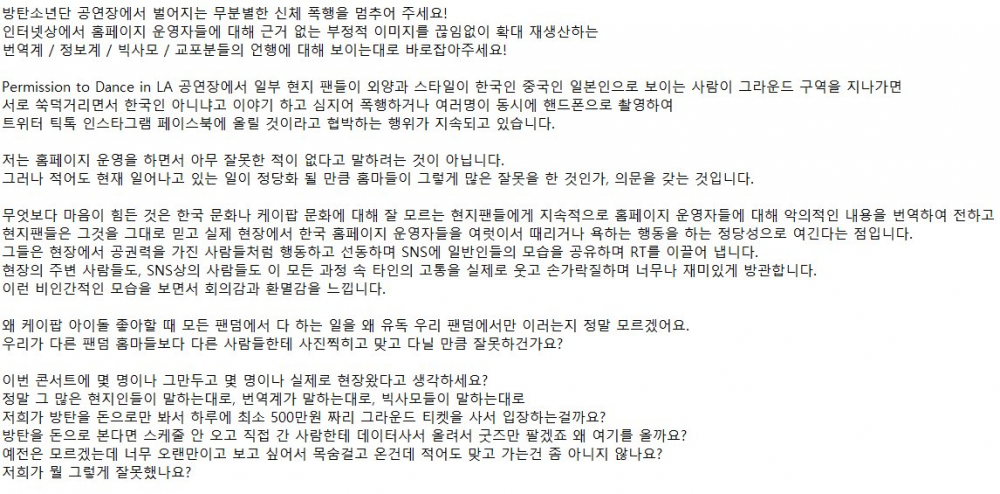 The Home-ma revealed that there are many local fans grouping together to assault and slur slanders at anyone who looked like Korean Home-ma (fansite master) because of the false and negative things they read online. She wrote, "If we, Hom-mas, are doing this only for our own monetary gain just as the local fans say, or the translators say, then why would we risk our lives by buying concert tickets that are over 500,000 KRW? If we saw BTS as our means for money, then we wouldn't come to this schedule and we would get photos from other people and just make them into merchandise to sell. We came here risking our lives because we haven't seen (BTS) in such a long time and missed them. Don't you think it's wrong that we have to be beaten up? What did we do so wrong?"
Another Home-ma wrote, "I'm not asking everyone to unconditionally follow the Home-ma culture because it's been around for a long time nor are we being stubborn...I hope people would not instigate hitting or exposing personal information based on unfiltered information about Home-mas. Off-line concerts are starting to be scary."
She continued to write, "When they hit others they would say 'excuse me' or 'sorry' so well but when I'm trying to take photos and not block anyone's view, they would hit me on purpose. If I look, they would frown and curse at me in English and laugh amongst themselves. This really shows their level. Two years ago, I went through so much racism and bullying too."
Another Home-ma wrote, "Let me say one thing. With what kind of heart are you hunting Home-mas? It's so obvious you're having fun and that's what hurt me the most. laughing at me and pretending to spit at me, I also saw how you looked so happy as if you caught prey. There's even a person who pulled my hair, pushed me, and hit me. I endured it because I had to take photos of Taehyung. But is it that fun to torture a person?"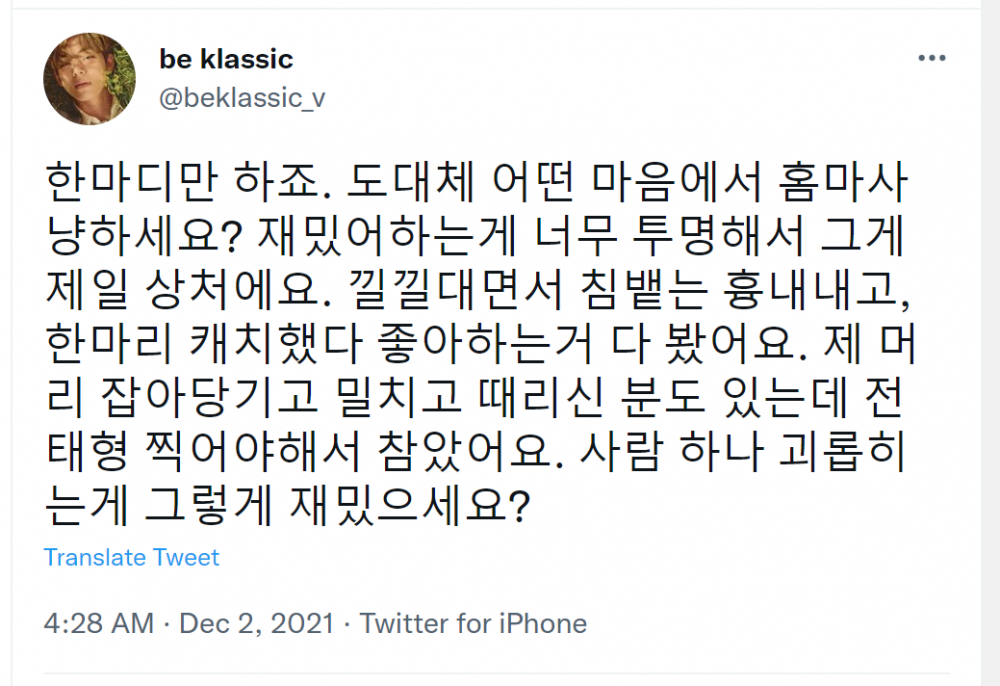 Many other Korean fans joined the conversation on Twitter and expressed their anger at how the Korean Home-mas were treated at the LA concert. These fans explained that many of the high-quality photos circulating around the web of the idol group members are thanks to the Home-mas who worked hard to take them and expressed their anger at the bullying these Home-mas received.